| | |
| --- | --- |
| WATCH: Cubs players fail miserably at clapping in unison | |
---
| | |
| --- | --- |
| Saturday, August 18, 2018 12:56 AM | |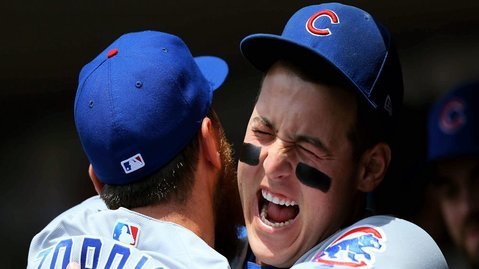 PITTSBURGH — Early in the Chicago Cubs' Friday night matchup with the Pittsburgh Pirates, several members of the Cubs' roster attempted to spark a two-out rally in the dugout. Led by team jokester Anthony Rizzo, the ill-fated Lovable Losers failed miserably when attempting to clap in unison.
To be fair, Rizzo, who previously showcased his unorthodox, off-beat clapping style when caught on camera in the dugout last month, seemed to throw everyone off with his strangely timed claps. Regardless, the other Cubs players looked more like kindergarteners than grown men when attempting to mimic Chicago's star first baseman.
For what it is worth, the Cubs failed to get a run across in that inning, so the awkward rally clapping was done in vain. Rizzo should take the time to teach his compatriots the time signature of his clapping solos, and, maybe, the next dugout performance will prove more effective at inciting a rally.
Some kind of choreographed clapping @LenKasper? Having fun for sure. @Cubs #EveryBodyIn pic.twitter.com/OX6vddg8u7

— Rachel Roth (@MrsJroChicago) August 18, 2018