| | |
| --- | --- |
| WATCH: Kevin Hart sings badly, stares awkwardly into camera during seventh-inning stretch | |
---
| | |
| --- | --- |
| Wednesday, September 12, 2018 11:19 PM | |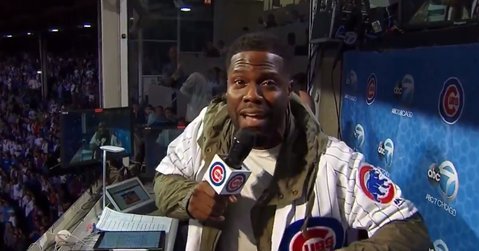 CHICAGO — Kevin Hart is a talented actor and comedian, but a talented singer he is not. The funnyman stumbled through a slow, off-key rendition of "Take Me Out to the Ballgame" during the seventh-inning stretch of the Chicago Cubs-Milwaukee Brewers matchup at Wrigley Field on Wednesday.
In addition to serving as the guest conductor, Hart threw out the first pitch prior to the game and chatted with Cubs broadcasters Len Kasper and Jim Deshaies during the top of the seventh. While Hart fared well on the pitch and the television banter, he did not impress anyone with his tone-deaf droning during the stretch.
Furthermore, instead of smiling and motioning to the fans while singing, like guest conductors at Wrigley Field typically do, Hart awkwardly ogled the camera in the broadcast booth to likely make the performance even more cringe-worthy for the television audience. Per usual, the fans were happy to sing along, making Hart's performance more enjoyable, but that did not distract from the fact that the little man of comedy has a big problem when it comes to carrying a tune.
VIDEO: Superstar @KevinHart4real sings a slower version of The Stretch than we may be used to, but still terrific and enjoyable. @Cubs #GoCubsGo #KevinHart pic.twitter.com/0WhQBXLNa9

— Billy Krumb (@ClubhouseCancer) September 13, 2018