| | |
| --- | --- |
| WATCH: Maddon ejected after reversal on Rizzo's leadoff homer | |
---
| | |
| --- | --- |
| Friday, June 16, 2017 7:20 PM | |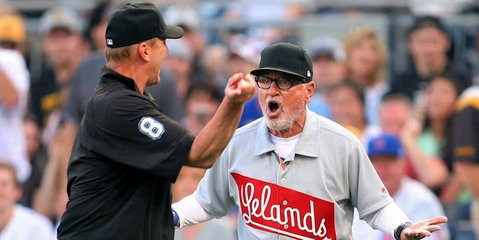 Chicago Cubs slugger Anthony Rizzo smacked a leadoff homer for the third straight game on Friday night. Well it seemed that way until the home umpire reversed the call after they debated it.
Maddon argued the call and got them to review it and then was ejected for arguing with them on the reversal. It could one of the earliest ejections in baseball history with 0 outs in the first inning. This was the first Cubs ejection this year for the defending World Champions.
Rizzo was visibly upset but eventually ended up getting back in the batter's box after the long delay and drew a walk.
Here is a video of Maddon getting ejected on Friday night at PNC Park.
Joe Maddon was like I can't be seen in these ugly ass uniforms, let me get kicked out early... @Cubs pic.twitter.com/NRoKh4wmud

— Brandon Debelak (@bdebelak88) June 16, 2017
This was almost a historic homer by Rizzo at the leadoff position. Previously, he had hit leadoff homers in two straight games. Hall-of-fame leadoff hitter Rickey Henderson never hit back-to-back leadoff homers in two straight games to start a game.
ANOTHER LEADOFF BOMB FOR RIZZO. GREATEST LEADOFF HITTER OF ALL TIME pic.twitter.com/qJec1jNzYc

— Red Line Radio (@RedLineRadio_) June 16, 2017
Rizzo was not happy at the umpires in the following short video.
Anthony Rizzo is REALLY angry. Wow. Listen to this. pic.twitter.com/wMZ3Lq6Lw6

— Chicago Sports News (@ChiSportUpdates) June 16, 2017