| | |
| --- | --- |
| Hoyer defends Maddon's decision-making in World Series | |
---
| | |
| --- | --- |
| Wednesday, November 9, 2016 8:48 AM | |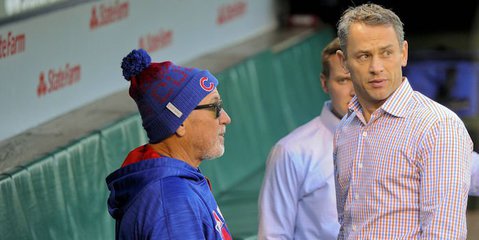 Cubs skipper Joe Maddon helped the Chicago Cubs win their first World Series title since 1908 but he received a significant share of criticism for his use of his bullpen with Aroldis Chapman and late game management in the World Series. However, Cubs general manager spoke to reporters Tuesday at the MLB GMs meetings and had nothing but support for his manager.
"By the time you got to the finish line, both teams were really tired and obviously that has a huge impact on what happened," Hoyer said. "We won the World Series, and I know there's a zero percent chance we win 200 games over two years and win the World Series without Joe. I think that's the nature of the postseason. The managers take on an almost oversized persona, because the cameras are on them the entire game and every move they make is going to be dissected."
Hoyer said it was an exciting way for the Cubs to win in game seven after the long wait since 1908.
"I had my own internal monologue I could rely on. It was an amazing game. Maybe even now, I'm sort of glad that's how we won the game. It's sort of an appropriate way to end a 108-year drought, when you stare into the abyss for 45 minutes or so and end up coming out the other side. I'll probably have more gray hairs now. I'll probably have ulcers and it might have taken some minutes off my life. But it was probably more appropriate.''