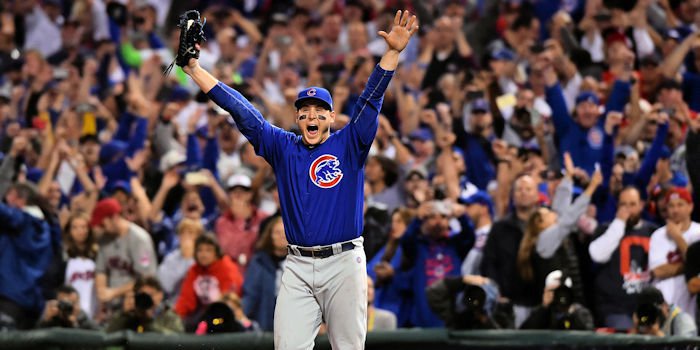 | | |
| --- | --- |
| Cubs News: Rizzo delivered naked motivational speeches before World Series | |
---
Sports Illustrated senior writer Tom Verducci's new book 'The Cubs Way' has some interesting insight in how the Chicago Cubs got over the hump and won their first World Series since 1908. Cubs star first baseman Anthony Rizzo had a unique pre-game ritual that he did in Game 5, Game 6, and Game 7 to rally his teammates to win it all in 2016.
"An hour before Game 5, Rizzo had broken out his pregame inspirational and comedic presentation, quoting motivational lines from movies with no clothes on," Verducci wrote. "The Cubs won, so Rizzo did it before Game 6, too. They won again, so he did it before Game 7 as well."
The antics got a little absurd before Game 7 when teammate Hector Rondon sprayed shoe cleaner toward's Rizzo's groin.
"An hour before the seventh game of the World Series, Rizzo stripped off all his clothes, cranked the theme from Rocky on the clubhouse stereo one more time, jumped on top of a coffee table, and began quoting lines from the movie and throwing his best shadow-boxing punches," Verducci wrote. "Pitcher Hector Rondon, joining in on the hijinks, picked up an aerosol can of shoe cleaner and sprayed it in the direction of Rizzo's groin."
Rizzo went to the shower to wash off and eventually did his nude pre-game ritual as Chicago won the historic Game 7 against the Cleveland Indians and the rest is baseball history.
The 'Cubs Way' will be available from Penguin Random House LLC on March 28.