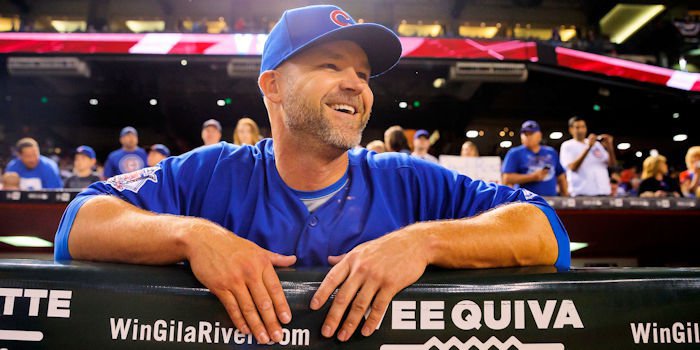 | | |
| --- | --- |
| Ross on Reds hitting Bryant: "We got good memories" | |
---
| | | |
| --- | --- | --- |
| Friday, July 1, 2016, 1:27 PM | | |
Cubs skipper Joe Maddon and players were fuming after young phenom Kris Bryant was plunked by a 97 MPH fastball by reliever Jumbo Diaz in the ninth inning on Wednesday in the Cubs' 9-2 blowout win over the Reds.
"I was barking," Maddon told the Chicago Tribune.
Don't forget that Bryant hit three homers and two doubles against the Reds on Monday and drove home the winner in the 15th inning on Tuesday. The Cubs have beat the Reds 9 out of 10 games this season.
Cubs veteran catcher David Ross spoke on the Mully and Hanley Show on Friday and had the following view of the possible beanball at Bryant.
"These things have a way of policing themselves and coming back around," Ross said. "That game was kind of out of hand. I don't know what their reasoning was. It's hard to judge intent or purpose from the side. It looked pretty obvious that that was on purpose.
The Cubs will meet the Reds on Monday for a three-game series at Wrigley Field.
"We got good memories, and we play these guys soon," Ross said. "We got to protect our guys. Because you're mad about this or that, you can't go hit out star players. They got more to lose than we do. Sometimes, frustration on bad teams comes out from players. I've been on bad teams before and understand that. They're going through a little rough patch, and I'm sure they're frustrated. But you can't take that out on us because we're hitting balls over the fence."
Reds manager Bryan Price seemed to have been upset about the Cubs doing a run-scoring squeeze play by Kyle Hendricks in the seventh inning.
"Different managers have different ideas about what a safe lead is," Price told the UPI's Jeff Wallner. "I'll leave it at that."