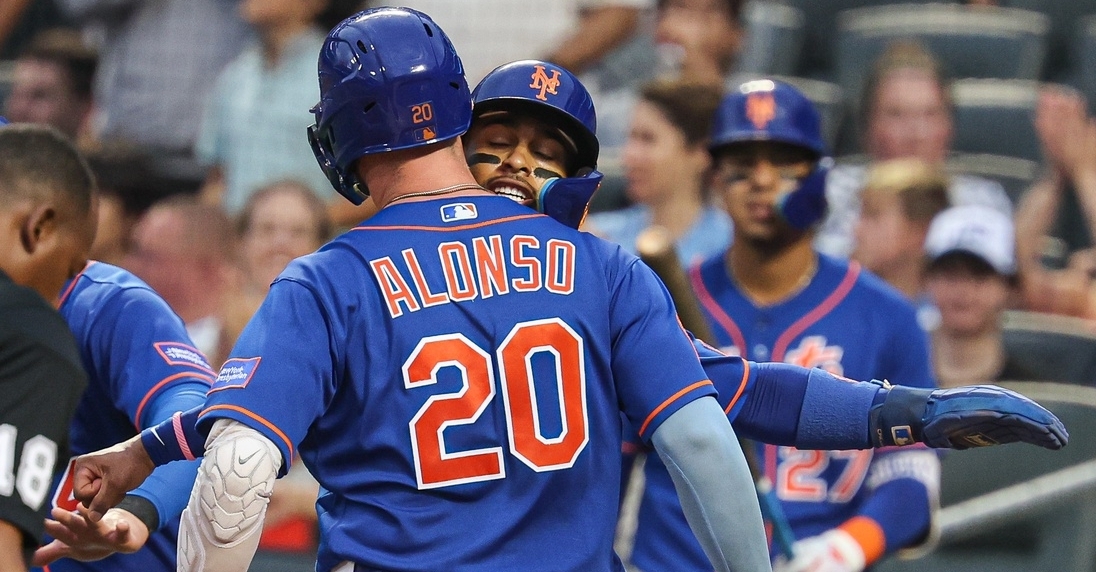 | | |
| --- | --- |
| Alonso's six RBIs power Mets past Cubs | |
---
NEW YORK - No one will argue that the recent play from the Chicago Cubs (58-55) is the sole reason they are back in the playoff picture. At the same time, this team still has a ways to go, and most of it falls on their starting rotation which has been an issue as of late.
Take Justin Steele out of the mix, who has been their best starter all season, and you have Marcus Stroman on the IL, Kyle Hendricks coming off one of his worst starts of the season, and Drew Smyly stuck in the middle of a two-month prolonged slump that has seen his ERA creep towards 5.00. Had it not been for the recent success of Jameson Taillon, who knows where this team would be as they need to step it up on the pitching side?
Not only have the Cubs played themselves back into the race, but when you look at their next 16 games, Toronto is the only series you could argue that they won't be favored to win. Looking to start another series off with a bang, the Cubs headed to Citi Field to take on the New York Mets (51-61). Even with guys like Max Scherzer and Justin Verlander no longer in the rotation, Kodai Senga still is, as he has been in a role in his last seven starts.
Despite being lit up by the Cubs back in May, Senga was much better this time as he dominated the Cubs through six innings, allowing two runs and striking out six. Had it not been for a two-plus hour rain delay, Senga would have returned as Pete Alonso and his six RBIs powered the Mets past the Cubs 11-2.
There are some games that you don't bother to watch, and you flush them down the toilet. This is one of those games as the nightmare stretch for Smyly continues. Had it not been for Alonso, Smyly would have had a better line, but either way, he pitched into the sixth, giving up seven runs on eight hits to go with five strikeouts.
"I don't think we have to measure everything to perfection every time," Ross said of Smyly's performance. "It is a long season. Just like hitters, pitchers go through ups and downs in a season. We've got a lot of games left."
Smyly immediately found himself in trouble in the first inning as a one-out walk to Francisco Alvarez set the tone, with Francisco Lindor following suit with a single. Even with Alonso struggling this season in terms of average, this is still Alonso, and all it takes is one series for the Polar Bear to get going as he jumped all over a Smyly fastball and launched it over the left field wall to give the Mets an early 3-0 lead. This was just the start for Alonso as he put the team on his back and carried them to the finish line.
With Senga looking sharp in his first two innings, the Cubs knew runs would be hard to come by as Nick Madrigal and Mike Tauchman led the top of the third with a pair of singles. Three batters later, both were still standing on base until Cody Bellinger ripped his second hit in as many at-bats to right to make things 3-1.
That was as close as the Cubs would get in this one as Alonso and the Mets offense continued to make Smyly pay for his mistakes. Like in the first, it was Lindor getting on base ahead of Alonso with a single, only to come home for the ride on his second homer of the night as the Mets built up a 5-1 lead. It was all the offense they would need as he single-handedly outscored the Cubs by himself.
"I think there's a lot of things that are trending in a good direction," Smyly said after the game. "It's just, the results haven't been there. They're not there. Obviously the home run right now is an issue. I keep saying the same thing to you guys over and over, but at the end of the day it's just, I have to play better."
The same can be said about Bellinger and what he did for the Cubs offense as he picked up his second consecutive RBI single in the top half of the fifth to pull the Cubs within 5-2. He was responsible for all of the Cub's runs, as they didn't score the rest of the way. Despite struggling throughout his outing, Smyly knew he had to give the Cubs some length and returned to pitch the sixth.
Unfortunately for him, the Mets were ready as Jeff McNeil, Danny Mendick, and Rafael Ortega all started the inning with singles to load the bases with no outs. A walk to Jonathan Arauz pushed home another run, but it was the end of another rough night for Smyly as he gave way to Caleb Kilian. Thrust into a tough spot, Kilian needed just five pitches to get through the sixth, although another run did score on a double play as the Mets took a 7-2 lead into the seventh when the rains came.
Following the lengthy rain delay, which most feel the game shouldn't have continued, Daniel Palencia came on to pitch looking to erase his nightmare of an outing last time out. After an excellent start to his MLB career, things have gone south for Palencia lately, and they only got worse in this one as Mendick smashed a three-run shot off of him to extend the Mets lead to 10-2. Alonso would add his sixth RBI in the bottom half of the eighth off of Tucker Barnhardt as the Mets took down the Red-hot Cubs 11-2 on a soggy night in Queens.
Bellinger continues to have his best stretch of baseball in about four years, as he not only drove in both runs but led the way with three hits. His average has now climbed to .332, as he isn't showing any signs of slowing down. Along with his game, Nico Hoerner had a multi-night night while Christopher Morel took two early walks before getting ejected late.
The Cubs will look to even up the series on Tuesday when they send Taillon to the mound to face Carlos Carrasco.

Tags: Cubs Baseball
,
Justin Steele
,
Marcus Stroman
,
Kyle Hendricks
,
Drew Smyly
,
Jameson Taillon
,
Nick Madrigal
,
Cody Bellinger
,
Rafael Ortega
,
Caleb Kilian
,
Daniel Palencia
,
Nico Hoerner
,
Christopher Morel