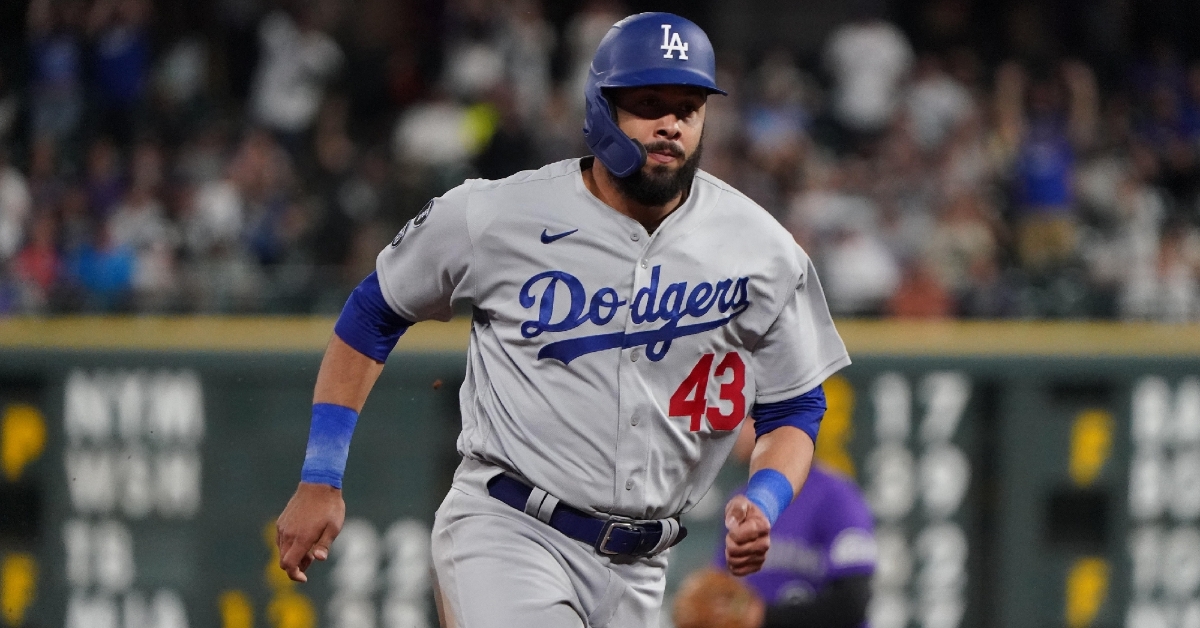 | | |
| --- | --- |
| Cubs add intriguing power hitter Edwin Rios to infield | |
---
With just one week until the first Spring Game of the season for the Chicago Cubs, most of their roster has already reported to camp. However, you still have those players waiting until Monday when full-squad workouts begin.
When it comes to the Cubs, this will be an exciting spring filled with interchangeable pieces. This team has continued to make move after move, even if at the Minor League level, and a lot of these moves are going to pay off in some regard. Friday saw the Cubs make yet another move, but this time on the Major League roster, as Edwin Rios has agreed to a one-year MLB contract with the Cubs.
This move was made possible after Ethan Roberts was transferred to the 60-day IL, but it is surprising nonetheless. Rios may not be a household name for the casual fan, but he has some big league experience and has been holding out all offseason long in search of a Major League offer. Apparently, the time was now for the Cubs to pull the trigger as the 28-year-old has been added to the roster on an MLB deal.
Adding Rios fills a lot of what the Cubs are looking for, but it also creates even more competition in camp. This is a left-handed power hitter, which the Cubs lack, while he has experience as both a 3B and 1B. With guys like Eric Hosmer and Trey Mancini at 1B, look for Rios to battle it out with Patrick Wisdom, Nick Madrigal, and Zach McKinstry for the starting 3B job this spring.
Rios has never been a high-average hitter, but he has shown he can hit at the major league level. With a small sample size, Rios has displayed your typical high power, high strikeout approach, which makes this signing interesting. Despite a .219 career average and a 32.0% strikeout rate, Rios has some potential as he possesses some of the contact when he makes contact.
He is a monster when he hits the ball and creates top-level exit velocity while producing an incredible 15.5% barrel rate. That means when he hits the ball, he does a great job squaring it up. His home run power is the biggest takeaway from this signing, as he averages one homer every 13 at-bats. That comes out to one homer every three to four games, which is 40 home run pace for an entire season.
Being that he is 28 and looking at his career trajectory, Rios is the exact same player that Wisdom is, but he hits from the left side. The Cubs have been all about versatility and matchups this offseason, which throws another wrinkle into those plans.
Like McKinstry, whom the Cubs acquired in the Chris Martin deal last season, Rios hails from the Dodgers organization, where he didn't get much playing time. Having Justin Turner at 3B and the Max Muncy/Cody Bellinger platoon at 1B was a huge reason for that, but he was also a victim of a roster crunch on an excellent team.
Looking to prove he deserves more playing time, Rios will be given an opportunity at camp, but is once again in a roster crunch, especially at 3B. Given the amount of depth the Cubs have at that position, you could see him spend some time at 1B or even at DH.
Rios is slightly below average defensively at third base and has spent a little time at first and in the outfield, too. He does have one minor league option year remaining, so he doesn't have to make the big league roster out of camp. Seeing him sign a major league deal was a surprise because he is almost guaranteed a roster spot instead of potentially being sent down and working his way back up.
Most fans are probably shaking their head at this deal, especially if you consider him the same type of player as Wisdom. However, you must give Jed Hoyer and Carter Hawkins some credit for continuing to be aggressive. This is one of those signings that will not put you over the top, but they see something in him and are willing to give him a chance to prove his worth in what should be a very intriguing spring for the Cubs and all their fans.