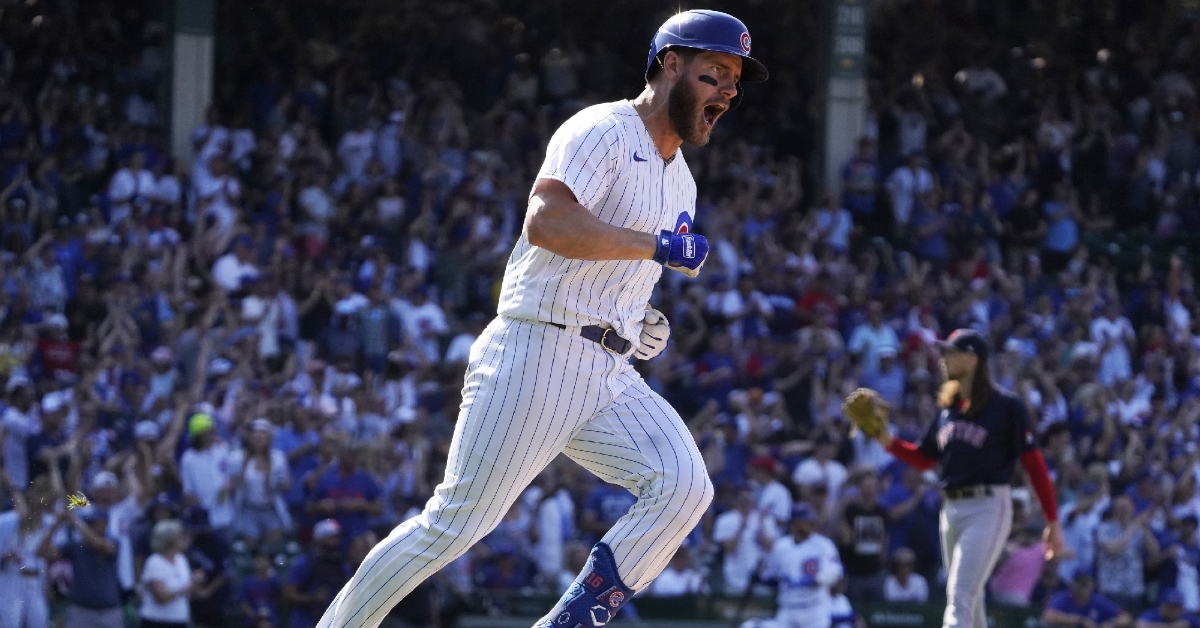 | | |
| --- | --- |
| Cubs have five options at suddenly deep third base position | |
---
As spring training approaches, one of the only questions left for the Cubs is who will be playing third base. It was announced at the Cubs convention last weekend that Nick Madrigal has been taking ground balls at third base — leaving four Cubs who played third base last year and a fifth in the picture now with Madrigal.
So we at CubsHQ wanted to break down David Ross' potential options for third base as the 2023 season draws near:
Wisdom seems like the option that makes the most sense, at least off the bat. No Cubs player has logged more innings at third base since Wisdom's Cub debut — and no player has hit more homers. Wisdom led all NL rookies in homers with 28 in 2021 and led the Cubs with 25 this past season in 2022. In terms of fielding, he is one of the Cubs' best options here as well. When Wisdom took over for an injured and then traded Bryant in 2021, he impressed at the position. However, in 2022 he had 14 errors at third.
David Ross is a fan of Wisdom, and while he may not be the answer in the middle of a lineup due to his whopping strikeout rate — Wisdom could be a great power threat near the bottom of a lineup, which is something he would be afforded the chance to do on this much deeper Cubs team whether it be at third base or designated hitter.
Nick Madrigal
First and foremost, the flaw that Nick Madrigal has as we approach this positional battle is the fact that he has never played a professional inning of baseball at third — it is a much harder position to play than second base. But the Cubs are in love with Madrigal's potential, and his bat-to-ball skills.
Madrigal has battled numerous injuries in his young pro career, but when healthy, he is the polar opposite player of Patrick Wisdom. Madrigal has little to no power, but is a contact machine, striking out very rarely. So when it comes to it, if the fielding is equal, it will all depend on if Ross wants a power threat or a contact bat in his lineup when he decides between Wisdom and Madrigal — both right-handers.
It is important to note that Madrigal still has some minor-league options left.
Morel is a very interesting case and likely slots to be the Cubs' utility man because of his ability to play both infield and outfield. Morel is coming off of a very interesting rookie season — which included a home run in his first major league at-bat, a strong relationship with the now Cardinal Willson Contreras, a 22-game on-base streak to start his career, and five positions. Morel displayed great passion on the field, but third base is probably his worst defensive position — with a fielding percentage of .918 and four errors, higher than any of his other positions.
But the fact of the matter is the Cubs will want Morel in the lineup. He hit 16 homers and drove in 47 runs in 113 games last year. With a Bellinger in front of him in center and Hoerner likely in front of him at second, third base is Morel's avenue to the playing field.
The fourth on our list is Zach McKinstry, who simply projects as the Cubs' utility man or their defensive replacement. McKinstry is arguably the Cubs' best defensive option at third, and he is the only left-handed batter in this conversation who could draw some spot starts against tough righties.
McKinstry projects to make the team and be a bench piece, but he did only make three errors in 57 games across multiple positions, so he will certainly be impactful in the third base conversation.
Both is the fifth player in this rotation. He doesn't slot to be a starter or on the projected team, but he is one of the only Cubs under contract through 2025. Bote is known for his walk-off home run against the Nationals in 2018 but has battled injuries since COVID.
Bote was sent down to the minors in 2022, but he has played over half of his 2,407 pro innings at third base — so we'll keep an eye on him if the Cubs have some injury problems.
We'll see what the Cubs and David Ross end up doing at third base as the season approaches.