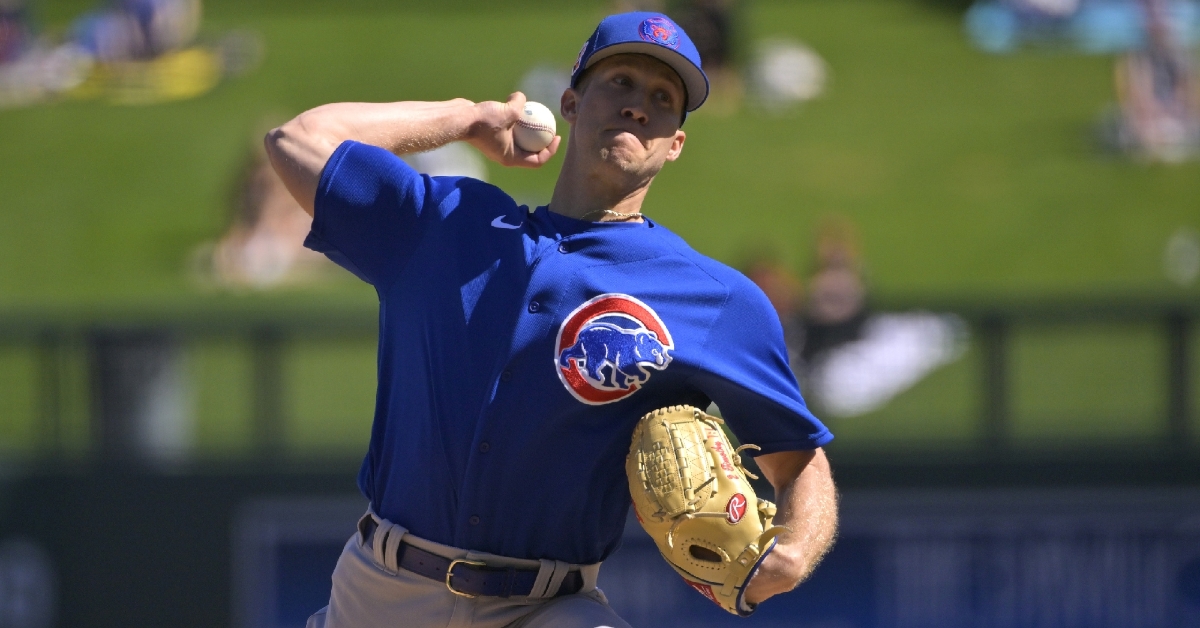 | | |
| --- | --- |
| Cubs Minor League News: Kilian impressive, Beesley raking, Pagan go-ahead homer, more | |
---
Winning can be contagious, and for the Cubs and their minor league system, there was a lot of winning going on Tuesday. Not only did the MLB club get the party started with a win over the Mets, but all four Cubs affiliates went on to win their games on Tuesday to post a perfect 4-0 record.
There was some history being made as Myrtle Beach Manager Buddy Bailey picked up his 2300 career win. The winningest active manager is fourth all-time in wins and will only climb up that list as the season progresses. You also had three of the four wins come down to pitching, where four combined runs were scored. When that happens, it shouldn't surprise anyone to see three affiliates sitting atop their respective divisions.
IOWA CUBS 4 - NASHVILLE SOUNDS 1
You knew the high-powered Iowa offense would cool off at some point, but some worried the pitching would falter once it did. That hasn't been the case during the past week, as the Cubs pitching has kept them afloat, and that continued on Tuesday.
Caleb Kilian not only put together his third consecutive strong start to improve to 3-0, but he is suddenly looking like the top pitching prospect that he was in 2021. Kilian dazzled through five innings, allowing one run on three hits. He walked two and struck out six and set the tone throughout.
The California Kid tossed a gem tonight! 👊 Caleb Kilian is the Player of the Game! pic.twitter.com/SYlV7mVAAY

— Iowa Cubs (@IowaCubs) May 24, 2023
He gave way to a quartet of relievers, including Bailey Horn in the eighth and Manny Rodriguez in the ninth, who notched his team-leading eighth save.
For the Cubs offensively, it took them a while to settle in as Janson Junk was able to match Kilian pitch for pitch. Through his 5 1/3 innings, Junk allowed two runs with four strikeouts and kept his team in the game. The first of those runs came in the first inning when Darius Hill picked up his first homer to make things 1-0.
First pitch of the game, first home run of the season for Darius Hill! I-Cubs get the party going early in Nashville! pic.twitter.com/LYpuaXdn9Z

— Iowa Cubs (@IowaCubs) May 24, 2023
That score would hold until the Monte Harrison RBI tied things up in the fifth, but the Cubs responded with three more runs to finish the game. Immediately following the Nashville run was Yonathan Perlaza ripping an RBI single to plate the go-ahead run, while Jake Slaughter added a two-run shot in the seventh to close out the scoring and provided the Cubs all the insurance they would need in the 4-1 win.
Yeah... Jake Slaughter got a hold of this one 👋 😲 pic.twitter.com/EuZUF2fMPc

— Iowa Cubs (@IowaCubs) May 24, 2023
Jared Young quietly put together a strong three-hit day, with Perlaza and Sergio Alcantara picking up two hits. Miguel Amaya and Nelson Velazquez were held hitless.
A series opening win Sounds nice to us 😎 pic.twitter.com/5vT1wJmOPi

— Iowa Cubs (@IowaCubs) May 24, 2023
TENNESSEE SMOKIES 7 - BIRMINGHAM BARONS 5
If there was a series for the Smokies to rack up some wins, this could be it, as the Barons have struggled this season. Early on, however, the Smokies were struggling as they were trailing 5-2 late in the game. That was until their offense came to life with five late runs, including a four-run seventh inning to lead to the 7-5 comeback win.
Chris Kachmar made a rare start, and despite going just three innings, he wasn't bad. The right-hander allowed two runs and struck out five but did allow eight hits. He gave way to Blake Whitney as he had a rough go giving up the final three runs before the trio of Riley Martin, Cayne Ueckert, and Ben Hecht took care of the rest. Martin had the best outing of the three as he struck out four to help hold off the Barons.
With Tommy Sommer on the mound and keeping the Smokies in check through four innings, Tennessee would have to scratch and claw their way to a victory.
You had the Barons grab an early 2-0 lead in the first off of Kachmar as Jose Rodriguez and Alexander Womack took him deep for a pair of solo shots.
Who's on first? Not Pete Crow-Armstrong. #NextStartsHere pic.twitter.com/t3yPiuFsnK

— Tennessee Smokies (@smokiesbaseball) May 23, 2023
One inning after falling behind, you had Cole Roederer pick the perfect time for his first homer, with Pete Crow-Armstrong returning to the lineup and using an RBI single to make things 2-2.
Welcome back, Cole Roederer! We have missed you. @ColeRoederer pic.twitter.com/rgT5fv2Rdo

— Tennessee Smokies (@smokiesbaseball) May 23, 2023
Back-to-back singles from Bradlee Beesley and Pete Crow-Armstrong ties the game! 2-2 in the bottom of the 2nd. @Bradleelow pic.twitter.com/717r3ubvIK

— Tennessee Smokies (@smokiesbaseball) May 23, 2023
With the score still tied in the fifth, the long ball yet again proved to be the difference as Xavier Fernandez picked the worst time to hit his first homer of the season and took Whitney deep to make things 5-2.
Trailing by three in the sixth, the Smokies began to chip away at the Baron's lead with a Nelson Maldonado solo shot, but it was in the seventh when their offense put the game away. That rally started with a Roederer single to make things 5-4, with a second run coming home on that play courtesy of an error.
A 2 RBI SINGLE FROM @ColeRoederer!!! 5-5 in the bottom of the 7th! pic.twitter.com/bbG1dzVWu1

— Tennessee Smokies (@smokiesbaseball) May 24, 2023
With the game suddenly tied, Bradlee Beesley put the Smokies in front for good with an RBI double before the Smokies were threatening to bust things open with the bases loaded.
BRADLEE BEESLEY FOR THE LEAD!!! @Bradleelow #NextStartsHere pic.twitter.com/6ZCVmPiFSJ

— Tennessee Smokies (@smokiesbaseball) May 24, 2023
One hit away from putting this game potentially out of reach, Luis Vazquez showed great patience and took a bases-loaded walk to make things 7-5. Tennessee was unable to add on after that, but they didn't need to, with their bullpen taking care of the rest.
Beesley had a great day at the plate and picked up a team-high three hits from the No. 9 spot. After a slow start to his season, Roederer is finally starting to come on as he joined Maldonado with two hits and led the team with two RBIs.
SOUTH BEND CUBS 3 - DAYTON DRAGONS 2
It has been a while since you could say the defending Midwest League Champions were in first, but following their win on Tuesday, they are back on top of their division. Richard Gallardo continued to enjoy his bounce-back year and gave the Cubs a great start. The right-hander lasted six innings and allowed two runs on four hits while striking out five. His ERA fell to 3.57 as the offense backed him with just enough offense.
All of the runs came in a span of three innings, but the Cubs opened the scoring in the third as they benefitted from a costly fielding error to go up 1-0.
Triantos just makes things happen.
After another single, @JamesTriantos forces a throw home and scores!#SBCubs lead the Dragons 1-0. pic.twitter.com/jFx5MM2kVm

— South Bend Cubs (@SBCubs) May 23, 2023
They added to their lead in the fourth as the Casey Opitz sacrifice fly doubled the South Bend lead and had them in front 2-0. Both of the runs Gallardo surrendered came in the fifth inning when the Dragons offense started to show signs of life.
The first of those runs came on the swing of Tyler Callihan as he used his fourth homer to cut the deficit in half. Later in the frame, you had Michael Trautwein cash in with a sacrifice fly, and just like that, it was a 2-2 ball game. Fortunately, the Cubs had an answer, and with one swing from Ezequiel Pagan in the bottom of the fifth, the winning run scored as his solo shot was the difference in the 3-2 win.
Just like that the #SBCubs take the lead on an Ezequiel Pagan @hoosierlottery home run!
🐻 3
🐉 2
⬆️ 6 pic.twitter.com/nHL39sIBui

— South Bend Cubs (@SBCubs) May 23, 2023
Coming off a strong series in Beloit, James Triantos made his South Bend home debut on Tuesday and led the way with two hits.
🔥RED HOT 🔥@JamesTriantos drops in a single in his @FourWindsField debut!#SBCubs | #Cubs pic.twitter.com/iZApkUxTQa

— South Bend Cubs (@SBCubs) May 23, 2023
You also got two hits from Bryce Ball, who is suddenly hitting .311 this season, with Pagan and Scott McKeon adding the remaining hits.
CUBS WIN! pic.twitter.com/vt5WmIU5EU

— South Bend Cubs (@SBCubs) May 24, 2023
MYRTLE BEACH PELICANS 3 - FAYETTEVILLE WOOD PECKERS 1
The lone team not in first place is the Pelicans as their up-and-down season continues. However, should they continue to get the pitching they have in recent games, the wins will start coming, as the Pelicans opened this week's series with a solid performance.
Grant Kipp took the mound for the birds and was as sharp as we have seen him this season. Sure, Kipp only lasted four innings and didn't qualify for the win, but he also allowed two hits with four strikeouts as his ERA fell to 3.56. He was one of four pitchers used in the game for Myrtle Beach, and all of them pitched well.
For the Woodpeckers, it was a combination of Nolan DeVos and Trey Dombroski on the mound, as they also pitched well. DeVos was the victim of one rough inning as he was charged with three runs in four innings of work, while Dombroski struck out eight in his five innings. All three of the Pelican's runs came in one inning as they struck fast to grab the lead.
With just one swing of his bat, the massive Felix Stevens put the Pelicans on top for good as his three-run shot in the second gave Myrtle Beach a 3-0 lead and a lead they never let go of. The Wood Peckers knew they would be in for a tough test trying to battle back, and with four hits, runs would be tough to come by. They did manage to break through in the fifth on a Jackson Loftin homer, but that was it, as they fell 3-1.
Stevens led the offense with two hits and three RBIs, with Juan Mora, Miguel Fabrizio, and Cristian Hernandez picking up the remaining three hits.
Felix hit a home run.

That's all we needed.#MBPelicans | #NextStartsHere pic.twitter.com/USCn64gnrn

— Myrtle Beach Pelicans (@Pelicanbaseball) May 24, 2023
WIN NO. 2,300 IN 2023!

The winningest active minor league manager adds another career milestone with his 2,300 managerial win! Congratulations, Buddy Bailey!#MBPelicans | #NextStartsHere pic.twitter.com/QAzmzVIlml

— Myrtle Beach Pelicans (@Pelicanbaseball) May 24, 2023

Tags: Cubs Baseball
,
Caleb Kilian
,
Bailey Horn
,
Darius Hill
,
Yonathan Perlaza
,
Jared Young
,
Miguel Amaya
,
Nelson Velazquez
,
Chris Kachmar
,
Riley Martin
,
Cayne Ueckert
,
Ben Hecht
,
Cole Roederer
,
Nelson Maldonado
,
Bradlee Beesley
,
Luis Vazquez
,
Richard Gallardo
,
Casey Opitz
,
Ezequiel Pagan
,
James Triantos
,
Scott McKeon
,
Felix Stevens
,
Juan Mora