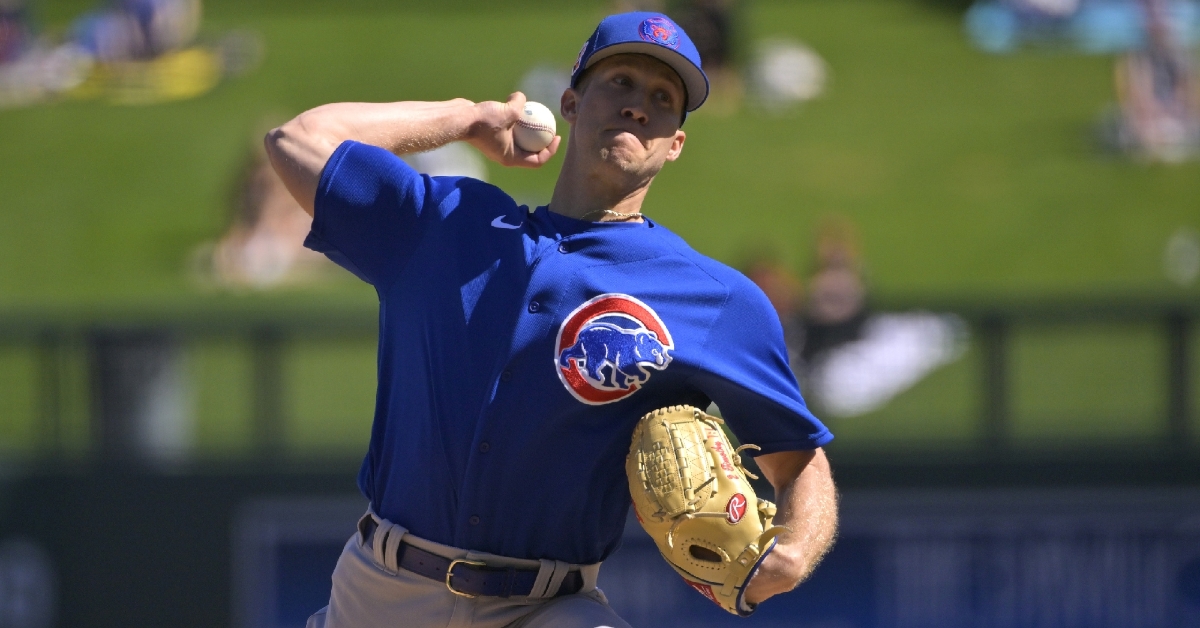 | | |
| --- | --- |
| Cubs Minor League News: Kilian impressive, Velazquez crushes homer, Alcantara raking, more | |
---
The unofficial beginning of the second half came on Wednesday as the full season teams returned to action after a brief two-day off period. That means teams like Iowa, Tennessee, and South Bend; still have three months to make a run to potentially join Myrtle Beach in the postseason.
Wednesday was one of the most fun nights of the entire season as two extra-inning games needed to be played, with one lasting nearly 15 innings. Although the Cubs posted a 1-1 record in those games, their full-season teams returned to the diamond and posted a 2-2 record on their first night back.
IOWA CUBS 9 - OMAHA STORM CHASERS 2
After fading a bit during the final two weeks of the first half, Iowa opened the second half the best way they knew how. A dominating win against a formidable Omaha team. Winning on the road has not been an issue for this team, nor has it been for Caleb Kilian, who doesn't look now, but he may be pitching the best he has in two years.
After six shutout innings in his last start, Kilian was at it again on Wednesday, pitching into the sixth before exiting with the lead. Kilian allowed two runs on three hits as he improved to 5-1 for the season. Jordan Halloway finished the sixth before Ryan Jensen, and Daniel Palencia took care of the final four innings with four strikeouts in relief.
Opposing him was a pair of MLB pitchers on relief assignments, Angel Zerpa and Brad Keller. Zerpa was solid in his four-plus innings, but it was another rough go from Keller that has the Royals concerned. Zerpa allowed two runs in his outing, with both coming home on the Nelson Velazquez first-inning homer to give the Cubs a 2-0 lead.
Go Nelly! Go Nelly! Go Nelly!! pic.twitter.com/XupgpMVutB

— Iowa Cubs (@IowaCubs) June 28, 2023
That was it for the offense for quite some time as the Cubs held that lead until the fourth when Omaha finally started to make some solid contact off of Kilian.
Tucker Bradley ended the shutout bid with an RBI bunt before Tyler Gentry double-tied things up 2-2. That would be it for the Storm Chasers offensively, as the Cub's offense would come to life late. Starting with the sixth, the Iowa offense took over as they scored seven times over the next three frames.
The first of those runs came in the sixth, with Luis Vazquez working a bases-loaded walk to put the Cubs in front for good, while the Sergio Alcantara sacrifice fly made things 4-2. One inning later, Jake Slaughter continued his impressive season as his three-run shot busted the game wide open with the Cubs leading 7-2.
Iowa would add two additional runs in the double play bringing home the first ahead of the Velazquez single, and the Cubs made quick work of Omaha 9-2.
Velazquez led the way on offense with two hits and three RBIs. He was joined by Matt Mervis, who returned to the line to deliver a pair of hits.
Series opener W💪 pic.twitter.com/J9soMmb7KO

— Iowa Cubs (@IowaCubs) June 28, 2023
CHATTANOOGA LOOKOUTS 11 - TENNESSEE SMOKIES 10
If you want to make a statement to begin the second half, what better way than by taking on the first-half champion? The Smokies appeared to be making a statement early on, but their pitching let them down in this one as they battled back from four runs down before falling late.
Anytime you walk 11 batters, you are asking for trouble, and Richard Gallardo struggled in his AA debut. Gallardo walked five and struck out four during his outing while being charged with four earned runs. He was better than Chris Kachmar, who served up five earned runs in less than an inning while the rest of the Smokies pen battled.
Not only did Tennessee open the scoring by scoring on a first-inning wild pitch, but the offense was alive and well as they built a 4-0 lead through three innings. Three of those runs came home to score in the third, with Levi Jordan doubling the early lead with an RBI double before the Haydn McGeary homer made things 4-0.
Haydn McGeary is an absolute monster. pic.twitter.com/oOrSOwXRiD

— Itsacon (@thats_so_cub) June 29, 2023
This was also when the Lookouts offense started to get rolling as RBI singles from Nicholas Northcut and Jacob Hurtubise pulled the Lookouts to within 4-3 in the fourth.
Already with a big game under his belt, McGeary continued to crush the baseball as his fifth-inning single pushed the Smokie's lead back up to 6-3, and things were looking up. Trailing 6-4 in the sixth, the Lookouts offense was happy to see Gallardo out of the game as they began to light up the Tennessee pen. Daniel Vellojin started the bottom of the sixth with a solo homer before the bases-loaded triple from Rece Hinds put the Lookouts in front 8-6. Alex McGarry capped off the five-run inning with an RBI single as the Lookouts stormed in front 9-6.
McGarry wasn't done as he added another RBI hit in the eighth to push the lead to 10-6, which is when the Smokies saved their best push for last. Needing four runs in the ninth, the scorching Owen Caissie did his part as his bases-loaded double not only cleared the bases to pull the Smokies within one, but it set the offense up for more. Leave it to McGeary for that, as his third RBI hit of the game brought home his fifth run as the Smokies tied things up 10-10 and were looking to get the game to extras.
Unfortunately, that was not in the cards as a leadoff walk to begin the ninth came back to haunt them with Ivan Johnson delivering a sacrifice fly to walk off the Smokies 11-10.
Not only did McGeary lead the offense with three hits, but he also added five RBIs. Caissie chimed in with three RBIs as those two provided most of the thump.
Owen Caissie hits a 3 RBI double in the 9th, but the Smokies fall short in Chattanooga 11-10. | @zips3mincarwash pic.twitter.com/4QfSJZ9Gz9

— Tennessee Smokies (@smokiesbaseball) June 29, 2023
BELOIT SKYCARP 5 - SOUTH BEND CUBS 4 (F/14)
Any time a game goes 14 innings, it becomes a matter of who gets more breaks as opposed to who deserves it more. Both teams deserved this win and battled hard to get it, but only one team can come out on top, with Beloit being that club. Coming off of arguably his worst start of the season, Brandon Birdsell had a nice bounce-back outing going five innings and allowing one unearned run to lower his ERA to 2.95. He walked zero and struck out five.
The same can be said about Alex Williams on the opposite side, as he got through six innings with six strikeouts in a fabulous pitched game. Not only were runs at a premium most of the game, but both starters allowed their lone runs in the first two innings, with Yiddi Cappe picking up an RBI single in the bottom of the first before the second-inning single from Bryce Ball made things 1-1.
Those runs were not only the long runs for a long time but the lone runs of regulation as this was a 1-1 game heading into extras. That score remained until the 12th when Ball came through for his second RBI knock to give the Cubs a 2-1 lead. Looking to lock things down, Joe Nahas allowed a Jorge Caballero single to tie things up before getting things to the 13th.
Still tied 2-2 in the 14th, it was time for Kevin Alcantara to come through as his clutch two-run shot put the Cubs in front 4-2 and had them in a great spot. That was until Didier Vargas entered the game and completely fell apart in the bottom half of the inning. Not only did Zach Zubia and Angeudis Santos pick up singles to tie things up, but Osiris Johnson added the third RBI single of that inning to push across the winning run as the Sky Carp walked off the Cubs 5-4.
Ball and Ezequiel Pagan led the offense with two hits, with Alcantara adding the only other hit. Ball also paced the offense with two RBIs, as did Alcantara in the tough loss.
Pics from South Bend in Beloit 1/3
Kevin Made, Canario, Birdsell, Alcantara pic.twitter.com/KgAwLY6eXL

— Todd ⚾️🐻🦌 (@CubsCentral08) June 29, 2023
Pics from South Bend in Beloit 2/3
Triantos, Ballesteros X 2, Devers and Arias pic.twitter.com/VZRHOHmC3f

— Todd ⚾️🐻🦌 (@CubsCentral08) June 29, 2023
Pics from South Bend in Beloit 3/3
Birdsell, Canario, Howard, Howard and Made pic.twitter.com/S5QloCeGxW

— Todd ⚾️🐻🦌 (@CubsCentral08) June 29, 2023
June 29, 2023
MYRTLE BEACH PELICANS 6 - CHARLESTON RIVERDOGS 5 (F/13)
Like with South Bend, runs were tough to come by in regulation as these teams would need plenty of baseball to decide a winner. With Grant Kipp getting the start for the Birds and tossing five scoreless frames with seven Ks, you could see the type of game the fans were in store for.
Kipp battled with Yuniel Curet, who allowed four hits in five scoreless frames, as neither team was able to score during regulation.
15 UP. 15 DOWN.

Five perfect innings for Grant Kipp with seven strikeouts. #MBPelicans | #NextStartsHere pic.twitter.com/VasfSNXWkO

— Myrtle Beach Pelicans (@Pelicanbaseball) June 29, 2023
Credit Erian Rodriguez for that who came on to relive Kipp and then proceeded to toss four scoreless frames. Once the 10th inning rolled around, the Riverdogs finally broke through as RBI singles from Odalys Peguero and Cristopher Barete put the Pelicans in a 2-0 hole.
The Riverdog's lead didn't last long, with Pedro Ramirez putting the Pelicans on the board with an RBI double and coming home to tie things up on the Parker Chavers single to send the game to the 11th. With Enderson Delgado and Juan Mora picking up RBI singles in the 11th to keep things tied, things continued to go on, only to see the Riverdogs look to put the game away in the 13th.
Ryan Spikes played a considerable role in that with his RBI single, but there was also a balk leading to another run as the Pelicans were down 5-3. Needing a pair of runs to keep the game alive, the Pelicans refused to go down without a fight, which continues to be a massive strength for this team.
Mora took it upon himself to pick up his second RBI in as many at-bats before Ramirez cashed in with an RBI to tie things back up 5-5. Later in the inning, it was the Riverdogs handing the Pelicans the victory as a costly wild pitch allowed Reivaj Garcia to come home as the Pelicans walked off their biggest rival 6-5.
Worth the wait…another walk-off win for the Birds! Stay hot! 🔥 #MBPelicans | #NextStartsHere pic.twitter.com/BNIVhPn3tQ

— Myrtle Beach Pelicans (@Pelicanbaseball) June 29, 2023
Mora and Ramirez had great nights at the plate, leading the offense with two hits and two RBIs. Rafael Morel, Jefferson Rojas, and Garcia also had two hits in the win.
R-E-L-E-N-T-L-E-S-S

Three different comebacks in extras lead the Pelicans to a 13-inning victory!

Reivaj Garcia scores the winning run on an wild pitch with two outs.#MBPelicans | #NextStartsHere pic.twitter.com/en29NDQ7VJ

— Myrtle Beach Pelicans (@Pelicanbaseball) June 29, 2023

Tags: Cubs Baseball
,
Caleb Kilian
,
Ryan Jensen
,
Daniel Palencia
,
Nelson Velazquez
,
Luis Vazquez
,
Matt Mervis
,
Richard Gallardo
,
Chris Kachmar
,
Levi Jordan
,
Owen Caissie
,
Kevin Alcantara
,
Didier Vargas
,
Ezequiel Pagan
,
Parker Chavers
,
Juan Mora