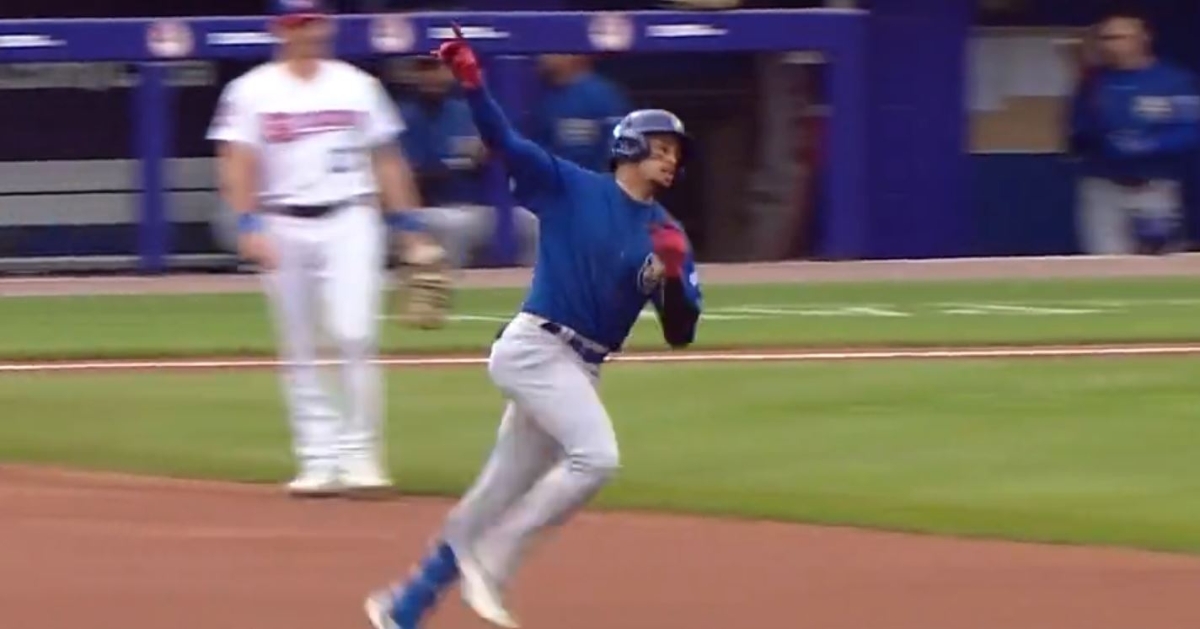 | | |
| --- | --- |
| Cubs Minor League News: Morel sizzling, Amaya with two homer game, Brown impressive, more | |
---
Remember when the Cubs had tons of trouble developing Minor League pitching? Well, those days are long gone as the Cubs farm system is not only stocked with pitching talent, but pitching talent that is starting to prove their worth at the professional level.
What started with a near-perfect game from Drew Smyly in the afternoon trickled through the minor league system as their pitching was strong for a third consecutive night. Their overall record may have been 2-2, but all you want to see is the continued improvements across the board.
BUFFALO BISONS 3- IOWA CUBS 2
The Iowa offense has been one the best offenses in Minor League Baseball, but their pitching hasn't been able to match. Now, their pitching is starting to step up, and despite the offense going quiet on Friday, you have to like what you saw on the mound.
Nick Niedert had an up-and-down four-inning start, but he kept the Bisons offense in check by allowing just one run on four hits. He turned things over to Brendan Little, Ryan Borucki, and Nick Burdi, who pitched the final four frames very well. With Luke Bard on the mound for Buffalo, the Cubs were looking to capitalize on some pitch com issues in the game's early stages.
Another first-inning homer from Christopher Morel certainly helped, as did the Matt Mervis single in the third to give the Cubs a 2-0 lead.
Just a little first pitch of the game homer for Christopher Morel 😱😱😱 pic.twitter.com/Sc4xwYkuHf

— Iowa Cubs (@IowaCubs) April 21, 2023
After holding Buffalo scoreless through three innings, Niedert saw his shutout bid end in the fourth, with Rafael Lantigua picking up an RBI double to make things 2-1.
One inning later saw Jordan Luplow rip one to right for an RBI double, which proved to be the game-winning knock. The Cubs had five hits in the game, with Morel leading the way with two. He is now hitting .373 for the season.
23-year-old outfielder literally destroying Triple-A in his first attempt at the level: .373/.486/.831 (227 wRC+). Yeah, that's a top prospect.

He's actually the top hitter in ALL of MINOR LEAGUE BASEBALL with a minimum of 61 PAs (he's at 72 PAs). https://t.co/XG8E2ptmIn

— Michael Cerami (@Michael_Cerami) April 22, 2023
Mervis, Mike Tauchman, and Nelson Velazquez had the other three hits.
Came up short tonight pic.twitter.com/zFQh75HR8K

— Iowa Cubs (@IowaCubs) April 22, 2023
TENNESSEE SMOKIES 7 - CHATTANOOGA LOOKOUTS 1
One day after watching Jordan Wicks deliver his best outing of the season, another top pitching prospect was on the bump looking to provide a strong outing of his own. This time it was Ben Brown taking the ball as he picked up his first win of the season.
Brown lowered his season ERA to 0.60 after six innings of one-run, four-hit ball. His command stood out the most as he struck out nine compared to no walks, while the Smokies offense took care of the rest. They didn't need much offense and used a three-run second to grab an early 3-0 lead.
Owen Caissie smacks a double off the wall. pic.twitter.com/6LpTU3NQbt

— Brad (@ballskwok) April 21, 2023
Nelson Maldonado started that with a two-run shot, with Luis Vazquez adding on with an RBI single.
The lone run of the night for Chattanooga came in the third inning when Ashton Creal hit a rare homer off of Brown to make things 3-1. The next three runs were provided by Miguel Amaya, who connected for a two-run shot in the third and then a solo shot in the fifth.
Par de cuadrangulares Monstruosos de. MIGUEL AMAYA en doble A con Cubs de Chicago 🔥🔥🔥 @mamaya_9 pic.twitter.com/cs0LaHcVF6

— MLBPTY (@mlbpty_) April 22, 2023
Amaya has rebounded nicely from a rough last two seasons and is hitting .320 with three homers and eight RBIs thus far. Vazquez capped off the scoring on the night for Tennessee with a solo shot in the sixth to finish things off 7-1.
Vazquez led the offense with three hits and those two RBIs, with Amaya adding two hits and three RBIs. Owen Caissie also had two hits, with Jordan Nwogu being the lone starter without a hit in the game.
Making memories that last a lifetime here at Smokies Stadium! pic.twitter.com/FMOSPMtweD

— Tennessee Smokies (@smokiesbaseball) April 22, 2023
SOUTH BEND CUBS 7 - GREAT LAKES LOONS 3
Over the last few drafts, the Cubs have found successful pitchers in the later rounds. Although Brandon Birdsell is not one of those, he is a fifth-round pick starting to garner a ton of attention. Birdsell gave the Cubs four scoreless frames of six strikeout baseball as his ERA is now 0.86.
Brandon Birdsell is DEALING! No hits and 6 K's through four innings of work.

I'll leave you with the ⚔️… pic.twitter.com/YOz4db0nVH

— Rich D'Anna (@Richdanna) April 21, 2023
Birdsell set the tone early as the South Bend offense gave him plenty of early support against Justin Wroblenski. Haydn McGeary opened the scoring with an RBI double in the first, and that 1-0 lead held until the fourth. In that inning, the Cubs started to get going, with Ethan Hearn making things 3-0 with an RBI double and the Yohendrick Pinango sacrifice fly in the fifth to push the lead to 4-0.
Ethan Hearn drills a two-run double to the wall to give @SBCubs a 3-0 lead! pic.twitter.com/RR9hMyNQTm

— Rich D'Anna (@Richdanna) April 21, 2023
Following the strong start from Birdsell, Lance Rymel went to the pen, where Frank Scalzo Jr was called on to pitch. Scalzo got off to a strong start, keeping the Loons scoreless through two innings before running out of gas late. A Griffin Lockwood-Powell single ended the shutout bid in the seventh, while the two-run shot by Damon Keith cut the Cubs deficit to 4-3 in the eighth.
Thankfully, the South Bend offense would not let them get any closer, with Pinango adding a two-run single in the ninth before coming home on the Fabian Pertuz grounder to cap off the scoring in the Cubs 7-3 win.
What a catch from Kevin Alcántara to end the game 🤯 pic.twitter.com/vFBFBLTiiK

— Marquee Sports Network (@WatchMarquee) April 22, 2023
McGeary's monster season continues as he led the offense with three hits to raise his average to .404. Pinango added two hits with his team-high three RBIs, as he is now tied with McGeary for the team lead with 12.
CUBS WIN!

Brandon Birdsell works 4 no-hit, shutout innings and Yohendrick Pinango picks up a 3 RBI game. #FlyTheW pic.twitter.com/gfCsl9VRfe

— South Bend Cubs (@SBCubs) April 22, 2023
AUGUSTA GREENJACKETS 4 - MYRTLE BEACH PELICANS 3
Sometimes good pitching is not enough when your counterpart delivers the same. 2022 10th-rounder Brody McCullough did his part as he gave the Pelicans four strong innings with seven strikeouts. He was tacked for two unearned runs, but his ERA is at 1.59 for the year.
However, when you have Owen Murphy (0.00), Jared Johnson (1.29), and Chad Bryant (0.00) all sporting ERA's of under 2.00 and giving you eight innings of work, runs and wins are hard to come by. With both teams locked in a 0-0 tie through three innings, Augusta broke through in the fourth as a costly error led to a pair of runners coming for the 2-0 Augusta lead.
That lead didn't last long, as they tied things up in the fifth inning. Reivaj Garcia opened the scoring for Myrtle Beach with an RBI single, while Felix Stevens added a bases-loaded walk to even the score. The sudden offensive explosion for both sides continued into the sixth when Justin Janas and Mahki Backstrom collected RBI singles to put the Greenjackets in front for good, 4-2.
Tailing by three and down to their final three outs, the Pelicans made things interesting with Jefferson Encarnacion and Stevens starting the ninth inning off with walks. Two batters later saw Pedro Ramirez pick up a single as the Pelicans had the bases loaded. Patience continued to be the key to their inning, with Cristian Hernandez picking up a bases-loaded walk to pull the Pelicans to within 4-3, only to have Garcia and Parker Chavers strikeout to end the game.
Garcia and Hernandez had multi-hit games for Myrtle Beach, as both players are hitting .300 or better. Moises Ballesteros was another player who recorded a hit, while Kenyi Valdez gave Myrtle Beach three scoreless innings of relief to lower his ERA to 1.35.
Another close one.

We'll be back at it tomorrow night at 6:05.#MBPelicans | #NextStartsHere pic.twitter.com/Tj1kvnDFWJ

— Myrtle Beach Pelicans (@Pelicanbaseball) April 22, 2023

Tags: Cubs Baseball
,
Drew Smyly
,
Christopher Morel
,
Nelson Velazquez
,
Jordan Wicks
,
Nelson Maldonado
,
Luis Vazquez
,
Miguel Amaya
,
Owen Caissie
,
Jordan Nwogu
,
Ethan Hearn
,
Yohendrick Pinango
,
Frank Scalzo
,
Fabian Pertuz
,
Felix Stevens
,
Parker Chavers