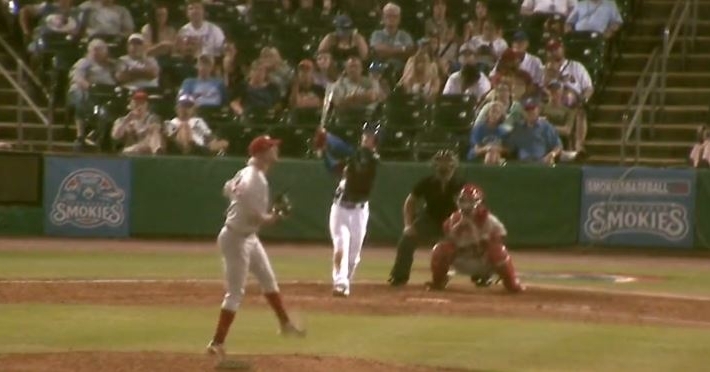 | | |
| --- | --- |
| Cubs Minor League News: PCA homers, Alcantara raking, Ferris impressive, more | |
---
Saturday saw better results on the diamond as the Cubs posted a 2-2 record. If you include the completion of their suspended game, the Cubs went 3-2, with Myrtle Beach going 2-0. Regardless, the Cubs were a much better organization on Saturday, as every game was competitive until the final out.
COLUMBUS CLIPPERS 5 - IOWA CUBS 3
For the most part, Iowa has been a dominant force all season but is starting to show cracks in their armor of late. This Columbus series is a prime example, as the Cubs dropped another contest to the Clippers. Caleb Kilian was back on the bump, and for the first time in over a year, he found himself on the mound.
Kilian gave the Cubs a rare six-inning start and was tagged with three earned runs. He walked one and struck out three in what would have been a winnable start had the offense done anything to back him up. Kilian was given an early lead off the Bryce Windham sacrifice fly, only to see that lead evaporate in the third.
Top 100 prospect Bo Naylor was the reason for that as he continued his massive series against the Cubs with an RBI double to put the Clippers in front 2-1. Throw in a balk to push across a third run, and Kilian was done for the day but left trailing 3-1.
On to relive Kilian was Codi Heuer as he continues to work toward an MLB return. Heuer has been up and down during his rehab stint with Iowa, and today was a down day as he surrendered a two-run blast to Chris Roller as the Clippers extended their lead to 5-1. Still trailing by that score in the ninth, it was Cubs down to their final three outs as they needed to make something happen.
Leave it to a two-out rally to make that happen as the Yonathan Perlaza double pulled Iowa to within 5-2, with Nelson Velazquez making it 5-3 with a single. That single was followed by a Jared Young walk as the Cubs had two on for pinch hitter Nick Madrigal.
One of the hottest hitters on the planet right now, this is the hitter the Cubs wanted up, but Madrigal grounded into a game-ending fielder's choice to seal the Cub's fate.
We'll close the series tomorrow afternoon. pic.twitter.com/gfKa4JVops

— Iowa Cubs (@IowaCubs) June 4, 2023
CHATANOOGA LOOKOUTS 4 - TENNESSEE SMOKIES 1
One of the strangest anomalies for the Cubs' minor league system is the crooked number of innings. No matter what the results may be, they also seem to allow a crooked run inning which yields most of the damage done off of them. That was again the case on Saturday as the Lookouts used a three-run frame to seize control and rode that to a victory.
Walker Powell is the one that hurts the most from that, as he allowed all three runs in that frame. Apart from that, Powell was solid as he allowed three runs in five innings. The problem was having Joe Boyle come in and dominate through six innings, as he allowed three hits and struck out seven.
All the damage against Powell came on one swing, with Ivan Johnson connecting for a three-run shot to put the Lookouts in front 3-0 in the fifth. That was it in terms of the offense until the eighth inning when Pete Crow-Armstrong went deep for the second time in this series to put the Smokies on the board 3-1.
Pete Crow-Armstrong with a solo bomb in the bottom of the 8th! #BestYearEver #NextStartsHere pic.twitter.com/VxCtCEMrId

— Tennessee Smokies (@smokiesbaseball) June 4, 2023
Chattanooga got that run right back in the top half of the ninth as Noelvi Marte connected for an RBI single and had the Smokies trailing 4-1 with three outs to go. Needing baserunners, BJ Murray Jr led off the ninth with a walk and would advance to third on a two-out Jordan Nwogu double to put runners on second and third.
Andy Weber worked a four-pitch walk shortly after, which loaded the bases for PCA and the top of the Smokies lineup. Made for these moments, PCA took the count full before swinging at a pitch in the dirt for strike three to end the game.
See you tomorrow for the series finale! | @zips3mincarwash pic.twitter.com/ylscGFaly5

— Tennessee Smokies (@smokiesbaseball) June 4, 2023
SOUTH BEND CUBS 11 - FORT WAYNE TIN CAPS 4
Even if this week has been an up-and-down week for South Bend, they still have an opportunity to earn a split. They made that happen with a dominating performance on Saturday and made quick work of the Tin Caps. Richard Gallardo has been on quite a roll lately, and although this wasn't his best start, it was plenty good enough to get the job done.
Gallardo struck out six in five innings and allowed four runs on six hits to pick up the no-decision. A big reason for that was an offense that was held in check most of the game before erupting for seven runs late. With the score tied 0-0 entering the fourth, South Bend finally broke through as a wild pitch got them on the board with a Christian Franklin single, making things 2-0.
Their lead didn't last long as the Tin Caps responded in the bottom of that inning and pushed across all four of their runs in that frame. Carlos Luis opened the scoring for them with an RBI groundout before a Lucas Dunn single tied things up. Justin Farmer delivered the big blow in that inning as his two-run double put the Tin Caps in front 4-2.
South Bend got a run closer in the fifth off a Kevin Alcantara single before tying things up later in the inning on a wild pitch. A James Triantos groundout in the seventh put them on top for good, but the six-run eighth inning busted things wide open. Casey Opitz started that inning with a bases-loaded walk before singles by Liam Spence and Ezequiel Pagan pushed the lead to 9-4.
After a wild pitch made things 10-4, the Triantos double capped off the scoring with the Cubs rolling 11-4.
South Bend had 15 hits in the game, with Alcantara leading the way with three. Pagan, Spence, Luis Verdugo, and Triantos added two hits, with Triantos and Spence responsible for two RBIs.
BOOM!

Another 6-run 8th inning and we lead the series 3-2! #FlyTheW pic.twitter.com/jICYAiUYma

— South Bend Cubs (@SBCubs) June 4, 2023
MYRTLE BEACH PELICANS 5 - SALEM RED SOX 2
The morale of the Pelicans season has been that if they get good pitching, they can win games. Coming off their 7-5 win earlier in the day to complete their suspended game from Friday, the Pelicans were back on the field Saturday night and made it two for two.
Jackson Ferris is still coming into his own with the Pelicans, but with a 0.64 ERA up to now, he has done a great job. Ferris continued his strong work with three more shutout frames as the Cubs have loved what they have seen. Ferris was backed by some early offense, with Pedro Ramirez picking up an RBI triple in the second to put the Birds in front for good, 1-0.
Birds on the board with triple from Pedro Ramirez! pic.twitter.com/0ZcMmupF2M

— Myrtle Beach Pelicans (@Pelicanbaseball) June 3, 2023
Ramirez had a homer earlier in the day and is locked in at the plate right now.
"The Pelicans grab the lead back and Pedro Ramirez goes deep!" pic.twitter.com/2QhIb37McK

— Myrtle Beach Pelicans (@Pelicanbaseball) June 3, 2023
One inning after grabbing the lead, Myrtle Beach began to build on that lead, with Moises Ballesteros doubling the lead with an RBI double while the Andy Gariola single made things 3-0. Once the fourth inning rolled around, the Salem offense started to battle back as Enderso Lira drove in a couple with a single to pull the Red Sox within 3-2.
That would be all for them offensively in this one as the Pelicans added a pair of runs late on Juan Mora and Parker Chavers singles to cap off their 5-2 win.
Ramirez and Chavers led the way offensively with two hits in the win.
Watch out Columbia👀.

Pelicans sweep on Saturday to move to a tie for first place in the Carolina League South.#MBPelicans | #NextStartsHere pic.twitter.com/embtOZUZ7A

— Myrtle Beach Pelicans (@Pelicanbaseball) June 4, 2023
Cubs Rehab Update:
Ed Howard (18) 2020 1st rnd Rehab Cubs #cubs #nextstartshere #cubtogether #chicagocubs #gocubsgo #flythew #cubbies #Cachorros @cubszone @CubsDen#CubsProspects #cubsmilb #ivyfutures pic.twitter.com/OcwcsN04aQ

— Phrake Photography (@phrakephoto) June 3, 2023
Scott Kobos (39) LHP Cubs rehab @skoboz @CoastalBaseball #cubs #nextstartshere #cubtogether #chicagocubs #gocubsgo #flythew #cubbies #Cachorros @cubszone @CubsDen#CubsProspects #cubsmilb #ivyfutures pic.twitter.com/YQDJSiXLdE

— Phrake Photography (@phrakephoto) June 3, 2023
Lizardo Ruiz (12) 1B Cubs DR #cubs #nextstartshere #cubtogether #chicagocubs #gocubsgo #flythew #cubbies #Cachorros @cubszone @CubsDen#CubsProspects #cubsmilb #ivyfutures#beisboldominicano #talentodominicano #peloterodominicano pic.twitter.com/F00mWpPtef

— Phrake Photography (@phrakephoto) June 3, 2023

Tags: Cubs Baseball
,
Caleb Kilian
,
Bryce Windham
,
Codi Heuer
,
Yonathan Perlaza
,
Nelson Velazquez
,
Jared Young
,
Nick Madrigal
,
Walker Powell
,
Jordan Nwogu
,
Andy Weber
,
Richard Gallardo
,
Christian Franklin
,
Kevin Alcantara
,
James Triantos
,
Casey Opitz
,
Ezequiel Pagan
,
Luis Verdugo
,
Juan Mora
,
Parker Chavers