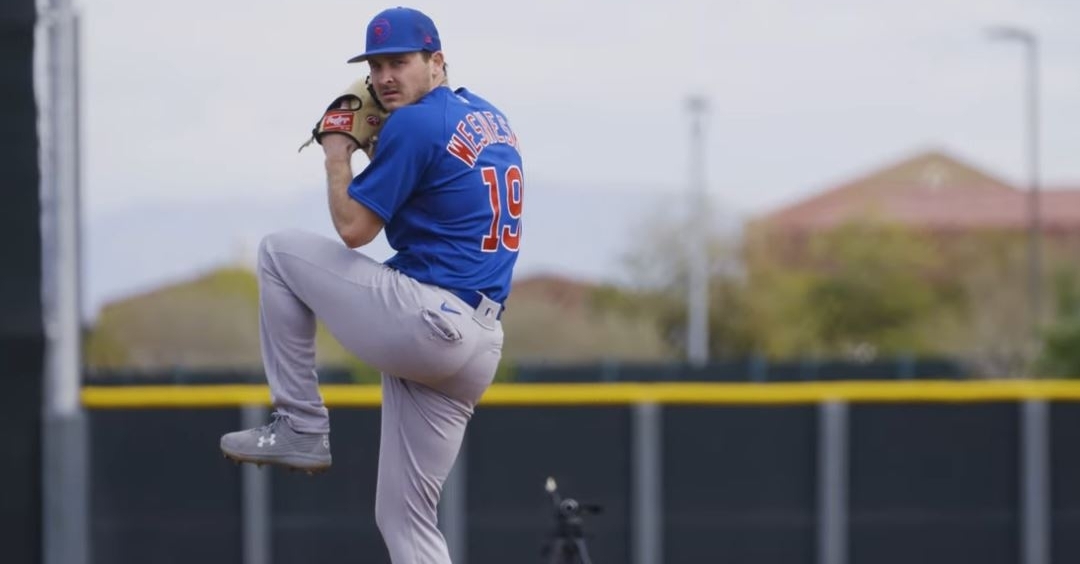 | | |
| --- | --- |
| Cubs Minor League News: Wesneski pitches gem, Espinoza perfect, Hull impressive, more | |
---
You usually only have six Minor League games if Rookie Ball is underway. With Rookie Ball still a few weeks away, the Cubs had a surprisingly busy day on Saturday, as a pair of double-headers gave them six games to play.
Any time you have that much action and multiple double-headers, you hope to finish .500, as that would be considered a successful day. Instead, the Cubs system put together their best overall day of the season as they not only swept both double headers but posted a perfect 6-0 record on the day to set every team up with a series win or split.
IOWA CUBS 1 - INDIANAPOLIS INDIANS 0 (Makeup 5/19)
There haven't been a lot of games where the Cubs' pitching has led them, but Saturday was one of the rare cases, as the Cubs allowed one run in two games. Playing their makeup game from Friday, Hayden Wesneski had the ball as he made his first start since his demotion.
Although he wasn't great command-wise, 4BB/5K, he was outstanding, giving the Cubs five no-hit innings before handing the ball off to Chris Clarke, who picked up a pair of strikeouts in two innings to earn the save.
With five no-hit innings, Hayden Wesneski is your Player of the Game. pic.twitter.com/f5GhhuNQkI

— Iowa Cubs (@IowaCubs) May 21, 2023
Unfortunately for the Cubs, Caleb Smith matched Wesneski pitch for pitch and gave the Indians six impressive innings of relief, allowing the only run while striking out four.
That run came in the top of the sixth as Sergio Alcantara came through with an RBI single to give the Cubs a 1-0 win. He was one of seven Cubs to pick up a hit, with David Bote and Nelson Velazquez, two others, to name a few.
IOWA CUBS 2 - INDIANAPOLIS INDIANS 1
We have touched on this many times, but if the Cubs pitching could match their hitting, this could be the team to beat. Saturday saw their pitching finally show up in a big way as the Cubs completed the double-header sweep. With Wesneski and company tossing a one-hitter in the other game, the Professor Kyle Hendricks got the ball in the other game.
Hendricks has progressively gotten better with each start this season, and after going six innings and allowing one run on Saturday, he may be ready to head back to the Majors. Hendricks none and struck out six, with Manny Rodriguez picking up his team-leading seventh save. On the other side, you had another MLB arm working his way back to the majors as Vince Velasquez gave the Indians 4 2/3 scoreless frames before their bullpen allowed two runs late.
Brennen Davis with an absolute HOSE to keep the game 0-0! pic.twitter.com/Jp458k45xf

— Iowa Cubs (@IowaCubs) May 20, 2023
The lone run off of Hendricks came in the fourth inning when Mark Mathias delivered an RBI single to make things 1-0. At the time, this looked like the only run anyone would need as the Cubs were held scoreless through five. In the sixth, their offense did what they had to do to win as Miguel Amaya tied things up with an RBI double in the sixth.
BOOM! Miguel Amaya drives in our first run with this double, tying the game 1-1! pic.twitter.com/3bL7Z2x06e

— Iowa Cubs (@IowaCubs) May 20, 2023
One inning later saw Darius Hill come through with the game-winning single as the Cubs completed the rare double-header sweep. Hill was one of two players to have multiple hits in the game as he joined Jake Slaughter.
That's a game one win! Game two will start in approximately 30 minutes. pic.twitter.com/XdTXVmk6CJ

— Iowa Cubs (@IowaCubs) May 21, 2023
TENNESSEE SMOKIES 13 - PENSACOLA BLUE WAHOOS 6
The only game on the day that wasn't about pitching came in AA as the Smokies offense erupted for a massive day. With the game close late, the Smokies used a six-run eighth inning to put the game away as they are on the verge of a series win or tie.
DJ Herz made the start, and although he allowed three runs in 4 2/3 innings, he showed signs of improvement. Herz walked three and struck out five as he continued to build back up his arm. After Herz was Ryan Jensen, who allowed three more runs while Cayne Ueckert, Samuel Reyes, and the rest of the pen gave the Smokies a scoreless outing to win the game.
Not only did the Smokies score early, but they also scored often in the early innings to help build a convincing lead. An error led the game's first run, with Haydn McGeary adding an RBI single to make things 2-0 in the first.
Haydn McGeary is getting acclimated to AA ball. pic.twitter.com/rAPKdLMCyP

— Itsacon (@thats_so_cub) May 21, 2023
The Smokies added to their lead in the second, with Andy Weber picking up a double, followed by a Chase Strumpf and Pablo Aliendo single to make things 5-0. Throw in another error in the third, and the Smokies were up big, 6-0.
Once the fourth inning began, it was all Pensacola as the Griffin Conine single put them on the board and started to swing the momentum in their direction. Trailing 7-1 in the fifth, Troy Johnston continued his outstanding series by using a three-run homer to pull the Blue Wahoos within 7-4. They continued their comeback bid in the sixth as Will Banfield added a homer ahead of the Nasim Nunez single to make things 7-6.
Holding that one-run lead in the eighth, the Smokies had one last run in them as they used a six-run frame to put the game away. All six runs came on a pair of three-run shots, with McGeary picking up the first and Bradlee Beesley picking up the second to give Tennessee the 13-6 win. McGeary led the way with three hits and four RBIs as Tennessee had 11 hits. Although he went hitless, BJ Murray Jr extended his on-base streak to 28 games as he took a walk.
Every Smokies batter scores a run as the boys blow by the Blue Wahoos! pic.twitter.com/eKY23I0g6E

— Tennessee Smokies (@smokiesbaseball) May 21, 2023
SOUTH BEND CUBS 3 - BELOIT SKY CARP 2
Despite the Sky Carp handling the Cubs earlier this season, the second time around has been an entirely different story as South Bend picked up the series-clinching win on Saturday. Manuel Espinoza was on the mound, and he was about as dominating as you could be. Across four innings, Espinoza didn't allow a hit or a run while also striking out nine as his ERA sits at 0.00.
12 up, 12 down for Manuel Espinoza.

The @Cubs prospect punched out nine hitters en route to four perfect innings for the @SBCubs: pic.twitter.com/ORe5Jbnigj

— Minor League Baseball (@MiLB) May 21, 2023
After that, you had Jared Wright and Frank Scalzo Jr combine to allow two runs in five innings as the Cubs combined for 13 punchouts in the win. Pitching was the theme all night as Alex Williams gave the Sky Carp 4 2/3 impressive innings but was on the short end of a no-decision effort. South Bend kicked off the scoring in the first as James Triantos delivered a solo shot to keep his strong series going.
Watch @JamesTriantos first High-A homer as the #SBCubs lead 1-0 after 2 1/2 innings.
103 mph exit velocity
402 feet traveled
Also, props to Ethan Hearn with the bullpen cartwheel! pic.twitter.com/47GuB7uPlD

— South Bend Cubs (@SBCubs) May 20, 2023
They added to their lead with a Fabian Pertuz sacrifice fly in the fourth before the Sky Carp started to rally back. Trailing 2-0 in the sixth, Beloit tied things up as Dalvy Rosario and Khalil Wilson delivered RBI singles to bring things back to even 2-2. That didn't last long as South Bend closed out the scoring in the seventh inning, with David Avitia picking up the game-winning single to lift South Bend. South Bend had seven hits in the win as Bryce Ball led the way with three. Triantos picked up two hits with an RBI, with Christian Franklin and Avitia adding the other two.
1ST PLACE CUBS! pic.twitter.com/DcHuUoJ7r2

— South Bend Cubs (@SBCubs) May 21, 2023
MYRTLE BEACH PELICANS 3 - AUGUSTA GREENJACKETS 1
It has been a long-time since the Pelicans put forth an outstanding pitching performance, but they finally did that on Saturday. Led by Nick Hull, who struck out eight in five scoreless frames, the Pelicans offense did just enough as they picked up an excellent victory. Hull has lowered his ERA to 3.14 and is now emerging as the Ace of the staff with Cade Horton in South Bend.
No-hit dominance from @Cubs prospect Nick Hull.

5⃣ no-hit innings with a career-high eight punchouts for @Pelicanbaseball starter: pic.twitter.com/v2YDqzo8Oj

— Minor League Baseball (@MiLB) May 21, 2023
With Hull doing his thing on the mound, it was up to the offense to back him up, and they did with plenty of assistance. All three of the Pelican's runs came without a hit as a wild pitch and two balks led to three runs scoring to make things 3-0. The lone run of the night for Augusta came off the recently demoted Didier Vargas, as an RBI triple from Ambioris Tavarez made things 3-1, which was the final.
19 yr old Starlyn Pichardo, a graduate of the ACL, makes his 1st appearance at Myrtle Beach on the same day he was added to the Pels roster. K #1: pic.twitter.com/T6mLAF2LYV

— Itsacon (@thats_so_cub) May 21, 2023
That was Augusta's only hit of the game, with Myrtle Beach having three. Reivaj Garcia led the way with two, with Juan Mora adding one.
The Pelicans are winners in game one 3-1!

Augusta was held to just one hit.

Our lineup for game two starting in 35 minutes!#MBPelicans | #NextStartsHere pic.twitter.com/10qMTJquE1

— Myrtle Beach Pelicans (@Pelicanbaseball) May 20, 2023
MYRTLE BEACH PELICANS 6 - AUGUSTA GREENJACKETS 3
Just like that, a series filled with struggles has been flipped on its head as the Pelicans used a three-run sixth to cap off the Double-header sweep and climb back to .500. Erian Rodriguez got the start and allowed two runs in two innings, but it was Starlyn Pichardo that was the biggest difference tossing three hitless innings out of the pen.
He handed the ball off to Johzan Oquendo, who allowed one run in two innings with five strikeouts as the offense backed him late. Bryson Worrell picked up an RBI single in the first to put the Greenjackets in front 1-0, only to have Rafael Morel tie things up with a sacrifice fly. Trailing 2-1 in the third, Felix Stevens put the Pelicans back on top as his fifth homer of the season made things 3-2.
"Elevated...deep left field...IT'S GONE!"

(1st homer of the season at home for Felix Stevens!) pic.twitter.com/enkhrWhimO

— Myrtle Beach Pelicans (@Pelicanbaseball) May 21, 2023
That score would hold until the sixth inning. A bases-loaded hit by pitch brought the tying run home and made things 3-3.
Cristian Hernández and Miguel Fabrizio tag team on a web gem. pic.twitter.com/AcBwB2Gy5I

— Itsacon (@thats_so_cub) May 21, 2023
Give the Pelicans credit for bouncing back as they pushed across three runs in the bottom of the sixth, with Miguel Pabon adding an RBI single paired with a sacrifice fly and a fielder's choice to cap off the sweep and perfect affiliate record.
One day, two wins.

Pelicans take the second game of the doubleheader and now have a chance to take the series tomorrow!#MBPelicans | #NextStartsHere pic.twitter.com/srxD6cdVGe

— Myrtle Beach Pelicans (@Pelicanbaseball) May 21, 2023
A look at the Cubs Rehab Group
Saw @ColeRoederer playing in an Extended ST game as part of his Rehab. He led off with a HR for the second day in a row and walked later in the game and scored from 1st on a double. Looks like his Rehab is complete! #Cubs #CubsProspects #XST2023 pic.twitter.com/TbSRzCP5rn

— Rich Biesterfeld (@biest22) May 20, 2023
One of the players in the @Cubs Rehab group that I receive lots of questions about is Luis Devers. I watched him throw live BP yesterday and he went 2 innings. Not sure if his next step is another live BP or game action. #Cubs #CubsProspects #XST2023 pic.twitter.com/bz8gw7iC69

— Rich Biesterfeld (@biest22) May 20, 2023
I was excited to see @skoboz throwing Live BP on Friday. Scott was blazing through the system in 2021 and then had injuries last year. After cleaning up his elbow this past winter, he could be another lefty weapon in the Cubs system! #Cubs #CubsProspects #XST2023 pic.twitter.com/POZM1IKPLN

— Rich Biesterfeld (@biest22) May 20, 2023

Tags: Cubs Baseball
,
Hayden Wesneski
,
Caleb Smith
,
David Bote
,
Nelson Velazquez
,
Kyle Hendricks
,
Miguel Amaya
,
Darius Hill
,
Ryan Jensen
,
Cayne Ueckert
,
Samuel Reyes
,
Andy Weber
,
Chase Strumpf
,
Pablo Aliendo
,
Bradlee Beesley
,
Manuel Espinoza
,
Frank Scalzo
,
James Triantos
,
Fabian Pertuz
,
Christian Franklin
,
Didier Vargas
,
Juan Mora
,
Johzan Oquendo
,
Felix Stevens