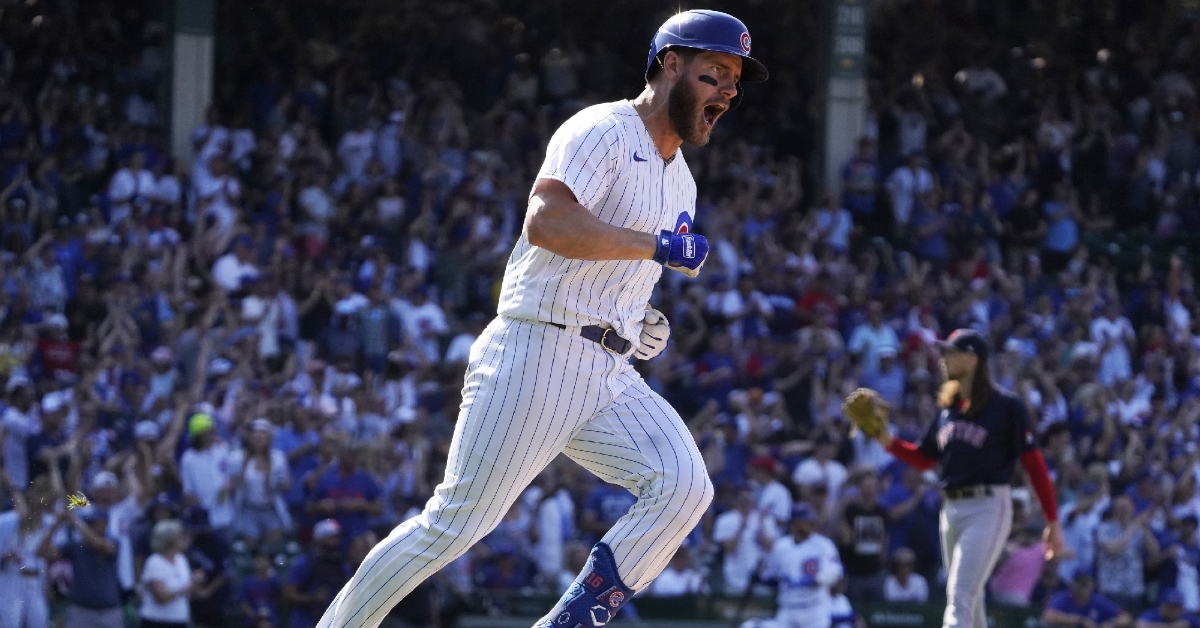 | | |
| --- | --- |
| Cubs News: 2023 Season Projection: Patrick Wisdom, Christoper Morel, Edwin Rios | |
---
Next on our season projection tour is the final spot on the infield as we move to third base. Of all the positions on the Cubs roster, not only is this the only one not accounted for at the moment, but it is the one that comes with the most intrigue in camp.
Sure, two or three guys are expected to battle it out all spring, but guys like Zach McKinstry and Nick Madrigal will also get time at the hot corner, as the Cubs could use upwards of six guys at third this spring. When all is said and done, two of them will make the roster, as David Ross could treat third similar to first base and use a lefty/righty platoon matchup.
As good as that sounds, the problem with that is the similarity of the two favorites as they are the same player, just from opposite sides of the plate. This is a position that has the potential to hit a ton of homers, but also has the potential to strike out more than 300 times, so pick your poison on this one.
Patrick Wisdom is the early season favorite to break camp as the starting 3B. Now in his third season with the Cubs, Wisdom has shown elite power production as he has led the team in homers the past two seasons and has combined for 53 homers in two seasons. He also leads the team in strikeouts and has struck out more than 41% of the time, which is terrible.
When Wisdom does make contact, he not only hits the ball hard, but hits it a long way. The problem is the contact is few and far between, as he has hit .226 in two seasons with the Cubs. However, his near .300 average against lefties is promising, as he could be the starting 3B/1B/DH any time a left-handed pitcher starts.
Prediction: 110 games, .237 average, 27 homers, and 63 RBIs.
Despite his ridiculously high strikeout numbers, Wisdom will play a ton this season, and his power potential is the big reason why. You also have to look at his versatility as a player, as the Cubs can move him around to different spots to ensure his bat stays in the lineup.
David Ross and company are at the point where they know what they will get from Wisdom. At this point, they are okay with him as a player as long as the power numbers remain where they are.
A wild card to not only make this roster, but to play third, Morel is a game-changing type of player that made his MLB debut last season. The freakish, athletic 22-year-old, Morel has been listed as a third baseman for years but found his niche as a CF/Platoon player last season.
That is where I see his fit again this season, although he should split equal time across the infield and outfield. Should he find a way to cut down on the strikeouts and fine-tune a few things in his game, Morel has the potential to be an extraordinary player, as he was once a top-10 prospect in the Cubs system.
Projection, 87 games, .252 average, 12 homers, 41 RBIs, and 22 steals.
Take the games out of the equation for a minute, and look for Morel to not only have a good season, but a better season than last year. This guy needs to be in the lineup as much as possible, but for that to happen, he may need to go down to AAA to start the season to get at-bats.
Although that may not be ideal, it will be the best thing for him as he will see time this spring and has a chance to play himself onto the roster. Like McKinstry, Morel will battle it out for one of the final roster spots when camp breaks, and due to his athleticism, he could be the final man selected before the season opener.
Edwin Rios
A late free agency signing for the Cubs surprised most fans when they added Edwin Rios on a one-year deal. Another former Dodger, Rios, fell victim to a roster crunch similar to what McKinstry went through during his time in LA.
Although not an everyday player, Rios produced in a big way when he was in the lineup, as he has 20 career homers and 43 RBIs. However, his .219 average and 34% strikeout rate are not good as he is exactly the type of hitter Wisdom is, except from the left side.
Unlike Wisdom, who crushes lefties and struggles against righties, Rios struggles against lefties and crushes righties. That being known, look for Rios to handle more of the 3B duties when a righty pitches, as Ross may not have a defacto starting 3B, but instead a platoon duo to hold down the fort.
Prediction, 97 games, .245 average, 13 homers, and 34 RBIs.
Rios will play a career-high in games this season and will see plenty of time at the plate. However, given his limitations defensively, he could lose some time should he start to struggle at any point.
Look for his power numbers to be solid, but not as good as they were in LA. However, you may also see an increase in batting average which would be huge. He is a very intriguing piece on the Cubs roster and one that is worth following all spring into the regular season.