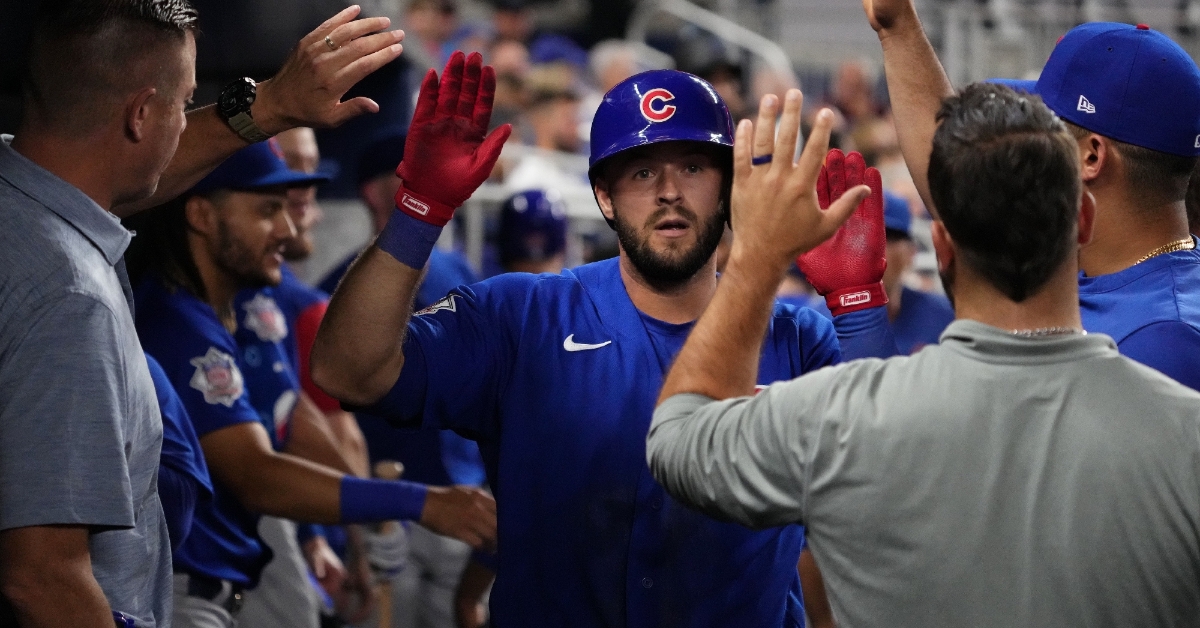 | | |
| --- | --- |
| CubsHQ Mailbag: David Bote, Lineup Predictions, Pitch clock, more | |
---
As Spring Training ends and Opening Day 2023 approaches, we at CubsHQ decided to field and answer some of your Cubs' questions before the season begins.
Q: Will the pitch clock be fully implemented?
This has been a hot topic of Spring Training, but yes, the pitch clock is a part of the rules that will be fully implemented here in 2023 and beyond. Does that mean the current pitch clock is perfect and allergic to tweaks? Absolutely not. As it is currently stated by MLB.com: "In an effort to create a quicker pace of play, a 30-second timer between batters will be implemented in 2023. Between pitches, a 15-second timer will be in place with the bases empty and a 20-second timer with runners on base."
You can view the rest of the stipulations, which include step-offs, batters calling time when violations occur, and more HERE:
Q: Will David Bote make it on the 40-man roster...or start off in the minors...??????
David Bote has had 31 spring at-bats and has hit a robust .323. He has had ten hits, including four extra-base hits to drive in five runs, and is slashing .323/.447/.548. However, Bote plays third base and second base — the Cubs' two most crowded areas. With Nico Hoerner a shoe-in to make the opening-day roster and play second base, Bote is battling with Patrick Wisdom, Christopher Morel, Nick Madrigal, Zach McKinstry, Miles Mastrobuoni and Edwin Rios just for playing time.
All these factors make it tricky for Bote to be on the 40-man roster to break camp when the season starts this week. In fact, of all those players mentioned above — Bote is the only one not on the 40-man roster.
Q: Are the newer & larger bases working out?
Spring Training is not the biggest sample size to know if the new larger bases are working out: which would mean increasing base stealing numbers with an anticipated rise in baserunners due to the other newly installed rules. This is likely something that will become known once the year moves longer. The Cubs have stolen 27 bases in Spring Training thus far and stole just 15 bases in Spring Training in 2022. While the roster is constructed differently, there has been a spike in steals this year — so that would point to the bases working out.
Q: Given the struggles of Adrian Sampson in spring thus far, has the door opened for Wesneski to take the no. 5 spot?
Spring Training presented some struggles for Adrian Sampson — who many thought entered Spring Training as the favorite to be the Cubs' fifth starter with Kyle Hendricks injured. In four starts, Sampson is 0-2 with an ERA of 8.66. In 17.2 innings, he allowed 22 hits, 11 of them home runs. However, last year, in 19 starts, he performed admirably with an ERA of 3.11 and accumulated a WAR of 2.1.
But Sampson's struggles opened the door for Hayden Wesneski. Wesneski was acquired from the Yankees at the 2022 trade deadline and turned heads down the stretch. He made four starts, struck out 33 batters in 33 innings, and had a 2.18 ERA for the Cubbies. In spring, he has been the Cubs' best pitcher. He has made five starts and, in 17 innings, has an ERA of 2.12 with a team-leading 22 strikeouts. This led to David Ross determining that Wesneski would be the Cubs' fifth starter to open Spring Training behind Marcus Stroman, Jameson Taillon, Justin Steele, and Drew Smyly.
Q: I think it's between Wesneski and Asaad for the five spot?
As I listed above, Sampson's struggles eliminated him from competition for the five spot in the Cubs rotation. Wesneski had a solid spring training in front of the Cubs brass in Mesa, and the only other option (after the club determined Keegan Thompson and Adbert Alzolay would come out of the bullpen) was Javier Assad. Assad pitched in three games to a 2.57 ERA in seven innings — but where Assad shined was pitching for Mexico in the World Baseball Classic. Assad pitched an additional five and two-thirds innings out of Mexico's bullpen and had electric stuff, with his velocity up. He did not allow a win and struck out six batters. While Wesneski was given the fifth spot in the rotation, Assad turned some heads and made a push to make the big league roster in some capacity out of camp.
Q: With Seiya Suzuki slated not to be ready, does that mean Mervis will get his shot to stick and DH and play some first base? Does Mancini start the season as everyday RF?
Seiya Suzuki's injury that will keep him sidelined to start the season appeared to have opened doors for other players to get more playing time to open the season. Nelson Velazquez and Mike Tauchman have benefitted from a lot of at-bats and a lot of innings in right field during Spring. Christopher Morel, Trey Mancini, Matt Mervis, and Patrick Wisdom are some of the other players set to benefit from Suzuki missing time, which could allow them to play more often. Right field could feature Tauchman, Velazquez, Mancini, Morel, or Wisdom — and could also allow for more opportunities to DH or play third base for Mancini or Wisdom, or Morel, respectively.
Q: Lineup prediction?
Nico Hoerner 2B
Dansby Swanson SS
Ian Happ LF
Cody Bellinger CF
Patrick Wisdom 3B
Trey Mancini RF
Eric Hosmer 1B
Christopher Morel DH
It is probably my anticipated best lineup — but Mike Tauchman has been one of the Cubs' most productive players in spring with nine hits, four doubles, and a team-leading six steals. And when you think about developments and options for Iowa, there are a lot of factors to consider that could keep Morel, Velazquez, or Mervis in Triple-A Iowa.
Stay tuned as 2023 Opening Day is just around the corner!

Tags: Cubs Baseball
,
David Bote
,
Nico Hoerner
,
Patrick Wisdom
,
Christopher Morel
,
Nick Madrigal
,
Zach McKinstry
,
Adrian Sampson
,
Kyle Hendricks
,
Hayden Wesneski
,
David Ross
,
Marcus Stroman
,
Justin Steele
,
Drew Smyly
,
Keegan Thompson
,
Adbert Alzolay
,
Javier Assad
,
Seiya Suzuki
,
Nelson Velazquez
,
Ian Happ
,
Yan Gomes