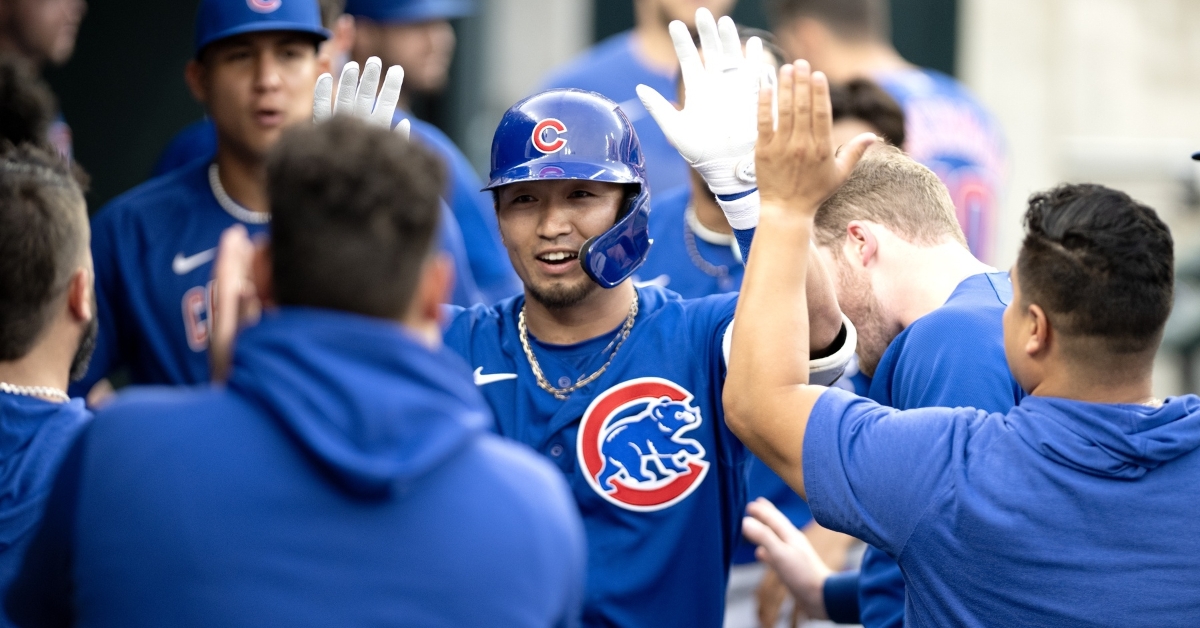 | | |
| --- | --- |
| Fly the W: Madrigal, Suzuki clutch in win over Tigers | |
---
DETROIT - At this point in the season, the Chicago Cubs (63-57) will take any win they get in any way possible. Even the games against the teams they should beat have turned out to be nailbiters, and Monday was another one of those games against the Detroit Tigers (57-68) at Comerica Park.
Since Javier Assad took over for Marcus Stroman in the rotation, the right-hander has been nothing short of impressive. He has saved the Cubs rotation as they were limping to the finish line at the worst time. Granted, Assad wasn't at his best, but he did his job while the offense gave him plenty of early run support, only to have the bullpen let Assad down late. Fortunately for the Cubs, this battle-tested team refuses to go away, as they scored twice in the ninth to hold off the Tigers 7-6.
Getting back to Assad. The right-hander gave the Cubs all they could have asked for and more as he tossed 5 1/3 innings of two-run four, strikeout baseball to lower his ERA to 3.13. Both runs came on solo homers in the sixth as he held the Tigers scoreless through five.
"The offense was great," said Assad to reporters. "Getting the advantage, the lead, was huge. It definitely helped me become more aggressive and just overall grew the confidence."
Opposing Assad was Alex Faedo, who did what he could to keep things close. Faedo was charged with four runs in six innings, but only two were earned as he managed to match Assad pitch for pitch.
Despite the Tigers putting a pair of runners on base against Assad in the first, neither team could do anything offensively, as the score remained 0-0. Once the second inning rolled around, it was the Cubs taking advantage of Faedo as they began to look like the offense the fans had seen the entire second half.
A one-out walk to Dansby Swanson got things started before the Seiya Suzuki single put runners on first and second. Jeimer Candelario grounded into what looked to be a routine fielder's choice, only to have an error lead to the game's first run and keep the inning alive. A few pitches later saw Suzuki trot home on a wild pitch to double the lead, with Nick Madrigal adding a massive two-out RBI double to push the lead to 3-0.
It was a lead that Assad could work with as he kept the Tigers offense in check most of his start as he retired nine straight at one point and nine of 11 overall to start his outing. With the score still sitting at 3-0, Suzuki continued his recent hot stretch by connecting for another homer to extend the Cubs lead to 4-0 in the fourth.
Seiya Suzuki - Chicago Cubs (13) pic.twitter.com/pIGpPdhAOd

— MLB HR Videos (@MLBHRVideos) August 21, 2023
With a leadoff error allowing a runner to reach base to lead off the fifth, Zach McKinstry worked a walk as you started to see the fatigue setting in for Assad.
He managed to pitch around trouble in the fifth but wasn't so lucky in the sixth when Spencer Torkelson and Kerry Carpenter connected for back-to-back homers to make things 4-2. That was the end of the road for Assad, who was replaced by Hayden Wesneski to finish the sixth without further damage. A scoreless paved way to the eighth, where Ian Happ came through with a clutch two-out triple to keep the inning alive. That proved pivotal in the Cub's victory, with Cody Bellinger using an RBI single to bring him in and make things 5-2.
At this stage of the game, David Ross had to feel confident in his team's chances, but with a few of his high-leverage guys unavailable due to workloads, he would have to piece together the final six outs. Calling on Michael Fulmer was a great option, as the right-hander hoped to make quick work of his former team.
Instead, Fulmer went on to have one of his worst outings in a long time, allowing a Torkelson double to start things, with Carpenter following suit with a single. Throw in a walk to Matt Vierling, and the Tigers had the bases loaded with no outs and were threatening to make things interesting. As expected, a pair of Cubs kept things interesting, with Javier Baez coming through with a one-out double to close the gap to 5-4.
One batter later, McKinstry kept the line moving using an RBI single to tie things up, and just like that, it was a brand new ballgame. That was the end of the day for Fulmer, who was replaced by Daniel Palencia as he retired the only hitters he faced to get the game into the ninth. In that ninth inning, you had a pair of doubles lead to the go-ahead run, with Yan Gomes starting things off and Madrigal following suit to put the Cubs back in front for good.
A Mike Tauchman single put runners on the corners with no outs, only to have the next two batters retired. Fortunately, Happ was able to bring home what was the game-winning run as his RBI fielder's choice gave the Cubs a 7-5 lead and only three outs to go. With Adbert Alzolay down for the day, Ross went with Mark Leiter Jr, who was looking for his fourth save of the season.
Used to high-leverage situations, Leiter Jr surrendered a one-out single to Torkelson before striking out Carpenter for the second out. Torkelson would take second on a defensive indifference which came back to haunt the Cubs as Vierling added a second single in the ninth to pull the Tigers within 7-6. That was as close as they would get as Leiter Jr bounced back to retire Parker Meadows to end the game and picked up his fourth save on the season
"A nice job by the offense all the way up and down. Guys getting on base, having really good at-bats, doing a nice job of just turning the lineup over, continuing to grind," manager David Ross said after the win. "Even when we gave it back, they fought back.
"Sometimes, you've got to claw teeth and nails, and that's a character win for the group. Phenomenal job up and down. A team win."
Suzuki and Madrigal led the way with two hits, with Madrigal leading the way with two RBIs. Chicago will now look to reach their season high for games above .500 as Drew Smyly returns to the rotation on Tuesday.
#Cubs win. Nick Madrigal drives home the go-ahead run in the 9th. pic.twitter.com/zH1DeGPKXt

— Taylor McGregor (@Taylor_McGregor) August 22, 2023
"He's forever ingrained in Chicago Cubs history."

David Ross on Javy Báez. pic.twitter.com/puSApJm7dQ

— Marquee Sports Network (@WatchMarquee) August 21, 2023
"Winning the World Series and being around all the fans from Chicago, it was really amazing."

Javy Báez on his most memorable moments as a Cub. pic.twitter.com/im0W29rW61

— Marquee Sports Network (@WatchMarquee) August 21, 2023

Tags: Cubs Baseball
,
Javier Assad
,
Marcus Stroman
,
Dansby Swanson
,
Seiya Suzuki
,
Jeimer Candelario
,
Nick Madrigal
,
Zach McKinstry
,
Hayden Wesneski
,
Ian Happ
,
Cody Bellinger
,
David Ross
,
Michael Fulmer
,
Daniel Palencia
,
Yan Gomes
,
Adbert Alzolay
,
Mark Leiter
,
Drew Smyly