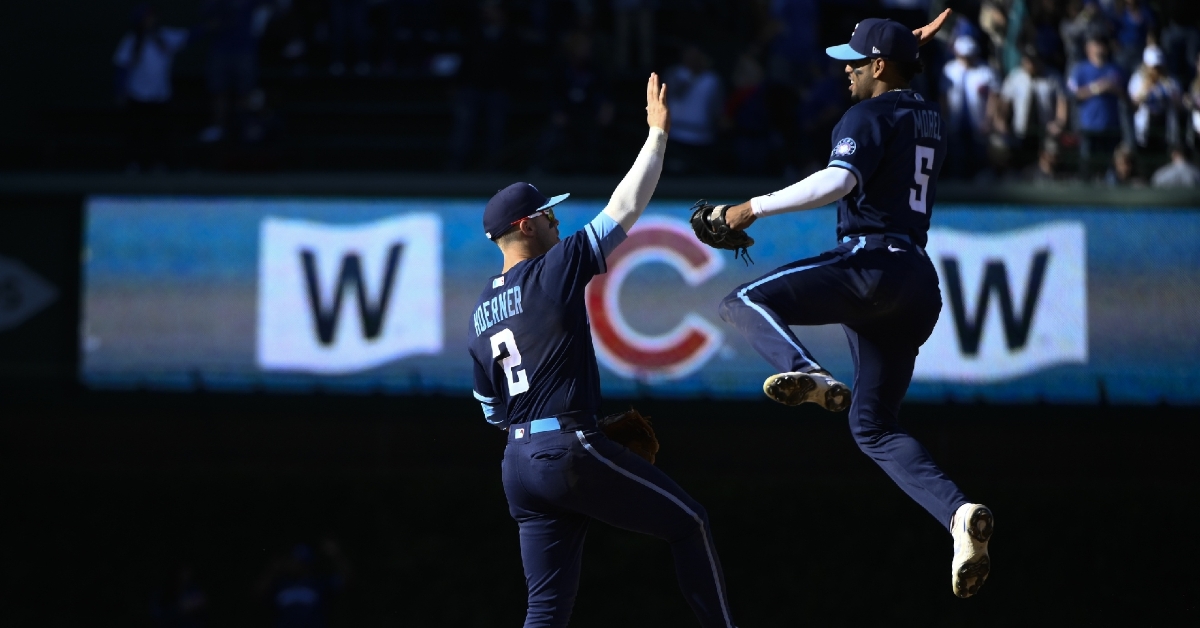 | | |
| --- | --- |
| Predicting the 2023 Cubs Opening Day Roster | |
---
I have to give Credit to Jed Hoyer, Carter Hawkins, and the entire Cubs front office. They said they would spend money this off-season. They said they would be aggressive, but would do it intelligently. Not only did they do that, but you could argue that this is the most improved team in the NL Central and could be one of the most improved teams in all baseball.
Whether the wins translate from their offseason remains to be seen, but the Cubs will be fun to watch this season. With Spring training roughly a month away, there isn't much more this team can do as they are 13 million dollars from passing the Luxury Tax. That is something they wanted to stay under this season, so look for minor moves or even minor league signings from here on out.
Hoyer did specify that the team is working on a few more deals, and one could be adding a left-handed reliever to the pen. If that is the case, Matt Moore and Andrew Chafin are the names mentioned, as that would be the final move of the offseason for this team. Regardless, the Cubs will start focusing on Spring Training and what their roster could look like on opening day.
As things sit right now, we can safely assume that at least 11 of the 13 position spots are accounted for, with 10 of the pitching spots accounted for. The remaining five positions will come down to who wins those battles in spring, as it should be a fun and competitive spring training this year.
Here is what the Cubs' Opening Day roster could look like once the dust settles:
Starting lineup
C Tucker Barnhardt, 1B Eric Hosmer, 2B Nico Hoerner, SS Dansby Swanson, 3B Patrick Wisdom, LF Ian Happ, CF Cody Bellinger, RF Seiya Suzuki, and DH Trey Mancini. Looking at this list, there are only so many surprises apart from catcher and 3B. You could argue that Yan Gomes deserves the start at C, but the Cubs are expected to play the lefty/righty platoon matchup early on.
Wisdom getting the start at third could also be a surprise to some, but the Cubs don't have too many options right now, so that becomes his job by default. In any instance, this is a much deeper lineup than a season ago and has much more power.
Bench options
C Gomes, 2B Nick Madrigal, UTIl Christopher Morel, and Util Zach McKinstry. Gomes and Morel were a given to land on the bench, but the other two names may come as a surprise. Given Madrigal's year, many people expected him to start in AAA or even be traded. While that may be the case, he does have a place on this team for now, even if it is in a reserve role.
McKinstry could be the odd man out, depending on how Brennen Davis and Matt Mervis do in spring. If either of those guys breaks out, look for McKinstry to start the year in AAA. If not, you have a utility player you can move around, giving the Cubs and David Ross plenty of unique lineups.
Starting pitching staff
1. Marcus Stroman, 2. Jameson Taillon, 3. Justin Steele, 4. Drew Smyly, and 5. Hayden Wesneski: One of the biggest surprises last season was how much the Cubs starting rotation improved as the season went on. From July 1 on, the Cubs staff had the third-lowest ERA in the Majors, only behind the Dodgers and Astros.
On paper, this will not be the best staff, but they have a ton of potential. Taillon comes in to be another inning eater with Stroman on top, while Wesneski and Steele look to improve on what were strong showings last year. The Cubs have a lot of other options they could go with, but for now, this is how I see things looking early.
Relief options
Adrian Sampson, Ryan Borucki, Rowan Wick, Jeremiah Estrada, Brad Boxberger, Brandon Hughes, Adbert Alzolay, and Keegan Thompson. As mentioned above, the Cubs are still looking to add a lefty arm. If that happens, things could look different. If not, Borucki will step in as the second lefty to pair with Hughes.
You also have Estrada as the x-factor here, as his spot is dependent on the health of Ethan Roberts and Codi Heuer. Both will miss time early in the season, but both could have significant roles as the season goes on. One thing to pay attention to is the possible back end of the Cubs pen, which could be surprisingly good.
You have Hughes as a seventh and eighth-inning option, but you also have Boxberger and Alzolay, who you could use in that spot. Despite having some success in the rotation last year, Thompson should be the closer in 2023, as his stuff is lethal. It will be up to the pitching to take the next step in 2023, and hope the offense picks it up.
Other players that could be 2023 factors:
Injured List: Ethan Roberts (Tommy John) possible September return. Heuer (Tommy John) July return. Kyle Hendricks (Shoulder) TBD.
If Hendricks is healthy and ready to go for the season opener (highly unlikely), it will leave the Cubs with a massive decision regarding his fit inside the organization. Hendricks will also be a trade candidate this season as the Cubs need to figure out what he has left in the tank.
Other players to watch as possible final roster nominees
Michael Rucker RP, Anthony Kay, and Ben DeLuzio.

Tags: Cubs Baseball
,
Andrew Chafin
,
Nico Hoerner
,
Patrick Wisdom
,
Ian Happ
,
Seiya Suzuki
,
Yan Gomes
,
Nick Madrigal
,
Christopher Morel
,
Zach McKinstry
,
Brennen Davis
,
David Ross
,
Marcus Stroman
,
Justin Steele
,
Drew Smyly
,
Hayden Wesneski
,
Adrian Sampson
,
Rowan Wick
,
Jeremiah Estrada
,
Brandon Hughes
,
Adbert Alzolay
,
Keegan Thompson
,
Ethan Roberts
,
Codi Heuer
,
Kyle Hendricks
,
Michael Rucker