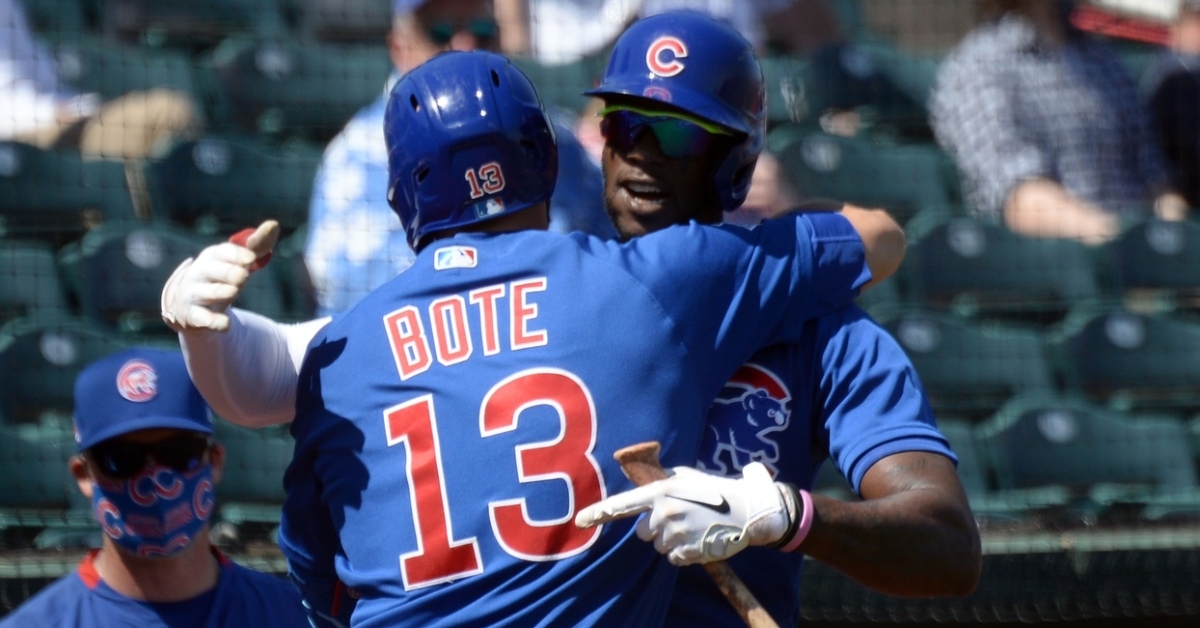 | | |
| --- | --- |
| Three takeaways from Cubs win against Indians | |
---
We are now in the stretch run of spring training as there is just over a week remaining. This is the part of spring where managers begin to piece together what their opening day rosters will look like with more regular at-bats for their regulars.
For the Cubs, this is when you want to start putting your pre-camp principles in place, so you are ready to go come opening day. While there are still several things that need to be ironed out, winning certainly isn't one of them, as the Cubs topped the Indians 4-3 to improve to 8-5-2 on the spring.
Getting the ball for the Cubs was Jake Arrieta as he continues to round into form for the regular season. Coming off elbow surgery this offseason, Arrieta is not the same pitcher he once was looking to reinvent himself this season. On this day, however, it was vintage Arrieta as he allowed one run on four hits in four innings of work to go with no walks and five punchouts.
Opposing him was Zach Plesac, who is looking for another big season. David Bote greeted him rather rudely in the first inning, taking him deep to give the Cubs a 1-0 lead.
Express shipping courtesy of @DavidBote13. pic.twitter.com/iSKpqq9e0s

— Chicago Cubs (@Cubs) March 18, 2021
Much like Arrieta, Plesac was on point, allowing one run on four hits in five innings with no walks and four punchouts in his own right. After the Indians tied things up in the bottom of the fourth on a Dan Johnson single, it was time for the Cubs bullpen to take over.
Dillon Maples was first in line out of the pen as he conceded an RBI double off Ben Gamel's bat to give the Indians a 2-1 lead. Outside of that, Maples was extremely sharp, striking out the side. The top of the sixth signaled for the Indians pen to take the field with Oliver Perez on the bump. Hoping to work out of a jam, Jake Marisnick made him pay as his three-run shot was not his first of the spring but provided the Cubs with a 4-2 lead.
Hoping to hold on to this lead, the Cubs followed up Maples with Keegan Thompson, Brandon Workman, and Jason Adam. The trio may have given up some hard contact surrendering five hits, but they also walked just one to go with seven punchouts. Cubs pitchers struck out 16 batters on the day with only one walk.
Looking to close things out in the night was Trevor Megill. Two batters in, however, and the Indians had a pair of runners on base following two singles. After inducing a groundout that moved them over, Ryan Lavarnway appeared to send one deep, leading to a walk-off homer. Fortunately, Brennan Davis was there to make a great play to allow a sacrifice fly, with the score now sitting 4-3. Megill settled down from there, striking out the final batter to give the Cubs a 4-3 win.
Better late than never
When the Cubs signed Marisnick this offseason, it aimed to replace the things Albert Almora brought to the table. A bit more power at the plate to go with more speed and Marisnick will be an interesting piece this season.
After a calf injury slowed his progress to start camp, he is back on the field and producing in a big way. After picking up an RBI in his game that was not considered a spring game, Marisnick delivered the game-winning RBI today with his three-run homer. Hopefully, this is the start of a solid finish to the spring to give the Cubs a nice bench piece.
.@JSMarisnick gives us the lead! pic.twitter.com/nWwb3YpuOe

— Chicago Cubs (@Cubs) March 18, 2021
Trevor Megill deserves a bullpen spot
With Rowan Wick still nursing an oblique injury, there appears to be an opening in the Cubs pen to open the season. While there may be some familiar names that people are throwing out there, no one deserves it more than Megill.
A non-roster invitee looking to compete for a spot more than anything has suddenly emerged as a force in the Cubs pen who could be a late-inning option this season. After posting scoreless innings in each of his first few appearances, Megill battled through adversity for the first time this spring, conceding his first earned run allowed. Outside of that, Megill continues to impress and should be the favorite to land the spot most likely vacated by Wick.
Cubs pitchers recorded 16 strikeouts in today's win! pic.twitter.com/H3ygWEIChK

— Chicago Cubs (@Cubs) March 19, 2021
Reinventing himself on the mound
When the Cubs brought back Arrieta, there were many reasons for the decisions. He is a legend in Chicago who brings a great veteran's presence to the clubhouse. He has a long track record of being an innings eater, and most importantly, he had five incredible years of success the first time around with the Cubs.
Following a dismal three years with Philadelphia, not only is Arrieta back at home where he belongs, but you can tell he is happy to be back. This isn't the same Arrieta that Cubs fans fell in love with four years ago, as the velocity and pure domination are not there.
Instead, Arrieta is having to reinvent himself as a pitcher, which includes pitching to more contact in hopes of inducing ground ball outs. So far, the results have been fantastic this spring, and there is a lot of confidence that he can continue that into the season. There will still be flashes of the old Arrieta from time to time, but the new version of him could be just as good.
5? strikeouts for Jake! pic.twitter.com/RcixODAISn

— Marquee Sports Network (@WatchMarquee) March 18, 2021

Tags: Cubs Baseball
,
Jake Arrieta
,
David Bote
,
Dillon Maples
,
Jake Marisnick
,
Keegan Thompson
,
Brandon Workman
,
Jason Adam
,
Trevor Megill
,
Albert Almora
,
Rowan Wick