| | |
| --- | --- |
| WATCH: Rizzo wears full uniform on Cubs' flight to Washington, D.C. | |
---
| | |
| --- | --- |
| Thursday, September 13, 2018 4:43 PM | |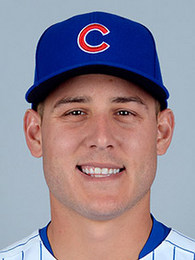 WASHINGTON, D.C. — Making light of a tough travel situation, Chicago Cubs first baseman Anthony Rizzo opted to wear his full uniform, complete with cleats and eye black, on the Cubs' overnight flight to Washington, D.C.
After finishing off a three-game series at home against the Milwaukee Brewers on Wednesday night, the Cubs had to make the trek to the nation's capital so that they could make up a game against the Washington Nationals that was postponed due to rain this past Sunday.
Currently in the midst of a taxing stretch that has featured no true off days for over three weeks now, many members of the Cubs, including Rizzo and manager Joe Maddon, were not exactly pleased with the MLB's decision to make their schedule even tougher by forcing them to make up the postponed game in Washington, D.C., on such short notice.
Adding to the calamity of the situation has been the looming rainfall brought on by Hurricane Florence. Although the storm's path has shifted over the course of the week and is not likely to affect the Mid-Atlantic, the threat of having to fly back to Chicago in rough conditions made the situation seem even more ridiculous to Rizzo.
Posting photos of himself decked out in full uniform on the airplane to Instagram, Rizzo included a caption that was essentially a letter to Hurricane Florence asking it to stay away from Nationals Park on Thursday. Rizzo also spoke with the media about his comical choice of traveling attire, explaining his decision to dress up.
"We're flying into a state of emergency with rain in the forecast," Rizzo said, "It's kind of a joke. So why not keep joking around about it?"
While the Cubs are known for sporting interesting get-ups for their road trips, Rizzo's decision to sport his uniform and cap is a first. Kudos to Rizzo for going all out to make a bold point.