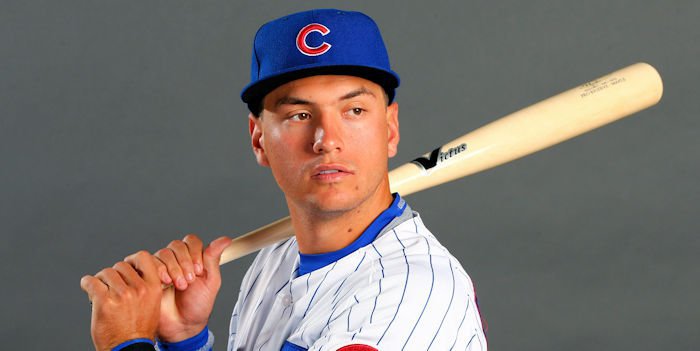 | | |
| --- | --- |
| ESPN proposes idiotic trade involving Almora and Happ | |
---
Many Chicago Cubs were devastated after the team was unable to re-sign center fielder Dexter Fowler to a long-term contract during free agency. Fowler ended with the rival Cardinals and one of the reasons that the Cubs didn't overpay for Fowler was the emergence of Albert Almora Jr. waiting in the wings.
ESPN senior writer Jim Bowden released his latest article discussing potential trades that teams should do this spring. Bowden had the audacity to suggest that the Cubs should trade two of their brightest prospects Albert Almora Jr. and Ian Happ for only Reds speedster Billy Hamilton.
"The Cubs need a leadoff hitter after Dexter Fowler departed for the St. Louis Cardinals as a free agent, and Hamilton could fill that void," ESPN said. "As shown by his improvement with his .321 on-base percentage last season -- he projects to .340 this season -- he's finally starting to develop at the plate."
Hamilton isn't really a solid hitter but is a speedster and would cover a lot of ground in center field.
"He has stolen 55 or more bases for three straight seasons, and at 26 years old, he is just entering his prime. Hamilton's blazing speed gives him the potential for 70-plus stolen bases," ESPN said. "This will force pitchers to throw more fastballs to Kris Bryant, Anthony Rizzo & Co. Ben Zobrist could help Hamilton learn to better work counts and draw more walks, and when Hamilton does that, watch out."
The Cubs would more than likely not trade two of their three brightest prospects in their entire organization for just Hamilton. Almora Jr. and Happ are ONLY 22 years old and are under team control for SIX more years at a very inexpensive salary.
"The Reds control Hamilton's contract for only three more years, but they would be able to control Almora's and Happ's deals for six major league seasons," ESPN said. "Hamilton is also arbitration-eligible next offseason, which means he'll start getting expensive, while Almora and Happ won't be eligible for three more years, at least. The Reds get significant financial and control savings in this deal, and that should help their long-term rebuilding process."
Cubs president Theo Epstein is way too savvy to make an absurd move like this and would probably get a few chuckles at this one-sided trade proposal.