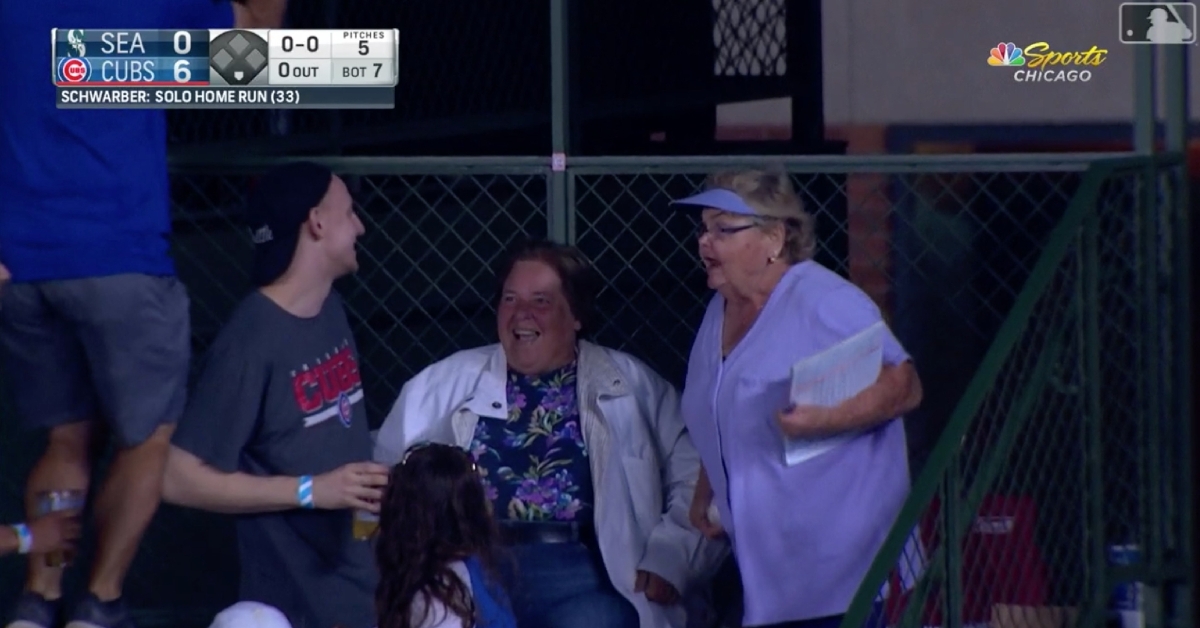 | | |
| --- | --- |
| WATCH: Fiery old lady nabs Kyle Schwarber's home-run ball | |
---
| | | |
| --- | --- | --- |
| Wednesday, September 4, 2019, 1:22 AM | | |
CHICAGO — A hilarious scene transpired in the Wrigley Field bleachers after Chicago Cubs left fielder Kyle Schwarber went yard on Tuesday. Schwarber put the Cubs up 6-0 in the bottom of the seventh against the Seattle Mariners, and the Cubs eventually came away with a 6-1 victory.
However, the 412-foot dinger, which featured a dramatic bat drop from Schwarber, was nearly overshadowed by a commotion in the seats beyond right field. The solo shot ricocheted off a railing and into the shoulder of woman sitting in the stands, which led to an interesting turn of events.
Instead of focusing on the welfare of her friend, the old lady sitting next to the injured lady nabbed the home-run ball and let it be known that it was hers, as she clutched the baseball tightly to her chest while barking at a couple of guys who also attempted to snag the souvenir.
The snippy elderly woman then checked on her acquaintance, who was able to fight through the pain. Wrigley Field employees checked on the lady and even brought her an ice pack for her shoulder. Meanwhile, the Bleacher Bum granny kept a close watch over her new prized possession.