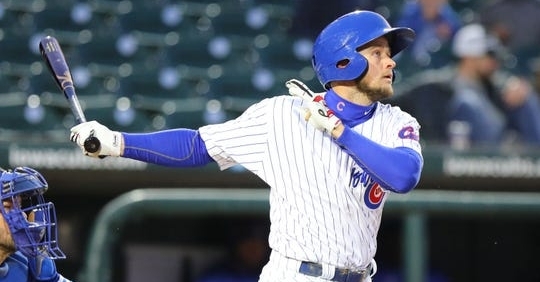 | | |
| --- | --- |
| 2020 Season Projections: Chicago Cubs OF prospects | |
---
| | | |
| --- | --- | --- |
| Monday, March 30, 2020, 1:01 PM | | |
We move back to the minors today as we focus on some of the key outfielders throughout the Cubs system. If I were to highlight every outfielder they have, it would take four or five days to get through, so focusing on just five appears to be a safe bet.
It is no secret by now that the Cubs have a plethora of outfielders both at the big-league level and in the minors. Some of them may strictly be used as depth pieces, but you also have some who will be making an impact in Chicago eventually.
Donnie Dewees: If Cubs fans weren't familiar with his name last season, they are now as he has come up huge in spring training this year. Dewees has always been a decent hitter and leadoff type candidate during his career in the minors, although the numbers didn't show that last season. A .263 hitter for his career, Dewees dipped to .253 a season ago but connected for a career-high 16 homers for his first double-digit homer season.
His 40 walks and 61 strikeouts proved once again that even though the average isn't where you would expect it to be, he does know how to put the ball in play often. What changed his season around was the string he put together late July and into August. It was at that time where Dewees reached base safely in 20 consecutive games as talk of a September call up was on the horizon. That never happened, but expect to see that this year if able.
Projection .264 average, 14 homers, 55 RBI's.
I think Dewees finally untapped his power potential last season even though playing in the PCL helps. If you got a chance to see him this spring, that power was on display multiple times as Dewees certainly made impressions all spring. What he lacks in overall speed and raw power, he makes up for with his ability to work the count and make contact—both qualities for a leadoff hitter. Dewees will not be a star in this league, but adding him as a fourth outfielder and bench option is a good choice.
Zach Davis: The fastest and best base stealer in the Cubs system is that of Zach Davis, who put that on full display last season. Across a total of 85 games between High A Myrtle Beach and AA Tennessee, Davis was a headache for catchers and pitchers alike stealing 40 bases and being caught just 11 times. That is nearly an 80% success rate, which was near the top in all Minor League ball.
Davis will not wow you with the bat, which is evident in his .263-career average, but once he does get on base, he is a nightmare. That speed also comes in handy in the outfield as well as he uses it to his advantage to run balls down in the gap that very few players have chances to get to. His eye continues to be a problem. However, he did make significant strides last year, which will be a key to his progression.
Projection: .255 average, two homers, 17 RBI's, 19 steals.
Even with a shortened season this year, Davis will have his chances to steal bases and will continue to make the most of those. Not only is he fast, but his ability to get great jumps and accelerate to top speed quicker than most makes it hard to throw him out. For a team that doesn't steal a whole lot at the major league level, Davis would be an excellent X factor in the coming seasons should he continue to improve.
Brennen Davis: It is about time everyone takes notice of Davis and appreciates what we truly have in him. Listed as the Cubs No. 3 or No.4 prospect depending on what site you look at, Davis is the real deal and will be the teams No. 1 prospect next year if he can stay healthy.
Taken directly out of High school in the second round of the 2018 draft, Davis has done nothing but impress in his two pro seasons, hitting a 298 in 18 followed by 305 last year. Davis also hit eight homers and drove in 30 runners last year, all by dealing with multiple hand and wrist injuries that limited him to just 50 games.
What he lacks in pure muscle at this point in his career, Davis makes up for with incredible bat speed, which will only improve as he fills out. We are looking at a potential 30 plus homer star in the Major leagues for years to come as the Cubs struck gold with this one. Health will be a key for Davis this season and had the Minor League season started on time he would have been ticketed to Myrtle Beach or even Tennessee by seasons end.
Projection: .290 average, 11 homers, 40 RBI's.
Davis is the real deal at the plate, and he will lead South Bend in most offensive categories this season. I was very impressed with what I saw from him at 19 last year and can only wonder what he would have done had he played a full season or at the very worst 35 more games.
Davis has had his name brought up in trade conversations with other teams for a reason, but as of now, the Cubs have been smart to hold on to him. Ideally, I think his best fit is right field, but as of now, he is the left fielder of South Bend. Regardless, when it becomes his time to make the show, Chicago will find a place for him.
Yohendrick Pinango: Shifting to the Rookie League now, and you will find one of the final outfield projections in DSL 1 Cubs CF Yohendrick Pinango. At just 17 years old, there is still a lot to be discovered with this kid's game, but if his rookie season was any indication of what he can do, Lookout MLB.
Being competitive at the pro level at 17 is one thing, but when you play in 62 games and act like you have been there for years is another. Not only did Pinango smack the ball to the tune of a 358 average, but he drove in 36 runners despite not hitting a single home run. Add in his 27BB/20K patience at the plate to go along with 27 steals, and that is what you call an MVP season in the Rookie league.
The thing I am looking most forward to in terms of Pinango going forward is what is next for him. I don't expect him to post those kinds of numbers every season, but what is a realistic benchmark we could see. His blend of speed, contact, and a keen eye at the plate makes him a player everyone should keep tabs on.
Projection: .313 average, one homer, 15 RBI's, 15 steals.
Pinango isn't going to post the same numbers he did a season ago, but that shouldn't matter. What he will do in his second season in the DSL, or maybe even AZL is put together another impressive campaign top to bottom that will have scouts around the league wondering how good he can. Still, three years away from his 20th birthday, Pinango will not have to be rushed along, which gives the Cubs plenty of time to watch him develop.
Felix Stevens: Moving to DSL Cubs 2 is where we find the final outfield prospect in Felix Stevens. The best way to describe the Cuban born RF is Jorge Soler part two. Not only does he play the same position Soler did, hailing from the same country, but they have a similar body build, which is scary at just 20 years old. As of now, Stevens stands 6'4 235 pounds and will only continue to get bigger in time.
He certainly put that size to good use in his first season of pro ball as he wowed the DSL crowd on countless occasions with his raw power at the plate. A .280 average is impressive enough, but a six homer 31 RBI season in just 51 games leads me to believe there is plenty more untapped in all that potential.
If there is one knock on him to date, it is his eye at the plate, which was 26BB to 62K. Even that isn't all that bad when you look at what some first-year players have done. TO go along with those six homers, Stevens ripped 15 doubles to go with three triples as he is a total base nightmare for the opposition. I am curious to see if his path takes a similar trend to that of Soler.
Projection: .262 average, seven homers, 28 RBI's.
The power numbers will always be there for Stevens, but at some point, a decision to sacrifice average for power needs to be made. With a shortened season in 2020, I expect that sacrifice to happen this year as Stevens is too big not to be a power-hitting machine.
Playing in the rookie league, it may take a few seasons for fans to truly see what I mean in power potential because none of these games are televised. I was fortunate enough to see him play once last season, and the ball he hit I swear hasn't landed yet. Once he gets to the States to play in a full-season of baseball is when we can genuinely appreciate another Soler type. If his body stays healthy, this is a bat that could grow into a 30 plus homer guy and someone the Cubs could live without.