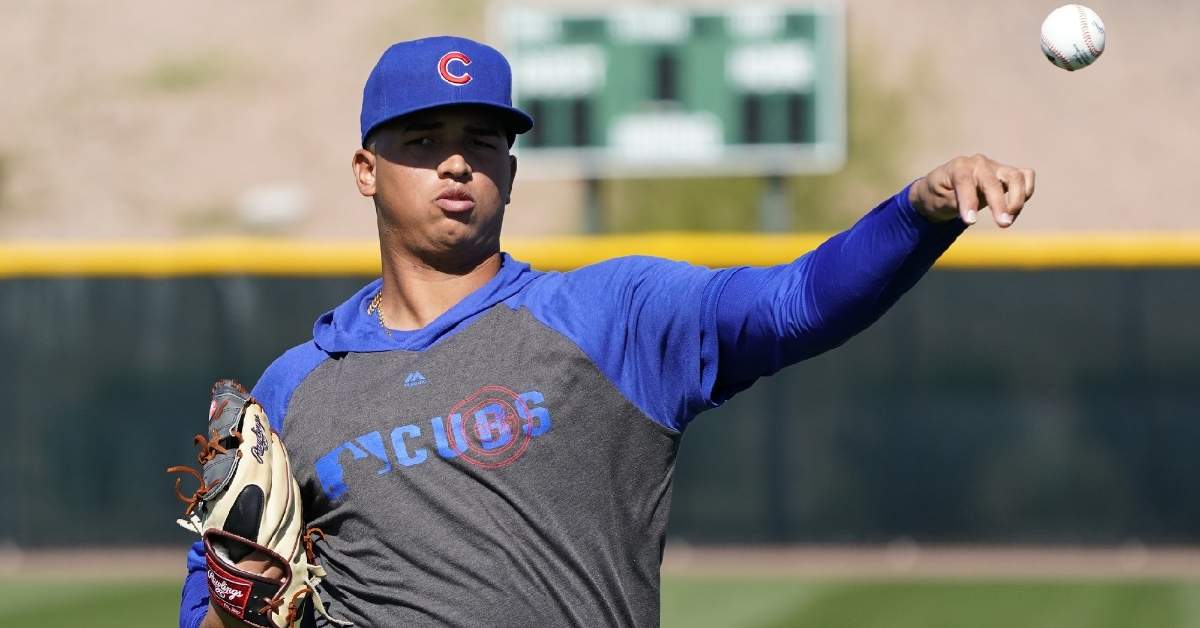 | | |
| --- | --- |
| Cubs News: 2021 Season In Review: Tennessee Smokies | |
---
| | | |
| --- | --- | --- |
| Thursday, October 7, 2021, 6:00 PM | | |
While the Chicago Cubs were suffering through their worst season in seven years at the Major League level, there was hope that the Minor Leagues would bring some more excitement. While some of the teams did, most of them did not, as all four full-season teams finished under .500. One of those teams was AA Tennessee, looking for a bounce-back campaign after a putrid 2019 season.
After putting together the worst record in the system in 2019, the Smokies responded with another rough season finishing the year in last place in the AA South-North Division with a 46-63 mark. To put things into perspective, their season winning percentage of .422 was slightly better than that of 2019, so I guess you can say there was a small amount of improvement from Mark Johnson's group.
Right from the beginning of the season, you could see that things would be rough as the pitching was an issue most of the season. Guys like Javier Assad, Luis Lugo, Peyton Remy, and Cam Sanders were supposed to help this staff take the next step, but it never panned out that way. Sanders especially had a rough year going 4-7 with a 5.32 ERA in 18 starts. He was coming off a 2019 where he anchored the South Bend staff going 8-4 with a 2.94 ERA, so to see him take the steps back he did was shocking.
It wasn't until the second half of the season when pitching started to improve, and a big reason for that was an influx of new faces who came aboard from South Bend. The biggest name of that bunch was 2019 first-round pick, Ryan Jensen. Coming off a solid pro debut where he notched a 2.25 ERA in six appearances with Eugene, Jensen had an up and down season with South Bend going 2-7 with a 4.50 ERA across 16 starts. He did improve immensely, with Tennessee going 1-0 with a 3.00 in four starts as his command took drastic steps in the right direction.
Joining him was Anderson Espinoza, who was acquired in the Jake Marisnick deal with San Diego. Another flame-throwing starter, Espinoza, went 1-3 with a 4.19 ERA in 2021, but got better as the season went on. Following a dismal showing with South Bend, Espinoza saw action in three games, with Tennessee posting a 1.35 ERA while striking out 16 in 13 innings of work. 2020 second-round pick Burl Carraway also made the jump to AA after struggling with South Bend and didn't allow a run in four appearances.
The biggest name missing from this list is No. 2 prospect Brailyn Marquez who was set to anchor the Smokies staff this season. Coming off a breakout 2019 that not only landed him as the top prospect in the system, but helped him make his MLB debut in 2020, Marquez had a season to forget in 2021, which all started with COVID issues in camp.
Once he got through that, Marquez was slowed by a shoulder injury as the Cubs took their time bringing him along. That process didn't seem to work in the Cubs favor as Marquez missed all of 2021 and has now thrown a total of 2/3 of an inning across the last two years. After posting a 16-12 record with a 3.19 ERA through 2019, missing nearly two full years of action is a concern, especially for a team in desperate need of pitching help.
Hoyer says the hope is Brailyn Marquez can be a "pitching weapon" next season, following this lost injury-marred campaign. Maybe breaking into bigs as reliever (as was case with Steele, Alzolay and Thompson) provides a blueprint.

— Jordan Bastian (@MLBastian) October 6, 2021
While the pitching didn't help the Smokies all that much, Tennessee did have plenty of players who contributed on offense, which revolved around No. 1 Prospect Brennen Davis and No. 20 prospect Christopher Morel. Both men were part of the Smokies offense until late September, and they put on quite a show. Morel led the team in homers and RBIs, while Davis was on pace to do so if he had finished the year with the Smokies. Another player who emerged as an excellent piece for the Cubs is potential Organizational player of the year, Nelson Velazquez.
A fifth-round pick back in 2017, Velazquez has taken a bit longer to develop than the Cubs expected, but he now appears to be finding his groove as a player. After hitting a .261 with 12 homers and 46 RBIs in 69 games with South Bend, Velazquez was promoted to Tennessee, where his bat didn't slow down.
In fact, you could argue that once he reached Tennessee, his hitting got even better as he hit .290 across 34 games with eight homers and 27 RBIs. That lands him with a .270 average for the season, 20 homers tied with Trayce Thompson for the organizational lead, and an organization-high 73 RBIs. Velazquez also added 17 steals. Not bad for a guy that not many people expected a ton from when the season starter and who now might be a top 20 prospect next season.
Another surprising name that emerged as a quality player was outfielder Darius Hill. Taken in the 20th round of the 2019 MLB draft, Hill has done nothing but hit since arriving in pro ball, hitting .272 across 52 games in 2019 before hitting .288 in 67 games this season. In just seven games with Myrtle Beach, Hill hit a .375, prompting an early promotion to AA where he played 60 games. Despite going through ups and downs, Hill still managed to hit .277 with five homers and 31 RBIs from the leadoff spot before an injury ended his season in August.
Marquez wasn't the only top prospect to miss time in 2021 as No. 4 prospect Miguel Amaya was the key face to watch this season. Looked at as someone who could break out and contend for a roster spot in 2022, Amaya took significant steps back this season after playing in just 23 games. In those games, Amaya logged 79 at-bats while putting together a .215 average.
While the plate discipline was there, 21 walks to 22 strikeouts, the power wasn't as he had one homer and 13 RBIs before a forearm injury ended his season. Amaya avoided surgery in what looked to be a possible Tommy John type of injury and will now be heading out to Venezuela for Winter Ball, which will be critical to his development.
Not only was Amaya a top 10 prospect opening his season up for AA Tennessee, but so was Chase Strumpf, who was ranked No. 8 to start the year before falling due to an improved system. A second baseman by trait, the 2019 second-round pick bounced around the diamond much more this season, showing his versatility as a player.
While his .231 average is nothing to get excited about, Strumpf put together a great final month where he hit .272 across his last 27 games. He also added seven homers, three in the final month to go with 36 RBIs, as he will most likely be headed back to Tennessee to start the season next year.
Those players highlighted the year for Tennessee, but several others emerged as fun players to watch. Tim Susnara and Edwin Figuera were signed out of the independent league, and they showed they have a future in this organization. Rising stars Carlos Sepulveda and Luis Vazquez continued to prove they can hit despite their youthfulness in age and will be looking to take the next steps going forward.
However, Delvin Zinn is the most intriguing player to watch mainly because of one attribute, SPEED. Although the Cubs ran more under David Ross this season than in the past, Speed continues to lack on this team, and Zinn brings a ton of it. Across 94 games between South Bend and Tennessee, Zinn hit just .215, including just a .159 in 27 games with the Smokies.
What he lacked in hitting, he made up for in defense and on the bases, where he swiped an impress 44 bases out of 56 attempts. Zinn started the year a perfect 29-29 in steals before finishing 42-48 with South Bend while going just 2-8 with Tennessee. His bat certainly needs to improve in the seasons ahead, but you can't teach speed, and he has a ton of it that the Cubs would love to have.

Tags: Cubs Baseball
,
Javier Assad
,
Luis Lugo
,
Peyton Remy
,
Cam Sanders
,
Ryan Jensen
,
Jake Marisnick
,
Brailyn Marquez
,
Brennen Davis
,
Christopher Morel
,
Nelson Velazquez
,
Darius Hill
,
Miguel Amaya
,
Chase Strumpf
,
Carlos Sepulveda
,
Luis Vazquez
,
Delvin Zinn
,
David Ross