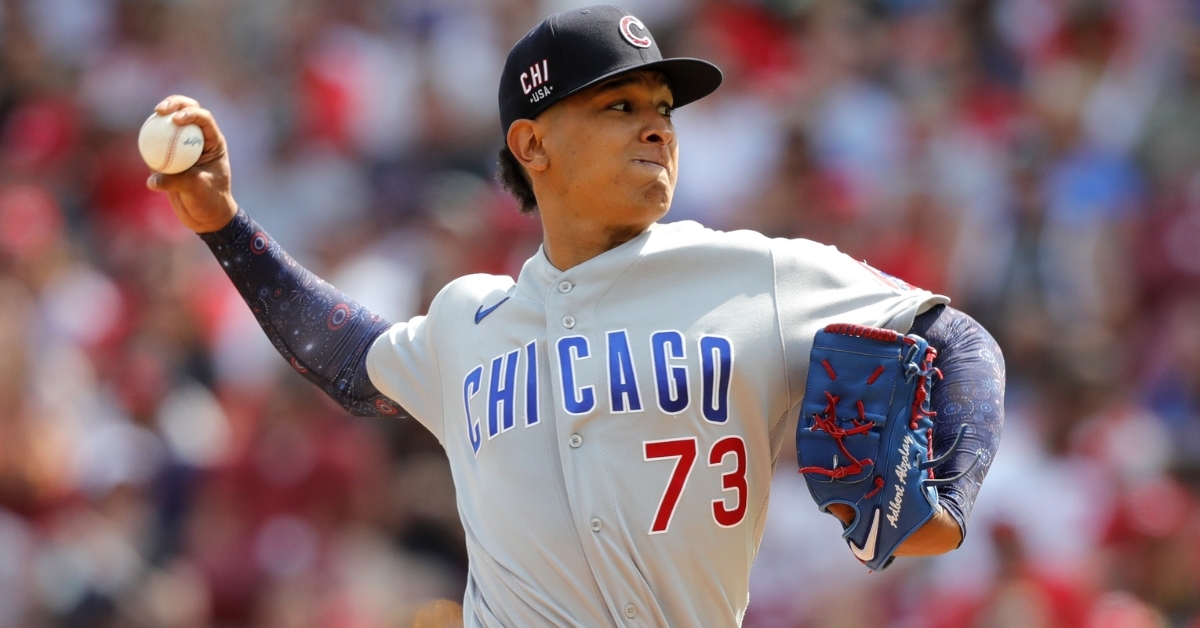 | | |
| --- | --- |
| Adbert Alzolay tosses seven innings, yet Cubs fall to Reds | |
---
| | | |
| --- | --- | --- |
| Saturday, July 3, 2021, 8:28 PM | | |
CINCINNATI — Manufacturing runs has been difficult for the Chicago Cubs (42-41) lately, and they produced yet another lackluster low-scoring performance on Saturday. The North Siders notched their eighth consecutive defeat, with the Cincinnati Reds (42-40) erasing a 2-0 deficit and winning 3-2 at Great American Ball Park. Wasting a quality start by Adbert Alzolay, the Cubs finished 0-for-9 with runners in scoring position, leaving nine runners stranded on base.
Tyler Mahle started on the bump for the Reds, and he struggled with two outs in the top of the first. Javy Baez drew a walk and advanced to second on an Anthony Rizzo single, and Willson Contreras was walked, thus loading the bases. Mahle escaped the jam by striking out Jason Heyward. The Cubs were able to score with two outs in the second, though. Rafael Ortega hit a double to deep right with one away and reached third on an ensuing groundout. He then scored due to a passed ball suffered by Tyler Stephenson, barely beating out Mahle's tag. The second inning concluded with Alzolay showing off his quick reflexes by knocking down a comebacker hit by Eugenio Suarez, which led to a putout.
It's a foot race home!

Cubs lead 1-0! pic.twitter.com/qIzhm2h4g6

— Marquee Sports Network (@WatchMarquee) July 3, 2021
Kris Bryant, who was angry with home plate umpire Nestor Ceja after being called out on a questionable third strike in the first, led off the third with a 410-foot blast out to left-center. The home run was part of a 3-for-5 showing by Bryant, who also played three different positions on the day. Contreras hit a two-out double in the third, but Heyward grounded out thereafter. Ian Happ drew a leadoff base on balls in the fourth and made it around to third via a pair of groundouts. Joc Pederson then hit into the third straight groundout, which prevented Happ from scoring and ended the half-inning.
That's a strike. #KBoom#CubTogether pic.twitter.com/Iyu50Iocdb

— Chicago Cubs (@Cubs) July 3, 2021
Alzolay's first major mistake occurred with two outs in the fourth, as Joey Votto swatted a 417-foot bomb out to straightaway center field. Ortega ran out of real estate while pursuing the deep drive and bumped into the wall as the dinger sailed overhead. Bryant began the fifth with a base knock and headed to second on a wild pitch. However, Bryant was tagged out while diving back to the bag after Baez hit a grounder to shortstop. Contreras walked with two away, advancing Baez to second, but Heyward proceeded to strike out.
This song is a banger. pic.twitter.com/0qZFclyY4v

— Cincinnati Reds (@Reds) July 3, 2021
Tyler Naquin tied the game with a 426-foot jack that led off the bottom of the fifth. Heyward did not even turn around to watch as the no-doubter soared out to right. Mahle's start ended after five innings pitched, in which Mahle struck out seven. Sean Doolittle relieved Mahle and retired the Cubs in order in the sixth, and Alzolay reciprocated by going 1-2-3 through the bottom half of the frame.
Tyler Rake-quin! pic.twitter.com/yBekdlpmXJ

— Cincinnati Reds (@Reds) July 3, 2021
Votto was charged with a throwing error when his underhanded toss to Doolittle was mistimed in the seventh. The mistake allowed the leadoff man, Pederson, to reach. Ryan Hendrix then entered to pitch, and Bryant singled off him, which advanced Pederson to third. The Cubs squandered the golden opportunity to take the lead. Baez popped up onto the infield for the first out, and Rizzo then grounded into an inning-ending double play.
Votto still hangs. pic.twitter.com/zkn0Zblrgs

— Cincinnati Reds (@Reds) July 3, 2021
In the home half of the seventh, Votto collected a leadoff walk and reached third on an ensuing double by Stephenson. Votto opted to remain at third when Naquin grounded out to first. Suarez brought Votto home with a single to right. Alzolay forced Kyle Farmer to ground into a double play after that. The inning-ending ground ball wrapped up Alzolay's seven-inning start, which featured six strikeouts. One such strikeout was a fourth-inning K of former Cub Nicholas Castellanos that saw him swing at a pitch several feet outside on strike three.
Hendrix and Josh Osich combined to sit the Cubs down in order in the top of the eighth, and Brad Wieck and Craig Kimbrel teamed up in pitching a scoreless bottom of the eighth. Heath Hembree toed the rubber in the ninth and benefited from a stunning strike-three call that went against Patrick Wisdom on a full count. The low, outside pitch resulted in Wisdom getting rung up. Eric Sogard hit an infield single after that, and Pederson then struck out. Bryant fouled out to end the game, with Votto catching the foul ball while falling backward. In the wake of the 3-2 loss, the Cubs will finish up what has been a fairly dreadful road trip for them thus far when they close out the three-game series versus the Reds on Sunday.

Tags: Cubs Baseball
,
Adbert Alzolay
,
Javy Baez
,
Anthony Rizzo
,
Willson Contreras
,
Jason Heyward
,
Rafael Ortega
,
Kris Bryant
,
Ian Happ
,
Joc Pederson
,
Brad Wieck
,
Craig Kimbrel
,
Patrick Wisdom