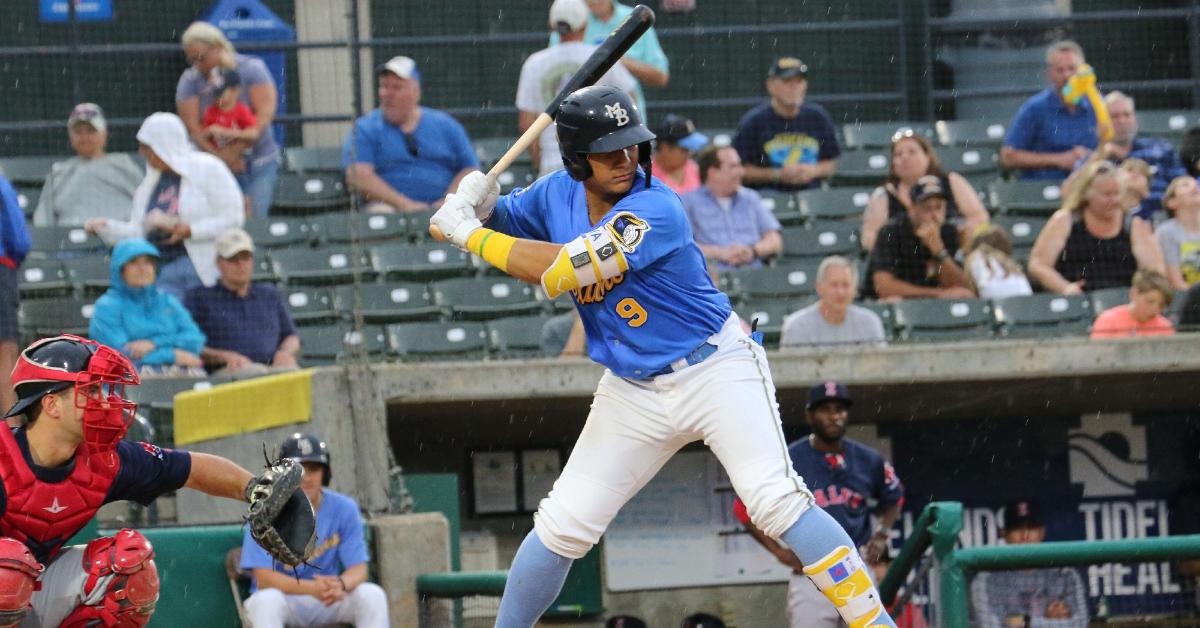 | | |
| --- | --- |
| Breaking down Cubs Summer Camp Roster Part 2 | |
---
| | | |
| --- | --- | --- |
| Wednesday, July 1, 2020, 12:19 PM | | |
Recently we highlighted the Major League portion of the Cubs Summer camp. Today we will shift gears as we not only focus on the current 11 players in the minor league camp, but we will also look at some options for the remaining ten players available to be added to the 60-man roster squad.
Most of these names shouldn't surprise you as they fit the mold of strong prospects, but some names are missing from this list that should be added later.
CATCHERS (Miguel Amaya): As of right now, the Cubs minor league camp only has one catcher in the organization's second-best prospect Amaya. This is not a surprise at all as Amaya had some action this spring and came through with some key hits. Once the big-league roster shrinks and begins to take shape, P.J. Higgins should be added to this group also.
INFIELDERS (Robel Garcia and Christopher Morel): When looking at these two names Garcia is the one that is the most surprising given the kind of year, he had a season ago. After leading the Cubs minor league system in homers last season, Garcia put his power on display by belting five homers in 30 games with the Cubs last season. A rough spring may have sent him back a bit, but I'm surprised not to see him on the major league roster to open camp.
Morel, on the other hand, is an intriguing name, and it comes as no surprise to me that he is on this list. He is regarded as a top 10 prospect in the Cubs system, and there have been teams inquiring about his availability whenever the Cubs were in trade talks with other organizations. I was expecting big things from him this season if he could stay healthy, but now we need to see what a year off will do to him. I love the idea of putting him in minor league camp and getting to work every day.
OUTFIELDERS (Mark Zagunis and Brennan Davis): Once again another shortlist, Zagunis comes in as the surprise to me as he opened the season in the Majors last year. Zagunis put on an impressive display last spring to crack the opening day roster, but once that happened, he struggled to see any significant time eventually landing in Iowa to finish out the season.
Zagunis has always shown the potential to be a solid hitter but never was able to find the consistent playing time to stick on the roster. I feel he could have landed on the MLB roster over Higgins and maybe even over some of the pitchers the Cubs elected to take, but as of now, he ends up in South Bend but will be one of the first players called in for help if needed.
Davis continues to make an impression in not only the Cubs organization but in baseball for that matter as he has climbed his way into the top 100 prospect list. The Cubs No. 3 prospect in the organization and top OF, Davis has all the makings of being a legitimate star in this game but battled several injuries along the way last season. I love his makeup and attitude at the plate and would love for him to see some big-league games this year.
PITCHERS (Jason Adam, Michael Rucker, Dakota Mekkes, Juan Gamez, Brailyn Marquez, and Adbert Alzolay): This list makes me extremely happy and yet surprised at the same time. Pitchers like Adam and Gamez I don't know much about, so seeing them on this list is a shocker to me. Then you have guys like Mekkes and Rucker who have been in big league camp before during the spring but haven't had the seasons needed to break camp to open the season.
After those two, you get to the big names in the Cubs top two pitching prospects Marquez and Alzolay. Marquez was almost a lock to land on this roster, mainly because of his big arm from the left side. He is not ready for big-league action yet, but when you're not even 21 and hitting triple digits as a starter, you need to be given a chance in minor league camp.
Alzolay, to me, is the most frustrating pick of the minor league camp. Not only is he still a top prospect coming in at No. 4 and the teams No. 2 arm, but he saw major league action last year and looked good out of the pen at times. Yes, injuries have always been an issue for him, but he should be in major league camp right now. Would he have made the team before the season? That I don't know, and he may have ended up here regardless, but he deserved the chance to make at the very worst the Cubs pen out of camp and go from there.
Remaining 10 options:
With the Cubs roster currently standing at 50 players, there are ten spots up for grabs as we inch closer to summer camp. While there are hundreds of players that can fill these spots and everyone's opinion will be different, I have my eye set on ten players who I feel most deserve those final ten spots.
Here is my list.
PITCHERS (Tyson Miller, Cory Abbott, Manny Rodriguez, Burl Carraway, and Brandon Morrow): Tyson Miller and Cory Abbott almost have to be added to minor league camp don't you think? I mean, both are coming off great seasons and were ticketed to be some of the keys for the Iowa rotation this season. Manny Rodriguez was an unknown heading into spring, but after displaying some impressive stuff throughout his brief stint on the Cubs spring training roster, Rodriguez is the power arm the Cubs would love to have in the pen.
I know Morrow is an injury waiting to happen, and I know he has missed more games than played in after he signed with the Cubs, but I must add Morrow to this list for a few reasons. The first reason being when healthy, we have seen how good Morrow can be, and if he can return close to that form, that is another late-inning pen option for the Cubs. The second reason being that his contract is cheap, and you're not going to be hurting if it doesn't work out. Finally, I feel this is the last chance Morrow will ever have to make a comeback so he may use that to ignite the fire.
Ever since the Cubs drafted Carraway in the second round this year, a lot of scouts have gone on record saying he could be contributing in the Cubs pen this season. What better time to find out than during a shortened season where he could get to work immediately, showing everyone what he has.
INFIELDERS (Trent Giambrone, Hernan Perez, Carlos Asuaje, and Ed Howard): When it comes to Giambrone and Perez, I would like them added to the initial roster mainly because of their utility value in the field. Both are infielders by trait, but they can both play the outfield and have plenty of experience doing just that. Giambrone had the much better season and spring over Perez, but Perez has the MLB experience.
In terms of experience, that is where Asuaje comes into play as he would be a great middle infield depth option. Not only that, but Asuaje is also no stranger to bouncing around between the MLB and the minors, so continuing that role would be something he is used too. The one name that I don't see being added, although I would love to see, is that of first-rounder Ed Howard.
The recently signed SS is very young and extremely raw and probably won't be ready for MLB action for the next three to five years. However, what better way to gain experience than putting him in minor league camp with guys who have been doing this for years. That could speed up the development process sooner rather than later, and the Cubs could then see what they truly have in him.
Outfielder (Felix Stevens): This is a name that not many people know, but I want to see what this guy has. Stevens was previously on the DSL Cubs 2 team, now know as DSL Cubs Red and has the potential to be a big-time bat in the future. The Cuban born product stands at 6-4 and weighs 235 lbs giving a striking resemblance to Jorge Soler at a young age.
From a power standpoint, he has proven to be a big-time hitter as he not only hit a 280 during his first pro season but mashed the baseball for six homers and 31 RBI's in 51 games all at the age of 19. I want to see this kids future pan out nicely and would love to see him stateside playing in minor league camp.
I am sure a lot of the names I picked will not end up on the final roster, but these are who I think would be good fits. There will be a plethora of names we will hear over the next few weeks, so let's just see what happens.

Tags: Cubs Baseball
,
Miguel Amaya
,
Robel Garcia
,
Christopher Morel
,
Mark Zagunis
,
Jason Adam
,
Michael Rucker
,
Dakota Mekkes
,
Brailyn Marquez
,
Adbert Alzolay
,
Tyson Miller
,
Cory Abbott
,
Brandon Morrow
,
Trent Giambrone
,
Hernan Perez
,
Carlos Asuaje
,
Jorge Soler