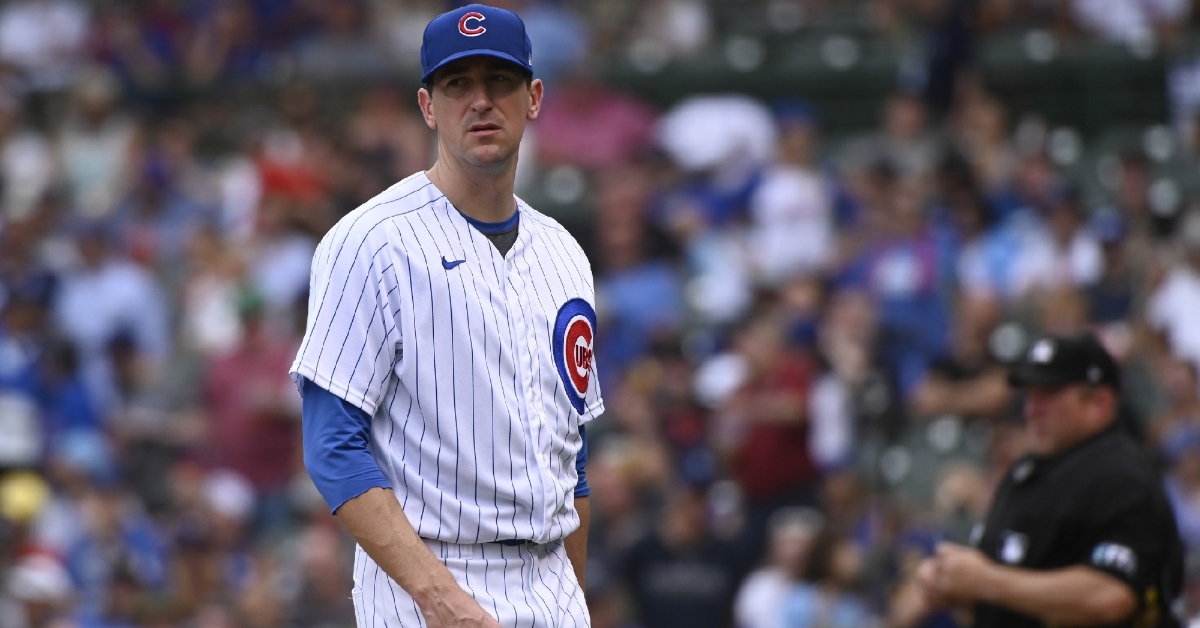 | | |
| --- | --- |
| Brewers hand Cubs their most lopsided loss of season | |
---
| | | |
| --- | --- | --- |
| Thursday, August 12, 2021, 6:42 PM | | |
CHICAGO — Putting together productive innings was a theme of the four-game sweep pulled off by the Milwaukee Brewers (70-46) against the Chicago Cubs (52-65) at Wrigley Field, including Thursday's series finale, which featured a five-run frame and two four-run frames. Kyle Hendricks was charged with a career-high nine runs on the afternoon and also gave up a grand slam for the first time since 2017. The Brew Crew homered five times, outhit the North Siders 22-8 and won 17-4, handing the Cubs, who have now been swept at home in back-to-back series, their eighth consecutive loss.
The Cubs' most lopsided defeat of the season began with Hendricks, who received his first losing decision since May 9, breezing through the opening inning. Brandon Woodruff allowed the first two batters he faced to reach, with Rafael Ortega hitting a leadoff base knock in the first and Matt Duffy hustling for an infield single. Patrick Wisdom then grounded into a double play, and, on his 27th birthday, Ian Happ hit a nubber that ended the inning and stranded Ortega.
Eduardo Escobar hit a leadoff triple in the second and came home on an ensuing double by Luis Urias. Jace Peterson smacked a two-run shot out to center thereafter. Willy Adames went on to plate Jackie Bradley Jr. and Manny Pina with a one-out single. David Bote drew a leadoff walk in the second, and Woodruff then committed an error by dropping a soft toss while covering first, allowing Andrew Romine to reach. After striking out the next two batters, Woodruff walked Hendricks on four pitches and forced home Bote by walking Ortega. Duffy popped out to end the inning.
A cycle for this inning!

3B ??
2B ??
HR ??
1B ??

?? pic.twitter.com/7wMMLEzFvT

— Milwaukee Brewers (@Brewers) August 12, 2021
Third 5+ run inning of the series ??#ThisIsMyCrew pic.twitter.com/hZmRGenLxE

— Milwaukee Brewers (@Brewers) August 12, 2021
Peterson, who went 5-for-5 on the day, doubled with one away in the third but did not score. At the start of the last of the third, Urias committed a throwing error after fielding a grounder hit to third by Wisdom. The errant throw proved inconsequential, as Woodruff then tallied three outs in a row. Kolten Wong smacked a one-out double in the fourth but was prevented from scoring when Bote, who manned second base, made a diving stop to rob Yelich of a hit and threw to first for the third out.
Hunter Strickland relieved Woodruff to begin the bottom of the fourth and started by plunking Robinson Chirinos. The next three batters were all outed, though. A single by Escobar, a double by Urias and a walk of Peterson led to Pina slugging his first career grand slam in the fifth. The 402-foot bomb to left chased Hendricks from the game, and Ryan Meisinger took the mound in his Cubs debut after getting called up earlier in the day. Meisinger collected three straight outs upon toeing the rubber, and Justin Topa pitched a 1-2-3 fifth for the Brewers.
Piña Slam!!!

1st career grand slam for Manny! pic.twitter.com/HCUkRVfYK6

— Milwaukee Brewers (@Brewers) August 12, 2021
Meisinger did not fare as well his next time out, getting taken for a two-run single by Peterson, which plated Yelich and Urias, and a two-run jack by Pina, which plated Peterson, in the sixth. Pina's second homer of the contest carried out to left-center, providing the Brewers with a comfortable 13-1 advantage. Jake Jewell finished the inning off on the bump and was struck out by Daniel Norris with two outs and runners on first and second in the home half of the frame. The strikeout came in Jewell's first career plate appearance.
MANNY!!! ??#ThisIsMyCrew pic.twitter.com/YzXQRUahr7

— Milwaukee Brewers (@Brewers) August 12, 2021
Wong and Yelich singled off Jewell in the seventh and crossed the plate when Urias drilled a 411-foot three-run jack to left with two outs. Frank Schwindel and Wisdom hit back-to-back solo blasts off Norris in the seventh. Schwindel's dinger to left was followed by a first-pitch round-tripper to left that traveled 411 feet off Wisdom's bat. Manuel Rodriguez worked around a leadoff double by Bradley in the eighth, and Josh Hader recorded three swinging strikeouts in the sixth, but Greg Deichmann hit a two-out single off him, resulting in his first career multi-hit performance.
The @Brewers have put up 16 in Wrigley. ?? pic.twitter.com/UD7meaqGbc

— MLB (@MLB) August 12, 2021
Frank Schwindel - Chicago Cubs (3) pic.twitter.com/mt8wS6Zu6O

— MLB HR Videos (@MLBHRVideos) August 12, 2021
Patrick Wisdom - Chicago Cubs (18) pic.twitter.com/XIsgVZnvbL

— MLB HR Videos (@MLBHRVideos) August 12, 2021
Fresh off returning from a lengthy injury layoff and being added to the active roster prior to the game, Austin Romine took over behind the plate in the top of the ninth and caught his older brother, marking MLB's first brotherly battery since 1962. The elder Romine, who once played all nine positions in the same game for the Detroit Tigers, moved from shortstop to the mound and was taken deep by Urias, who walloped a 408-foot solo shot to center for his second long ball of the game. With Peterson at first, Romine struck Bradley out looking to end the half-inning. The Romines became the first brothers to play in the same game for the Cubs since 1971.
Schwindel hit a ground rule double in the ninth and advanced to third on a two-out single by Happ before scoring due to Urias' second throwing error of the game, which occurred after he fielded a Bote grounder. Miguel Sanchez then forced the elder Romine to fly out, putting an end to the Brewers' 17-4 beatdown of the Cubs.