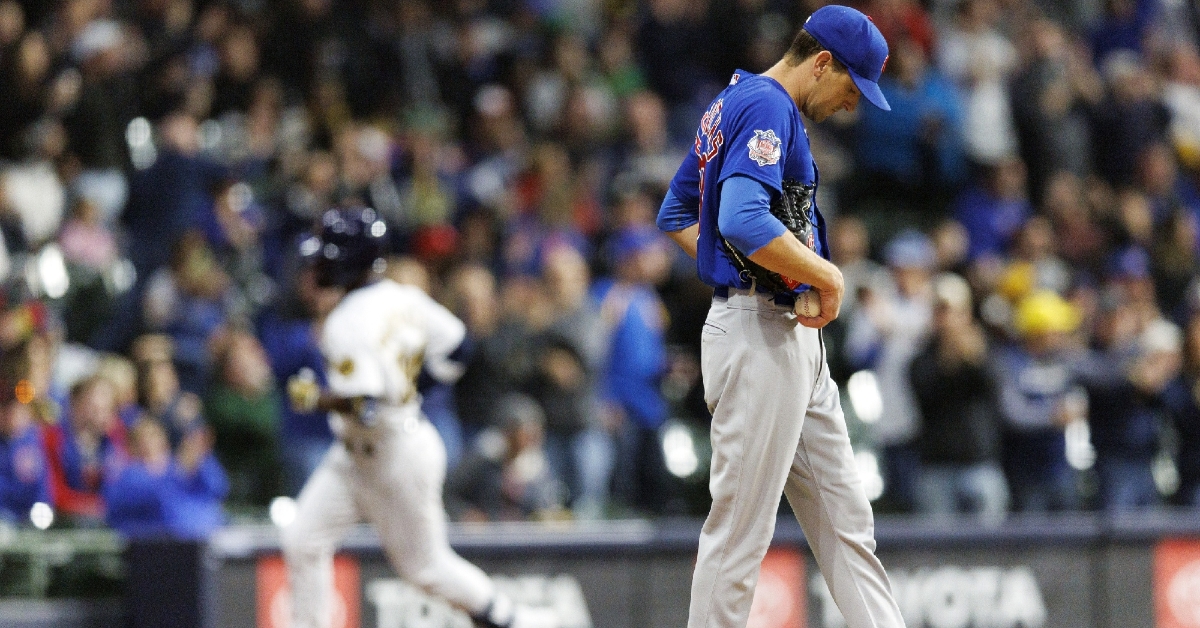 | | |
| --- | --- |
| Brewers smash six homers in rout of Cubs | |
---
MILWAUKEE - There is an old saying that good pitching will always trump good hitting. The Milwaukee Brewers (14-7) have the pitching to make some noise as their offense has yet to come around consistently. Playing at American Family Insurance Field for half of their games, it is amazing the type of numbers their pitching staff can put up on a nightly basis.
Facing a staff as good as the Brewers is tough enough, but when you can't buy a run right now, which is exactly where the Chicago Cubs (8-12) offense is sitting, it becomes much more challenging. With Kyle Hendricks on the mound to face Adrian Houser, the de facto ace of the Cubs staff had some good moments, but struggled to find any consistent rhythm on the mound.
That led to him having another rough outing as he allowed six runs on seven hits across 4 1/3 innings of work. That makes nine times over the last year, plus where Hendricks has allowed that many runs after doing that just nine times in his first seven seasons. Something has come seriously wrong with Hendricks, and it appears it can't be fixed.
What is even more incredible about what the Brewers accomplished on Friday, all but one of their runs came via the homer as Milwaukee played home run derby against the Cubs pitching. In total, the struggling Brewers offense woke up as they belted six homers in what was an 11-1 win.
While Hendricks may have struggled, Houser did not as the Brewers' miraculous run of incredible starting pitching continues. Houser not only gave Milwaukee six strong innings, but he did so without allowing a run and struck out six to earn his second win of the season. We talked about some of the good Hendricks had in this start. Those moments were few and far between, but when you don't allow a run in the first or fourth innings, you have to consider that a win.
The Brewers wasted little time taking the lead as they struck first in the second and didn't look back. A Rowdy Tellez double led things off for Milwaukee in the second before he came around to score on the Lorenzo Cain infield single. It was that RBI that was the lone run scored without using a homer as the Brewer bats were about to bring the thunder. One batter after the Cain single was Jace Peterson, as he took a Hendricks pitch out for his first homer of the season and the 3-0 lead.
It only got worse for Hendricks as he allowed two more homers in his outing, with Andrew McCutchen getting him for a solo shot in the third before Christian Yelich demolished a fifth-inning pitch to put Milwaukee on top 6-0. That was it for Hendricks, as Daniel Norris was the first Cub to come in from the pen.
Two batters into his outing, Norris was greeted rather rudely, with Hunter Renfroe getting ahold of one and taking it out to make things 7-0. With Houser out of the game and Hoby Milner on to pitch the seventh, Chicago hoped a new face would lead to some offensive success. Patrick Wisdom got things off to a positive start with his one-out double to set himself up in scoring position. Following walks to Nico Hoerner and Frank Schwindel to load the bases, Milner uncorked a wild pitch as Wisdom came home to score and ended the shutout bid.
That run seemed to upset the Brewers offense, and with Sean Newcomb on to work the seventh, they made him pay. Not only did Renfroe get him for his second homer of the game, but Omar Narvaez picked up a double as the Brewers hit parade was in full swing. Still on the mound to pitch the eight, Newcomb allowed a leadoff single to Mike Brosseau to start the inning and then was pulled in favor of Ethan Roberts. Looking to bounce back from a terrible outing in Atlanta, Roberts left too good of a pitch in the Willy Adames hot zone as the shortstop knew what to do with that.
His homer capped off the scoring for the Brewers as their six home runs powered them past the Cubs 11-1. We said it last week, and we will say it again. This current stretch the Cubs are on will not be easy, and this is when fans will get a good idea of the type of team this is.