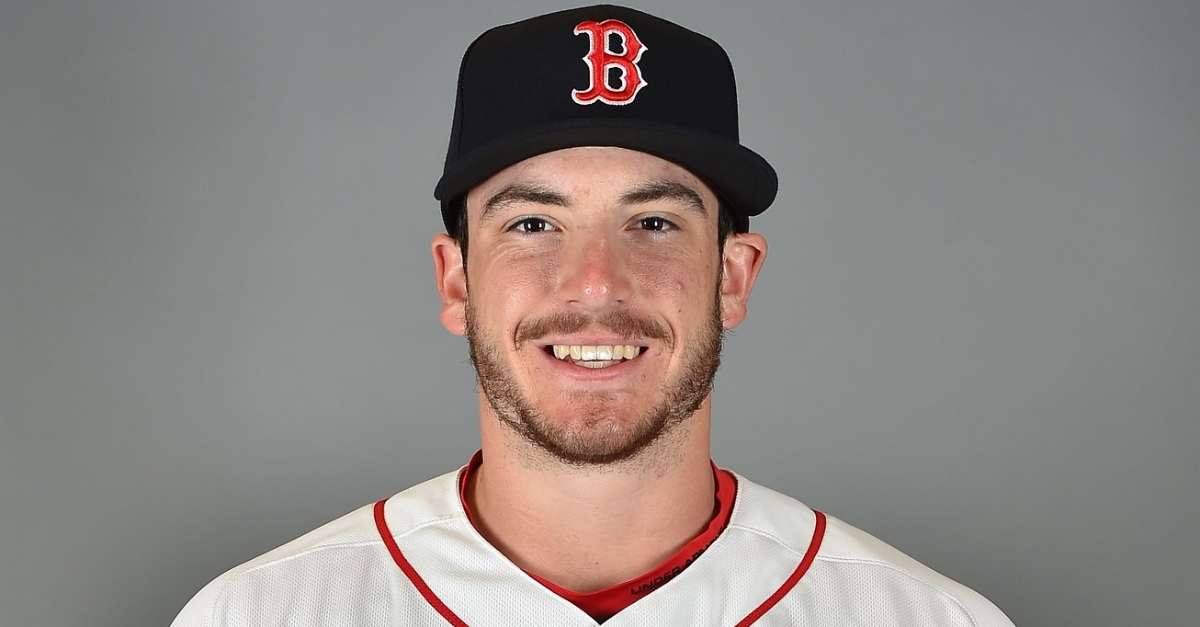 | | |
| --- | --- |
| Chicago Cubs continue to stockpile catchers | |
---
| | | |
| --- | --- | --- |
| Monday, February 17, 2020, 6:30 PM | | |
As most of us were spending Valentine's day weekend with our families or loved ones, the Cubs continued to bolster their roster, well should I say minor league roster. It wasn't a flashy signing or an MLB signing, but once again, the Cubs added a minor league deal this weekend.
That player was catcher Jordan Procyshen as he comes to Chicago from the Dodgers organization. Although this is a quiet and not a flashy move, this move certainly brings in a whole lot of intrigue regarding what the intentions of this signing was.
Already with two catchers on the MLB roster and at least three or four competing for a big-league spot, what does the signing of Procyshen bring to the Cubs?
Well, for one, he is still just 26 and will soon be 27. Secondly, many are not familiar with him because he spent most of last season in High A before getting the jump to AA. He played in just 38 games last year, and the numbers were not that impressive, which matches what he did the season before in the Red Sox organization.
Looking at what he has done in the past, well even for the last two years for that matter, why even talk about this signing or even make it in the first place? The main reason I bring this up is that I never want to throw these types of signings out the window as if they don't matter. Every minor league deal the Cubs have made this offseason has mattered to some degree, whether it used for depth, past success, or taking a flyer out on someone hoping to find lightning in a bottle.
This signing has me thinking maybe, just maybe the Cubs saw something special in his skill set that no one else has thus far. Maybe the Cubs are hoping what they have seen could somehow develop into more where he could be used as a future backup catcher in multiple levels in the minor leagues. That is always possible at this stage of his career and remains possible for any minor league deal from here on out.
One-off the wall idea for this signing and it is something that most would never consider is what has happened to the coaching staff and player development department this offseason. Not only did the Cubs make changes, but they completely overhauled the player development department in the process. That means that the Cubs are seemingly making signings at this point to see if their new men in charge of development can change the careers of some of these players.
When you look at the Cubs' most recent signings, including this one, the Cubs are bringing in players from successful organizations and who have worked in very successful minor league programs. The Cubs are especially trying to get catchers who have worked in great organizations, and Procyshen fits that build. The primary goal of signing someone like this is because you want catchers who are good at the development process and are fully on board with being a part of the pitching prospect development piece.
Yes, ultimately, when a pitcher is going through the developmental stages of their career, it is up to them to figure out what works and what doesn't. However, having a catcher who is on board with how to develop pitchers also plays a vital role because they can form a relationship with those arms to help them through the system.
That is what I see regarding this Proscyshen signing. Not only are you getting a catcher who can be a quality player for your minor league system, but you're also bringing in someone who can import his knowledge of how the development process works in other successful organizations, aka the Red Sox and Dodgers.
I can't speak to about Proscychen himself, but given what we have seen from him offensively and just how limited he is, it is fair to say that he may have played a huge role as to why some of the Dodgers have developed into the arms they have in recent years. I mean, why else would he have stayed in that organization so long otherwise.
Proscychen has a similar profile as to what Rafelin Lorenzo does whom the Cubs added to their minor league roster through the rule 5 draft last season. Lorenzo was always limited offensively but continued to work and develop good relationship with pitchers. That has allowed him to stick on the Cubs roster, which is exactly what they are hoping can happen with Proscychen.
With Josh Phegley coming in as most likely the Cubs third catcher or starting AAA catcher, and Miguel Amaya as the future behind the plate, the only way Proscychen sees time with the big league club would be a catastrophic series of injuries, or that he flat out earns it by somehow turning into a complete player. I highly doubt both of those happen, so for me, I think this is mainly a signing lured to helping their pitchers develop fully. Let's see if it pays off.