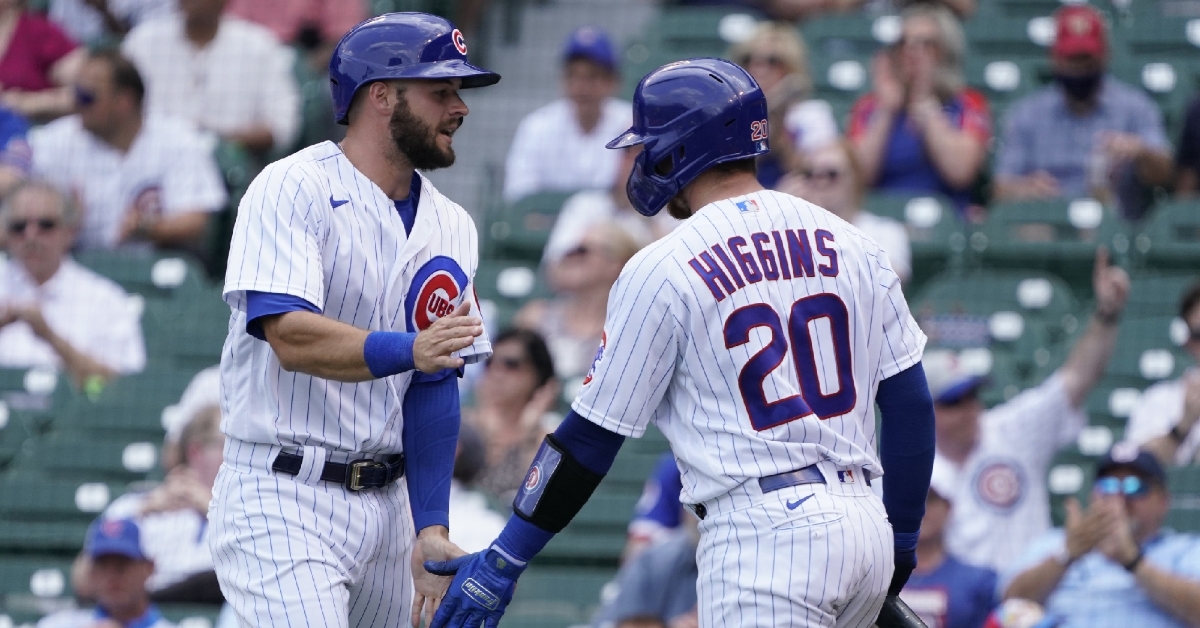 | | |
| --- | --- |
| Chicago Cubs injury report: Bote, Arrieta, Duffy, Higgins, more | |
---
| | | |
| --- | --- | --- |
| Sunday, July 18, 2021, 11:53 AM | | |
As the second half of the MLB season is underway, the Cubs still have various injuries to regular players on their roster, which could make lineup decisions difficult for David Ross as the Cubs navigate the month of July.
We at CubsHQ.com decided to bring you an updated injury report for the Chicago Cubs:
David Bote IL 10: Bote was placed on the injured list with a dislocated shoulder back in May. Bote hit just .201 with 23 runs driven in before his injury but provides some positional versatility and a right-handed bat that the Cubs miss.
Bote has joined Triple-A Iowa this week to begin his rehab assignment. If all goes well for the Cubs utility man, he could join the team by the end of the month.
Notable appearances tonight for the @IowaCubs --

2B David Bote: 0-for-2, BB (first game of MLR)
3B Matt Duffy: 1-for-4 (3rd game of MLR)
RHP Dillon Maples: 1 IP, 2 H, 0 R, 1 K (7th outing of MLR)
LHP Justin Steele: 3 IP, 1 H, 0 R, 5 K, 2 BB (2nd start getting stretched out)

— Alex Cohen (@voiceofcohen) July 18, 2021
Matt Duffy IL 60: Back in May, Matt Duffy was placed on the 10 day IL with a lower back strain, and eventually, his stint was upgraded to 60 days. The 30-year old journeyman was hitting .278 before his injury, giving the Cubs a solid at-bat at any spot in the order.
Like Bote, Duffy is currently with the Iowa Cubs with plans to return to the major league club soon.
Justin Steele rehab: The Cubs got a major boost in May by young pitchers like Keegan Thompson, Tommy Nance, and Justin Steele. Despite starting mostly in the minors, Steele provided nice depth in the bullpen during April and May before getting hurt in late May with a hamstring strain. He began a rehab assignment last June and is still currently in the minors getting stretched out to start again — potentially taking Jake Arietta's spot in the Cubs' rotation with an eye on the future.
The left-hander is 2-0 with a 2.03 ERA in 11 games with the big league club this year.
Brad Wieck IL 10: Wieck is another name on a long list of contributors that have helped make the Cubs the best bullpen in the major leagues. Weick was placed on the 10-day IL just before the all-star break with an irregular heartbeat, and there isn't any news regarding a timetable for his return.
Should he return, he will rejoin the Cubs bullpen posting a 0.00 ERA, 28 strikeouts, and 10 walks in 17 innings pitched this season — it would be a welcomed boost to the Cubs' pen.
Dillon Maples IL 10: Maples is a young righty in the Cubs system who they have raved about — stuff wise — for years. This season, Maples was finally starting to control his pitches a bit better and was pitching to the tune of a 1.99 ERA in 18 games before hitting the IL with a right triceps strain on June 16th.
Maples is currently in Iowa on a rehab assignment since late June and should be returning to the major league team sometime soon.
Rowan Wick IL 60: In 2019 and parts of 2020, Rowan Wick was one of the most reliable pieces of the Cubs bullpen — a player that many think was set to be the next Cubs closer. However, since last fall, Wick has been dealing with a left oblique strain that has kept him from pitching at all yet in 2021.
Adding a pitcher with a career 3.20 ERA to arguably the league's best bullpen would be music to David Ross' ears. While a return hasn't seemed imminent, the Cubs announced today that Rowan Wick is headed to Iowa for a rehab assignment.
Wick hasn't pitched yet in 2021, so the process may be a lengthy one — but there is a chance he returns to the big league club before the season's end.
Jonathon Holder IL 60: Holder was signed by the Cubs over the offseason to add some depth in the bullpen. However, a shoulder strain has kept the 28-year-old righty from pitching this season — and there has not been any updates regarding a potential rehab assignment or shut down for the season.
Jake Arrieta IL 10: Cubs legend Jake Arietta has faced monumental struggles in his last couple of starts, leading him to a stint on the injured list just before the all-star break. Arietta's injury is listed as a hamstring, and Arietta has not returned off the IL even after his 10 days were over.
Arrieta was 5-9 with a 6.30 ERA on the season before his injury.
Kohl Stewart IL 10:
One of the Cubs' biggest roster holes heading into the season was starting rotation depth — and that is something that Kohl Stewart was able to provide that depth in his three spot starts this season.
Stewart is 1-1 this season and has been on the injured list since July 6th with elbow inflammation.
The Cubs also have a trio of backup catchers on the 60-day injured list in Jose Lobaton, PJ Higgins, and Austin Romine. Lobaton is likely out the season with a separated shoulder, while Higgins and Romine are more likely to return from their muscle injuries.
However, the Cubs have struggled with health and production from the backup catcher position all season long.
That's it for the Cubs' injury report.