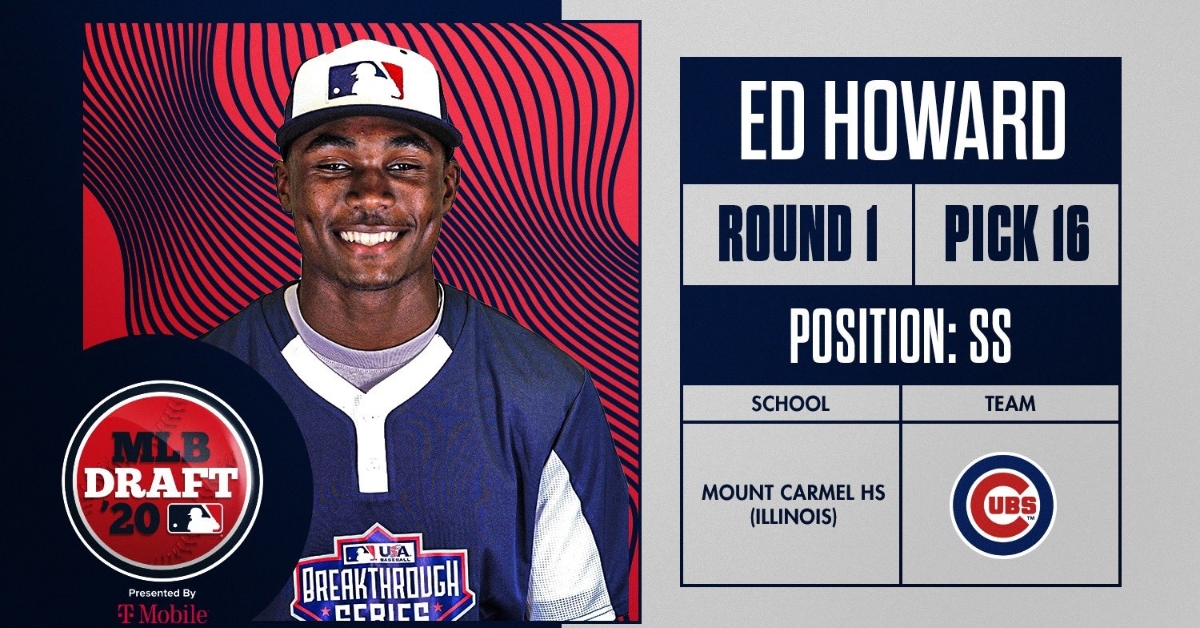 | | |
| --- | --- |
| Chicago Cubs Top 5 Prospect Rankings for 2021 | |
---
At long last, we have reached the final installment of the Cubs prospect list. In this installment, we highlight the cream of the crop of, should I say, the top 5 players in the organization. While a lot must be decided between them, one thing everyone can agree on is there are all legitimate prospects capable of anchoring this franchise for years to come.
5. Ed Howard (SS)
Last year's first-round pick, Illinois native Ed Howard has been putting his skills on display for years. Going back to his Little League World Series days where he helped the Jackie Robinson West team during their improbable run to where he is now, Howard is going to be an exceptional talent.
Not only is he a hometown kid, but he was the best SS prospect coming out of high school, leaving the Cubs with an easy decision to pounce on him. After spending time at the Alternate Site last year, Howard will finally make his long-awaited pro debut this summer as part of the Arizona Rookie League.
Howard is, without question, a great defensive player, and that may be higher than his bat at this point, but don't let that fool you as he knows how to hit. Although his swing is very efficient, there are mixed reviews regarding what kind of hitter he will be. The more he matures, the more consistent contact he will make, and eventually, that contact will turn into power.
Right now, the 6-2 Howard provides the Cubs with a line-drive approach, but there is plenty of optimism more power will come. His athletic ability will allow him to stay at shortstop, and given his defensive success, don't expect him to move anytime soon, if at all. Howard could be the next face of this franchise when that day comes.
4. Cristian Hernandez (SS)
Speaking of shortstops, the top shortstop prospect in the system isn't Howard, but instead 2020 International free agent Hernandez. At just 17 years old, Hernandez is already drawing lofty comparisons and has seen Manny Machado and Alex Rodriguez comparisons thus far. Those are two great names to be associated with this early.
Someone who not only has the tools to be a 300 hitter but also a 30-homer hitter, Hernandez will most likely make his professional debut this summer as part of the Dominican Rookie League. Not only does he have a smooth swing but he exhibits a great feel to the strike zone that comes with solid contact. Even though he offers plus speed now, he may even get a touch faster once he fills out.
His actions, quickness, and arm strength have him profiled to be a shortstop for the long haul, but he may have the athleticism to move to third base or the outfield. This is one of those can't miss international prospects, and hopefully, the Cubs can figure out a way to hold on to him.
Formally the Cubs top position prospect, Amaya checks in at No. 3 and is the closest to being MLB ready of all the position prospects. Regarded not only as a borderline top 100 overall prospect but as one of the best catching prospects in the game, Amaya has the tools to be a great backstop to build around.
While his bat is still a work in progress, it has shown signs of life in recent years, leaving the organization feeling optimistic that he is about to break out offensively. Across his 331 games, Amaya has hit just a 243 and has hit 27 homers thus far. 23 of those homers have come the past two seasons after hitting just four in his first two years.
While his hitting is far from polished at this point, his work behind the plate is what stands out as that is the calling card of his game right now. He calls a great game, but he has worked extremely hard at framing pitches, which is very important in today's game. Add in an accurate and strong throwing arm that gunned down 35% of base runners, and you can see why the organization is so high on him.
Invited to spring for the second time this season, Amaya has seen plenty of playing time which allowed him to hit his first homer a few games ago. Look for him to open the season with Tennessee and possibly finish in Iowa or even Chicago come September.
When people ask me what prospect I think has the highest upside in the Cubs system, Davis immediately comes to mind. Not only is he the highest-ranked position player, but he is just outside the top 70 in all of baseball and all that comes with minimal experience. A second-round pick in 2018, Davis dealt with a pair of wrist injuries and has been limited to just 68 games across two seasons.
However, in those 68 games, Davis has been nothing short of extraordinary, hitting a 303 with eight homers and 33 RBI's. All those homers and all but three RBIs came in 2019 as a South Bend Cubs member. To go with those impressive hitting numbers comes a great eye at the plate, good speed, and the potential to be the Cubs first 30-30 player in years.
When he was drafted, many felt he was an extremely raw talent whose ceiling was unknown. Not only is he more polished than anyone expected, but he was one of the youngest players at the Alternate site last year, showing the ability to adjust on the fly. Someone who can play all over the outfield, Davis to me pegs as a left fielder but could slide to center if needed. Whether it is Myrtle Beach or South Bend, a healthy Davis will land them a special player.
Without further ado, I bring you the Cubs top prospect in Brailyn Marquez. Also, a top 100 prospect; this is not a surprise to anyone when you look at the makeup of this kid. An international free agent in 2015, Marquez took a little while to develop and has now turned into the Cubs best pitching prospect since Kerry Wood and Mark Prior.
The big 6-4 lefty not only averages 98 MPH with his heater but has hit triple digits consistently, maxing out at 102 so far. He pairs that fastball with a change-up in the 91 MPH range and an ever-improving slider that sits around 90. Coming off a 2019 season in which he went 9-5 with a 3.13 ERA, Marquez earned a Major League debut last season in which he struggled with his command.
Expected to contend for a roster spot this spring, Marquez was slowed due to a COVID intake issue and now is ticketed for minor league camp and is expected to open the season with AA Tennessee. His ¾ arm slot makes it difficult for hitters to pick up his pitches, and his overall makeup reminds me a lot of Aroldis Chapman.
Speaking of Chapman, could Marquez take a similar approach to Chapmen in terms of his success. Both Chapman and Marquez are hard-throwing lefties who started their careers as starters. However, Cincinnati moved Chapmen to the pen to maximize his heater, and the rest is history. As of right now, the Cubs want him to start, which is why you could say they have been cautious regarding his development.
As much as I would love him to start, I think he is best suited for the bullpen. Not only would that allow the Cubs to maximize his stuff, but it could speed up the development process, which in return could get him to the bigs sooner. Not only does he have future closer written all over him, but he could be the Cubs version of Josh Hader.

Upgrade Your Account
Unlock premium boards and exclusive features (e.g. ad-free) by upgrading your account today.
Upgrade Now