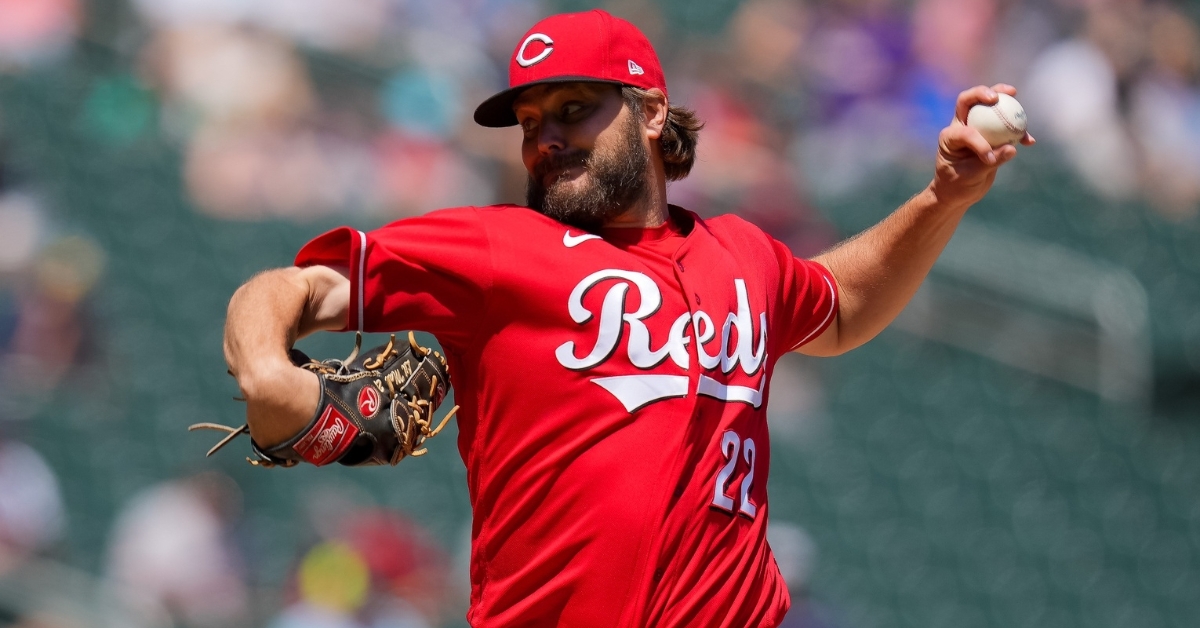 | | |
| --- | --- |
| Commentary: Cubs adding Wade Miley was a solid move | |
---
| | | |
| --- | --- | --- |
| Saturday, November 6, 2021, 9:32 AM | | |
There weren't many things that went right for the Cubs in 2021, and perhaps the biggest disappointment was the starting pitching. After losing several key pieces from the 2020 rotation, Jed Hoyer did his best to put together a somewhat competitive rotation filled with pitchers who have shown potential in the past.
Although things looked promising across the first two months, things quickly went south as the Cubs had one of the worst starting pitching ERAs in baseball. Not only did Jake Arrieta and Zach Davies post ERAs around and north of 6.00, but Kyle Hendricks had the worst season of his career ERA-wise, finishing near 5.00 in that category.
Add Adbert Alzolay and Alec Mills, and the Cubs didn't have a single pitcher with an ERA below 4.5 last season. Another thing you notice when it comes to their rotation is that there were no lefties in that rotation. Justin Steele was added for the final two months of the season, but he made fewer than 10 starts, and no one knows what the plans are for him going forward.
Having the slowest rotation in terms of average velocity is one thing, but having the slowest rotation with no lefties is an entirely different ballgame, and the Cubs certainly suffered because of it. Expected to make some improvements to the rotation this season, Carter Hawkins and company made the first move which could go down as an under-the-radar move.
Although this may not be one of the top pitchers on the market, it is someone the Cubs are familiar with as they picked up left-hander Wade Miley off of waivers and added him to their roster. Let's get one thing straight, the 35-year-old Miley will not be a front-line starter for anyone this season, but there are far worse options than having him at the bottom of your rotation.
Not only is he a veteran presence, but he is a left-handed pitcher, which is something the Cubs lacked last season. Miley ranks near the bottom of the league in terms of average velocity, but his up-tempo and fast working style on the mound helps keep hitters off balance as he has had a great career thus far. Owed 10 million for the 2022 season, it is hard to imagine the Cubs not picking up that option as this is an intriguing move for the organization.
As part of the Reds rotation a season ago, Miley found a home and was perhaps the most consistent starter at one point in the season. Over 16 starts from the end of May through August, not only did Miley post a 7-0 mark, but his 2.41 ERA tied him for the longest winning streak of his career as he was one of the best pitchers in baseball during that time.
That was a trend that continued all season as Miley posted a 12-7 mark to go with an impressive 3.37 ERA. That ERA would have been tops on the Cubs rotation, while his win total would have landed him only behind Hendricks. Miley has always been an interesting pitcher who has had moments of greatness and plenty of struggles. His greatness was on display on May 7th when he threw the first no-hitter of his career.
Miley has also had plenty of success against the Cubs, posting a 9-4 career mark to go with a 2.62 ERA, so that alone has to have Cubs fans happy that they don't have to see him on the other side next season. Despite the ups and downs, Miley is one of the rare breeds who seems to have gotten better with age, especially after his age 30 season.
His 97-92 mark to go with a 4.15 ERA is nothing to get excited about, but it has been his work since 2017 that stands out. Starting with 2018, Miley has gone 31-18 while posting an ERA of around 3.72. Again not great, but both better than his career track which shows you that he knows how to pitch to his strengths.
One thing that fans love about Miley is that he knows how to win and has been a part of winning organizations. During his Arizona days, Miley saw plenty of success before helping the Red Sox reach the postseason in 2015. He then landed in Milwaukee in 2018 and was off to a great start before getting hurt. One year later, he was in Houston helping them reach the postseason before putting together another great season this year.
Not only has he gotten better the last five seasons, but he has delivered on the biggest stages in the postseason. Take away his one terrible start for Houston in the 2019 postseason, and Miley was incredible for the Brewers posting a 1.23 ERA in four postseason starts in 2018. That is a stat you can't teach, and something teams would love to have.
Waiver claim or not, this is an excellent signing by the Cubs and someone who can help not only now, but in the long term. He will come into the organization this season and land in the back end of the rotation to help improve that. Should he have a great showing, the Cubs could flip him at the deadline for some other pieces that, in return, can help this team next year. Hawkins is already off to a good start, as this is his first significant pickup.