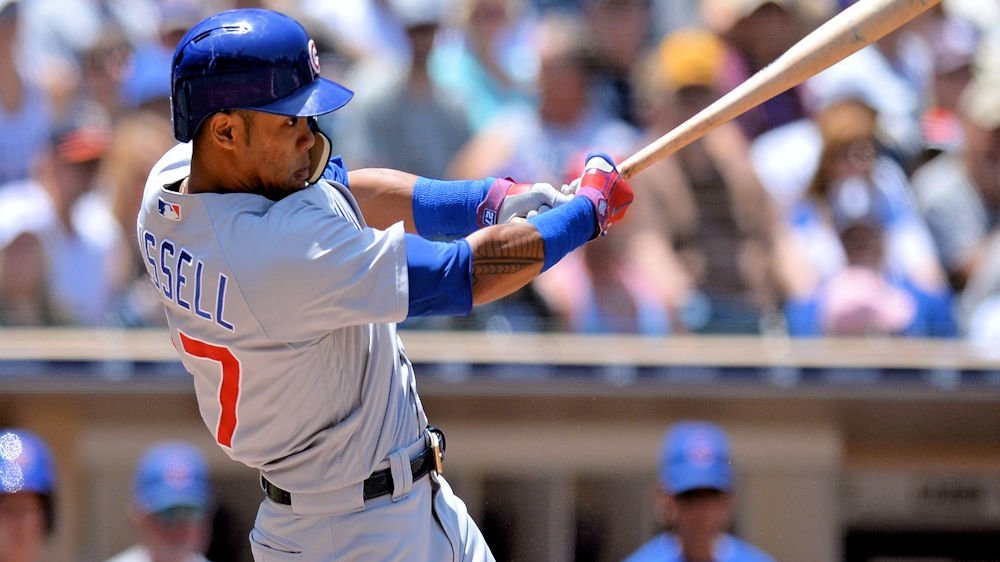 | | |
| --- | --- |
| Commentary: Is it time to trade Addison Russell? | |
---
| | | |
| --- | --- | --- |
| Thursday, August 30, 2018, 8:09 AM | | |
In the week preceding Daniel Murphy's arrival, Addison Russell had gone just 2 for 16 (.125), with no home runs and only 2 RBI. His finger issue of his seems to be of a lingering nature, but then again, Russell has not contributed much to the offense all season long. Leaving me to ask if the Cubs are playing better WITH Murphy, or whether they are playing better WITHOUT Russell.
When the question was posed to my friends, Evan Altman (CubsInsider.com) and Tony Andracki (NBCS Chicago), both agreed that the team was playing better with Daniel Murphy, rather than playing better without Russell; personally; I think it may be a combination of the two.
Russell's .259 (99 for 382) batting average for 2018 seems to almost detract from his five home runs and only 37 RBI. Russell's offense has declined significantly from 2016 when he managed 21 homers and 95 RBI, all on a .238 batting average. In 2017, Russell's batting average was essentially the same (.239), but his home run numbers decreased to only 12, with his RBI dropping by more than half (43).
I have maintained for some time now, that I felt Russell would be departing the Cubs after this season ended, perhaps as part of a deal for another starting pitcher. When I posed the question in the form of a survey on social media, 467 people weighed in. A total of 59% felt that Russell would be traded before the start of the 2019 season, with only 25% saying that he'd remain a Cub; the final 16% percent remained uncertain. One guy added that he thought Almora and Contreras should go with Russell, but I discounted his vote… (Hang in there, sir, I'm sending help your way now…)
I think a big part of the Cubs' decision to either retain or trade Russell is going to depend on whether or not they can retain Daniel Murphy. Keeping Murphy may not be so easy though, as the Cubs are completely upside down on the contracts belonging to Heyward, Darvish, and Chatwood, with the three of them being owed a total of $55M for next season. Russell is currently playing for $3.2M for the year, but he gains arbitration going into next year.
In addition to Murphy becoming a free-agent next year, the Cubs also need to worry about how to retain Jesse Chavez, and whether or not they are going to pursue keeping Anthony Bass and Justin Wilson, who both become free-agents over the off-season as well. The Cubs have a team option for Cole Hamels in 2019, but that'll cost them another 20 million, which would be money well spent in my opinion.
It will undoubtedly be an exciting off-season as the Cubs look to further strengthen an already strong team. My dad always told me, "If it ain't broke, don't fix it," but I think even he would have allotted for changing a spark plug in a cylinder that kept misfiring.