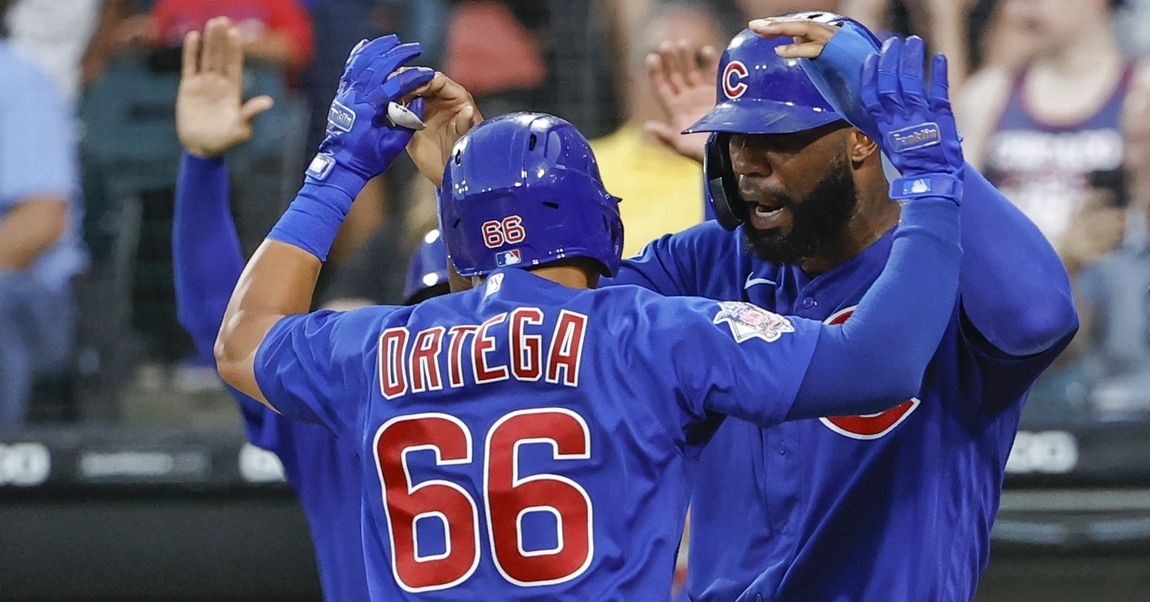 | | |
| --- | --- |
| Cubs club three homers in shutout of White Sox | |
---
| | | |
| --- | --- | --- |
| Sunday, August 29, 2021, 8:43 AM | | |
CHICAGO – It took five games into the crosstown cup, but the Chicago Cubs (57-74) were finally able to top the Chicago White Sox (75-56). It took a fantastic pitching performance by Alec Mills as he was on the verge of Cubs history. Mills lasted 8 1/3 innings allowing no runs on four hits with two walks and three strikeouts. Had he not run into some ninth-inning trouble, Mills would've joined only two other pitchers to ever shut out the White Sox as members of the Cubs.
This was an outing that the Cubs have seen Mills before, but one that hasn't shown up enough as he continues to pitch well as a starter. Opposing him was Lance Lynn, who continues to put a fantastic season together. Lynn has always been a reliable middle-of-the-rotation starter, but he has emerged as the ace of the White Sox this season and with good reason. Saturday, however, was not his best as Lynn surrendered a season-high seven runs in just five innings as the Cubs bats came to play for the second straight night.
The only run that was scored not via the home run happened to be the game's first run, where Robinson Chirinos picked up an RBI groundout to give the Cubs a 1-0 lead in the second. That run not only gave the Cubs the lead, but Chicago never looked back as their offense has been on a new level so far this series. Still holding a 1-0 lead in the fourth, the Cubs busted the game wide open with Patrick Wisdom homering for the third time in the series.
That was only the start of it as Rafael Ortega got into another Lynn pitch and drove it over the right-field fence for a Grand Slam, putting the Cubs up 6-0. Ortega continues to impress, hitting in the leadoff role as David Ross continues to plug him in as often as possible. The very next inning saw Wisdom cap off the scoring as he took Lynn deep for a second time, which landed him his 25th homer of the season. With that homer, Wisdom takes over the team lead in homers for the year, which Javy Baez previously occupied before being traded.
That seven-run was not only the Cubs second lead of at least six runs in this series, but more than enough for Mills as Yoan Moncada picked up two of the White Sox hits in the loss, with both being singles. Jose Abreu added an RBI double, with Cesar Hernandez adding a single as the Cubs can now say they defeated the White Sox in 2021.
Have a weekend, Patrick Wisdom
As the season continues to play out, Wisdom continues to assert himself as a critical player for the Cubs this season. Not only has he played great defense at third, but his power numbers continue to show up as he could be playing himself into rookie-of-the-year conversations.
A minor league journeyman much of his career, Wisdom has shown plenty of promise where he has demonstrated a 30 plus homer season while playing for Memphis. The most significant issue Wisdom has always had was an extremely high strikeout rate which prevented him from getting a chance at the big-league level.
Although that strikeout rate remains high, the Cubs have given Wisdom the chance he has worked so hard for, and so far, it has paid off in a big way. Not only does Wisdom now lead the team in homers with 25, but he is closing in on Baez for the team lead in RBIs as he has a real chance to reach that by season's end. This weekend, Wisdom has tormented the White Sox pitching as he has collected consecutive multi-homer games to go with six RBIs. This is not a pace Wisdom will keep up this season, but he continues to show plenty of potential to land a job next season.
Wisdom homers twice, Ortega hits grand slam as Mills, #Cubs blank White Sox. @Vegas pic.twitter.com/dAW5FLdjCV

— Chicago Cubs (@Cubs) August 29, 2021
Rough season for David Bote continues
Bote may not be the best player on this team, but he has been a critical piece for the most part. Average aside, which has not been great for him since coming to the bigs, Bote has been one of the Cubs best hitters in the clutch and even led the team in RBIs in 2020.
Hoping for more of a regular role with more consistent production this season, Bote has seen the exact opposite of that as he is putting up the worst offensive season of his career. Not only is he barely hitting above the Mendoza line, but Bote is sitting at eight homers and 31 RBIs which would be the lowest homer total of his career.
Not only that, Bote has dealt with his share of injuries which included a separated shoulder in May that sidelined him from Mid-May until the end of July. In his month back with the Cubs, Bote has improved his hitting while continuing to play gold glove defense at both third base and second. The Numbers may not be showing up, but Bote has improved.
Hoping to keep that going for the remainder of the season, Bote may have just seen his season come to an end as he suffered an ankle injury in batting practice Friday night. The end result landed him on the 10-day IL, and with September around the corner, some may wonder if he will be back at all. Alfonso Rivas will take his place on the active roster, who was putting together a solid season in AAA.
He stepped on a baseball pic.twitter.com/ZwEV3huLQL

— ??arcusD ?? (@_MarcusD3_) August 28, 2021
Lost in all the losses the Cubs have racked up since the end of July has been Heyward and his improvement at the plate. Yes, Heyward has been awful this season, hitting a putrid .210 with just six homers, but that doesn't tell the whole story.
While most people feel that all he does is ground out to second or pop up on the infield, the truth is he has hit into plenty of bad luck, especially early in the season. Going back to the team's first 50 games, Heyward led the team in average exit velocity while posting the lowest batting average on the team.
That meant that he was squaring up the baseball, but hitting it right at people. It is amazing how the baseball gods work sometimes as Heyward is starting to see his luck change. Since the beginning of August or maybe even a week later, Heyward has risen his average by nearly 30 points, and the hitting keeps on coming.
Heyward is sitting at .210 for the season following his two hits on Saturday, his highest mark since early June. Along with the hitting comes that hard contact as he is finally finding openings in the defense to get rewarded. These are just some of the small victories the team is starting to take away despite the losses continuing to pile up the way they have.