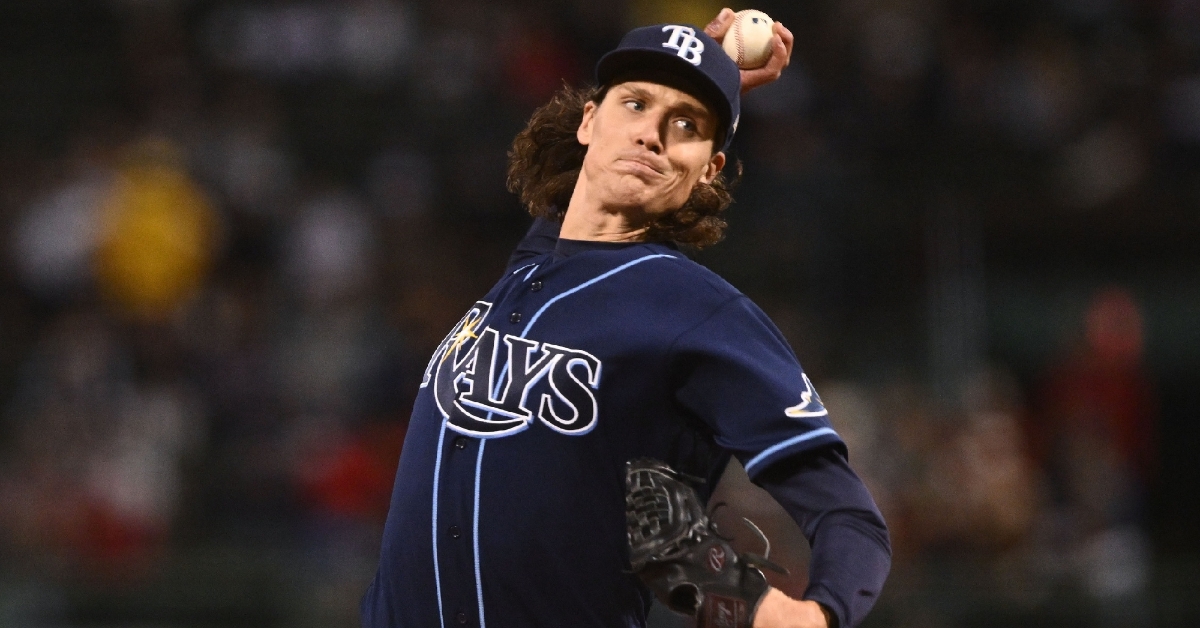 | | |
| --- | --- |
| Cubs finally ready to pull the trigger on Tyler Glasnow? | |
---
| | | |
| --- | --- | --- |
| Tuesday, November 15, 2022, 9:44 AM | | |
Over the last several years, the Cubs have been trying to rework their once-great starting rotation as things have tapered off in recent seasons. Not only have they gone the trade route to acquire guys like Jose Quintana, Cole Hamels, and others, but free agency has also been a considerable part of their duties as they have signed 10 different starters over the last three years.
While most of those signings didn't pan out, some did, but that may be fine for this team. As fans saw last season, there is more than enough pitching depth in the minors, as the Cubs posted the third-best ERA in baseball in the second half. Keep in mind they did that with Justin Steele, Keegan Thompson, Adrian Sampson, and Hayden Wesneski, as the future looks bright for the Cubs and their pitching.
Despite significant improvements across the board, no one expects the Cubs to be able to pitch at that level again. Chicago also lacks a true ace, which they want to address not only this offseason but also something they have tried to address since losing Yu Darvish.
Guys like Kodai Senga, Carlos Rodon, Jacob DeGrom, and Justin Verlander are out there, but let's be honest, do we expect the Cubs to break the bank for any of these guys? If anything, Senga makes the most sense as he would give them another middle-of-the-rotation arm to build around.
If that is the direction the Cubs go, and if they are still searching for an ace, the trade market may be more beneficial, especially if they can talk to the Tampa Bay Rays. Over the last several days, there have been tons of chatter out of Tampa that they are not only ready to make some deals, but have taken calls on several players. The Cubs are one of the teams that have called reportedly, but no specific players were mentioned in the deal.
One pitcher the Cubs were linked to a few seasons ago before having Tommy John surgery might pop up again as Tyler Glasnow could be on the trade block. While that remains to be seen, should Tampa put him on the block, the Cubs need to pounce, as this is the perfect opportunity for them to add an Ace and a young, controllable ace.
Glasnow may not be the most common name for a casual baseball fan, but he has been one of the better pitchers in the American League for the last several seasons. Set to make just five million in 2023, he would be the perfect addition to the rotation this season before his salary skyrockets to 20 million plus in 2024. That may be a good thing, as Kyle Hendricks will be off the books by then, making this trade much more plausible.
When you put this into perspective, whoever trades for Glasnow is getting him for two years and 30 million. That is a steal when you look at how dominant he has been and how dominant he can be. The problem with making a deal for a player like Glasnow is the return the Rays would get, as it would be significant.
We have already seen the Cubs focus on rebuilding their farm system over the past two years, so would they be willing to unload some of those pieces to grab a guy like Glasnow? That remains to be seen, but it makes a ton of sense, especially when the Rays would be hurting themselves if they don't unload him this offseason.
At 6-8 and 225 pounds, Glasnow has always been an imposing figure on the mound, as his long hair makes him that much tougher to face. Despite his 20-20 record with a 4.00 ERA, Glasnow has started to come into his own over the last few years, and that is what teams are banking on.
Despite making just 39 starts the last few years as injuries have gotten in the way, Glasnow has been lights out, posting a 16-4 record with a 2.43 ERA. Add in 65 walks, 300 strikeouts, and opponents batting average of just .181; you can see how dominant he has been on the mound.
Not only are those ace numbers, but his stuff is the ace caliber, which alone will make him a highly coveted piece. Not only does he sit in the 97 MPH range with his heater, but he pairs that with an 89 MPH slider that is one of the best in the game. He also has a change-up and a secondary breaking pitch giving him four pitches to work off of.
Given his injury history, I understand why fans will be skeptical of this deal. However, when you look at how much he is set to make and what the starting market will be in free agency, this makes a ton of sense and seems like a smart decision for the Cubs.