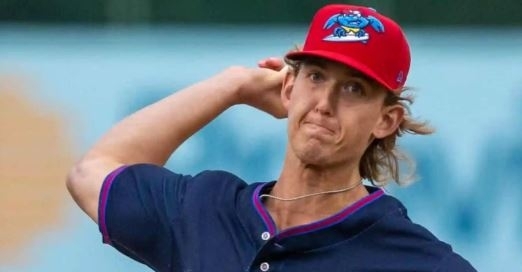 | | |
| --- | --- |
| Cubs get excellent value in trade with Phillies | |
---
Going through a rebuild is tough for fans, but it does come with some perks. For starters, up until this year, the worse you were, the better draft picks you got. That is technically still the same, but the top three go into a lottery format instead of doing it the old way.
Another perk that a struggling team has the opportunity of doing is getting better for the future during the trade deadline. A significant way to do that is to trade some of your better players to contending for some highly regarded Prospects in return. That is exactly what the Cubs are doing as David Robertson has been dealt to the Philadelphia Phillies for highly regarded pitching prospect Ben Brown.
I get prospects are prospects, and they often don't pan out, but everyone had to be a prospect at some point before they reached the major league level. After signing a one-year 3.5 million dollar deal this offseason, the 37-year-old Robertson went out and had a great year.
Across 36 games this season, Robertson has posted a 3-0 record with a 2.23 ERA while converting 14 of 19 save chances. His 19BB/51K ratio was a bit high for his standards, but his .162 opponents' batting average was downright impressive. In other words, Robertson was not allowing contact very much, and when he did, it often resulted in runs.
Robertson was a huge question mark when the season began, especially when you look at his injury history and coming off another one. When the Cubs signed him to the contract they did this season, it was more of a flyer deal where they could flip him at the deadline if he pitches well. Not only did he throw well, but he was putting together his best season in quite some time while seeing his velocity reach 94 MPH after sitting at 92 the last few years.
That is a big reason, so many teams were looking to add him to their pen, and ultimately the Phillies came forward with the best offer. He will now enter the backend of the Phillies bullpen, where his career 2.89 ERA will be thrown into another postseason run with the Phillies holding on to the final wild-card spot.
Not a player going to net you a significant return, the Cubs have to like the return they got for Robertson as they added another pitcher and another top 10 prospect pitcher. Coming to the Cubs in the deal is 22-year-old right-hander Ben Brown, who entered season No. 26 on the Phillies prospect list and is now in the top 10, depending on your list.
The big 6-6 right-hander was drafted in the 33rd round of the 2017 MLB and has continued to work his way up the system later. Across 49 career minor league games, with 30 being starts, he has posted an 8-9 record with an impressive 3.27 ERA. He has 60BB/217 strikeouts and has held opponents under a .225 batting average against him.
While those are great numbers, the season he was putting up in High-A this season was his best to date, and there is a good chance he winds up in AA with the Cubs, where he continues to go through the developmental process. In his 16 games this season, 15 starts, Brown posted a 3-5 record with a 3.08 ERA.
Across his 73 innings of work, Brown walked 23 and struck out 105 while holding his opponents to a .197 batting average. Digging a little deeper, that translates to a 35.7% strikeout rate compared to just a 7.7% walk rate. Those are both elite numbers and someone the Cubs are hoping he can keep it up inside their system. Comparing him to High A pitchers with a minimum of 200 batters faced, Brown ranks 10th in WHIP, 24th in ERA, 11th in FIP, and 13th in K/9. All great metrics to bring to the Cubs system.
Brown has a very tall release point with a natural, over-the-top motion. Those mechanics have been mentioned as an opportunity to develop an elite slider so why not go after him now and see what you can do?
Typically big-bodied pitchers are hard throwers, and Brown is precisely that as he has been consistently touching 95-98 with his fastball this season. He backs that up with a pair of breaking pitches that generate swings and misses, especially his 90 MPH slider. Brown has an 85 MPH curve as his third pitch, but at this point in his career, it is seldomly used, but has shown the potential to be very good.
Brown is control over a command pitcher right now, which is understandable. When he was drafted, Brown was a raw, projectable high school draftee who had managed to pitch just 100 1/3 innings over his first five summers of professional ball because of injuries.
He's being developed as a starter right now so he can continue to work on all his pitches and make up for lost development time, but it's not hard to dream about his power stuff working well in shorter stints out of the bullpen. This is another excellent pick-up by Jed Hoyer, who deserves at least the credit where credit is due when figuring out how to trade his players and acquire top-flight prospect talent in return.