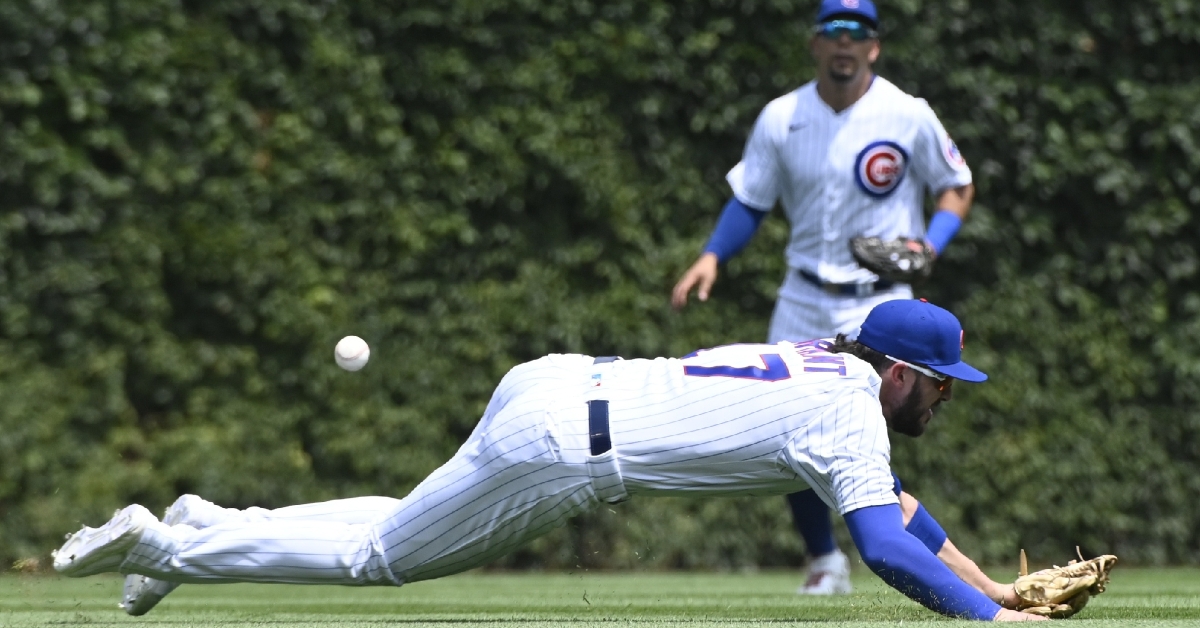 | | |
| --- | --- |
| Cubs lose to Diamondbacks in game featuring ninth-inning weather delay | |
---
CHICAGO — A ninth-inning weather delay delayed the agony for the Chicago Cubs (48-51) on Saturday, as the North Siders squandered a 2-0 lead against the lowly Arizona Diamondbacks (31-69) and lost 7-3 at Wrigley Field. Daulton Varsho drove in all three of the D-backs' runs in Friday's series opener, and he sparked his club with a game-tying two-run homer in Saturday's tilt. The Cubs were outscored 7-1 after the fourth inning. Alec Mills scoring on a double play groundout, Willson Contreras hitting a solo dinger and Rizzo coming home on a wild pitch provided the Cubs with their three runs on the day.
In his five frames of work, Mills fared well on the mound through 4.2 innings, with Varsho then going yard with two outs in the fifth. Eduardo Escobar hit a two-out double in the first, as the two-bagger got by a diving Kris Bryant in left-center. Christian Walker fouled out to Contreras on the pitch right after that, though. Bryant singled with one out in the first but was outed on a fielder's choice that Javy Baez grounded into. A popup skied by Anthony Rizzo nearly fell in for a bloop hit in left, but left field David Peralta charged in and caught it for the third out.
Manning the hot corner, Patrick Wisdom fielded a chopper hit by Nick Ahmed in the second and fired an impressive throw across the diamond to Rizzo, who pulled off a nice pick at first for the inning-ending putout. Contreras was plunked by Merrill Kelly to begin the home half of the second but was left on base. For the first time at any professional level, Mills tallied an extra-base hit when he drove a leadoff double to the wall in center to begin the bottom of the third. Rafael Ortega then hit a single, putting runners on the corners, and Bryant drew a walk that loaded the bases. Baez proceeded to ground into a 5-4-3 double play, however, with Mills coming home on the ground ball. Ortega reached third on the double play but was stranded by Rizzo striking out.
.@PatrickWisdom5 on the run ?? pic.twitter.com/UHptYvHaDJ

— Marquee Sports Network (@WatchMarquee) July 24, 2021
Alec Mills, doubles hitter. pic.twitter.com/HEK0gDNRjB

— Marquee Sports Network (@WatchMarquee) July 24, 2021
Escobar was called out due to interference when he was drilled in the back by a powerful throw from Contreras while running to first in the top of the fourth. Contreras fielded a dribbler hit by Escobar and unintentionally beaned Escobar with his ensuing throw. Although he was clearly in pain after getting pulverized in the back, Escobar, who was ruled to have gone outside the runner's lane, was able to shake it off and remain in the game. Contreras led off the bottom of the fourth with an opposite-field blast to right.
TOO strong.@WContreras40 #CubTogether pic.twitter.com/TD6SeGUjiR

— Chicago Cubs (@Cubs) July 24, 2021
Peralta drew a leadoff walk to begin the fifth, and, with two outs, Varsho plated him by way of his aforementioned two-run jack. Settling the score with Mills in the wake of Mills' first career two-bagger, Miller hit a double of his own, and Josh VanMeter then drew a walk. Mills put a stop to the two-out rally by getting Kole Calhoun to ground out. In the bottom half of the same inning, Bryant smacked a two-out triple to the wall in right-center, but Baez popped out on the very next pitch.
The bat is heating up in a big way for @DaultonVarsho25! pic.twitter.com/uRxBksN5Mc

— Arizona Diamondbacks (@Dbacks) July 24, 2021
Dan Winkler pitched the sixth and went 1-2-3 through a half-inning that featured back-to-back foulouts to first. Kelly wrapped up his six-inning start by sitting the Cubs down in order in the sixth. In his previous start on Sunday, Kelly pitched an eight-inning gem at home versus the Cubs and earned the winning decision. Kelly picked up another win for Saturday's performance, in which he struck out six.
The Diamondbacks took the lead in the seventh, with Andrew Chafin, who had not given up a run since May 7, suffering a rare dismal outing. Chafin boasted the longest active scoreless stretch among MLB pitchers, but that streak ended on an RBI single by Varsho. Pavin Smith and Ahmed were walked to start the seventh, and Smith scored from second on Varsho's base knock. Asdrubal Cabrera, who was activated off the 10-day injured list earlier in the day, pinch hit for Kelly and hit a two-run double to right, which plated Ahmed and Varsho, and Ryan Tepera was called upon to pitch at that point. Tepera drew a groundout and tabbed two consecutive strikeouts to escape the inning.
Welcome to the Var-Show.

As of this tweet, @DaultonVarsho25 has driven in every #Dbacks run this series. pic.twitter.com/1F7VstcgTW

— Arizona Diamondbacks (@Dbacks) July 24, 2021
Smith robbed Jason Heyward of a leadoff hit in the seventh by making a leaping grab in the ivy. The spectacular catch in center field was part of a 1-2-3 inning for Tyler Clippard. Trevor Megill fielded a comebacker off the bat of Walker for the first out of the eighth. Second baseman Nico Hoerner followed up that nice defensive play with one his own, as he covered a lot of ground en route to fielding a grounder and throwing Peralta out at first. After issuing a walk to Smith and giving up a single to Ahmed, Megill was relieved by Rex Brothers, who forced the red-hot Varsho to fly out.
The Cubs went three, three down in the bottom of the eighth, which Noe Ramirez pitched. With the wind picking up in the top of the ninth, Cabrera swung at the first pitch of the inning and slugged a leadoff double into the well in right. The ensuing pitch saw Andrew Young belt a two-run dinger to right. Calhoun then grounded out, and Escobar hit a single thereafter. Just as a lightning warning was issued, which caused fans to begin heading for the exits, Brothers drew a ground ball off the bat of Walker, resulting in a 6-4-3 double play.
Stop us if you've heard this before:

Pinch-hit homer for @AndyjYoung15. ?? pic.twitter.com/SGchDM0kU7

— Arizona Diamondbacks (@Dbacks) July 24, 2021
Midway through the ninth, a weather delay was initiated with a thunderstorm rolling in at the Friendly Confines. Play resumed 99 minutes later, and, with far fewer fans in the stands, Rizzo hit a leadoff double to the wall in center off Brett de Geus. Contreras flied out to the warning track in right, and Rizzo tagged up and headed to third. A wild pitch plated Rizzo, but Jake Marisnick, who pinch hit for Brothers, then struck out swinging. Heyward kept the Cubs alive with a two-out single to left. In the midst of Heyward's at-bat, Contreras was ejected by home plate umpire Pat Hoberg for chirping from the dugout, and Contreras was not pleased, as David Ross had to hold him back while he shouted at Hoberg. Hoerner stepped up to the plate after Heyward reached, and de Geus struck him out swinging to finish off the Diamondbacks' 7-3 win atop the Cubs.
Willson Contreras gets ejected, then tries to do a run-in and cut promo on the ump. David Ross holds him back. pic.twitter.com/lEOxdTlogF

— Justin Groc (@jgroc) July 25, 2021

Tags: Cubs Baseball
,
Alec Mills
,
Willson Contreras
,
Kris Bryant
,
Javy Baez
,
Anthony Rizzo
,
Patrick Wisdom
,
Rafael Ortega
,
Daniel Winkler
,
Andrew Chafin
,
Ryan Tepera
,
Jason Heyward
,
Trevor Megill
,
,
Rex Brothers
,
Jake Marisnick