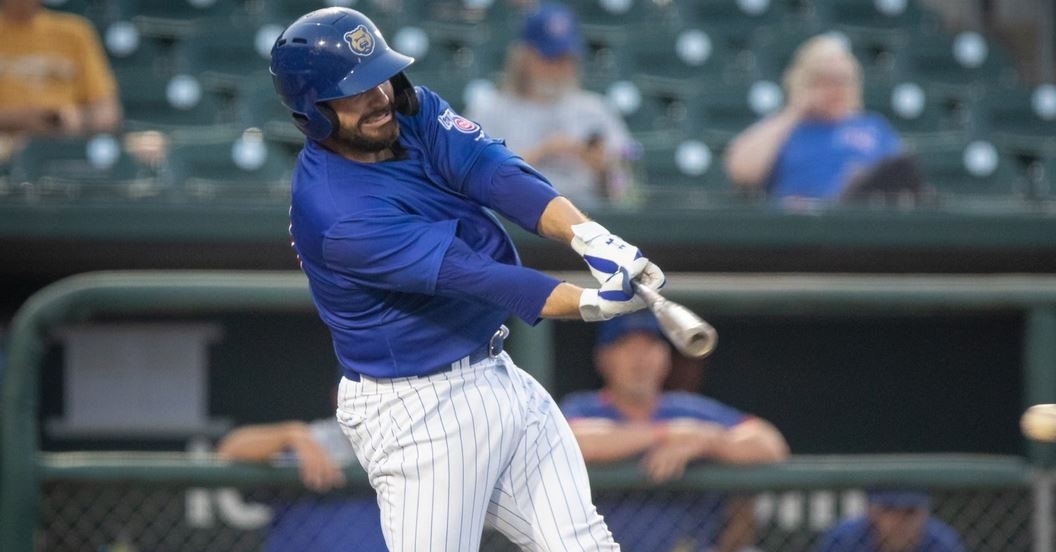 | | |
| --- | --- |
| Cubs Minor League News: Payne impressive, SB wins in extras, Pels win 7th straight, more | |
---
| | | |
| --- | --- | --- |
| Monday, May 23, 2022, 12:00 PM | | |
The success from last week didn't quite translate to this week as the Cubs Minor League system had a much harder time winning games. A lot of that had to do with better competition throughout the week, but you also knew there was no way the organization could keep the pace up from the week prior.
Even with that, the Cubs saw their organization post just one day with a losing record and managed to cap off the week with a 2-2 showing on Sunday. That will continue to be beneficial for everyone as things are trending in the right direction in a big way.
COLUMBUS CLIPPERS 5 - IOWA CUBS 2
I know the Cubs wanted to win this series, but earning a split against Columbus is a solid consolation prize. After being transferred to the 60-day IL, Alec Mills made the start and continues to rehab from his quad injury. Mills didn't last long, going just 2 1/3 innings, but allowed just one run.
Unfortunately, Peyton Battenfield was a bit better, keeping the Cubs scoreless through five innings while the Clippers offense did their part in the win. Mills got off to a strong start, but then was charged with his lone earned run in the third when Tyler Freeman singled to give Columbus the 1-0 lead.
With Matt Dermody on to pitch, the Clippers doubled their lead in the sixth with Mike Rivera cashing with an RBI single. Even though runs were hard to come by through five innings, the Cubs continued to battle back and tied things up in the bottom half of the seventh.
Tyler Payne benefited from that as his softly hit fly ball to center dropped for a single as two runs came home to score. Not to be outdone, Columbus put things away in the final two innings with a bases-loaded walk by Rivera, giving them the lead for good in the eighth before two more runs came home in the ninth for the 5-2 win. The Cubs had seven hits in the game, with Robel Garcia and Payne collecting two.
Final from Principal Park. pic.twitter.com/FqKH1tEyRS

— Iowa Cubs (@IowaCubs) May 22, 2022
TENNESSEE SMOKIES 11 - CHATTANOOGA LOOKOUTS 5
You have to give the Lookouts a ton of credit this week for earning the split against the Smokies, but Tennessee ended the week in a big way. Although Peyton Remy struck out eight in just 4 2/3 innings, he was touched up for five earned runs, but thankfully the bullpen and offense bailed him out.
Getting a solo shot from Darius Hill and a two-run shot from Alexander Canario in the first helped, but that was only the beginning.
Once Canario hits for average at Tennessee, he is on his way to Iowa. This is his third home run of the week pic.twitter.com/9XEtu3grAc

— Todd ?????? (@CubsCentral08) May 22, 2022
Quincy McAfee put Chattanooga on the board with a solo shot in the second, but a Bryce Windham solo shot and Levi Jordan RBI single had the Smokies up 5-1.
Moving to the fifth is when Remy started to run into some trouble. Not only did a two-run triple from Mike Siani pull the lookouts within 5-3, but the Matt McClain homer tied things up 5-5. That seemed to awaken the Tennessee offense as they ended the game with six unanswered runs.
It started in the bottom of the fifth with Bryce Ball and Matt Mervis delivering RBI singles, but the Mervis grand slam in the seventh was the final blow in the 11-5 win.
Hill led the offense with four hits and was one of four players with multiple hits. Jordan, Ball, and Mervis were the other three, as Mervis connected for five RBIs.
Darius Hill goes 4-5 and Matt Mervis hits a grand slam, as the Smokies take down the Lookouts in the series' finale. #Cubs #SmokiesBaseball #FlyTheW #ItsDifferentHere pic.twitter.com/uHPpAzGKZg

— Tennessee Smokies (@smokiesbaseball) May 22, 2022
WISCONSIN TIMBER RATTLERS 7 - SOUTH BEND CUBS (10 innings)
In a series pegged with two of the better teams in the Midwest League, fans got what they expected as they played to a 3-3 series split. Two of those games were in blowout fashion, while two went into extras, including Sunday.
With Kohl Franklin on the mound against Antoine Kelly, things were looking bleak early as South Bend was in a 5-0 hole three innings in. A big reason for that was Kelly and his 13 strikeouts as he was dialed in. Micah Bello opened the scoring in the second, clearing the bases with an RBI double and then scoring on the same play, off an error to make things 3-0.
Later, one inning saw Joe Grey JR unload off of Franklin and crushed a homer to dead center to extend the lead to 5-0. That was the end of the road for Franklin as he gave way to Manuel Espinoza, Bailey Horn, and company.
With the Cubs bullpen doing their job to slow down the Timber Rattlers offense, it was only a matter of time until the offense figured things out against Kelly. It may have taken six innings, but they started to make him pay for some late-game mistakes.
Owen Caissie came through with the biggest hit of the game up to this point as his bases-loaded double brought the Cubs within 5-3.
Owen Caissie is feeling it this week. He is one for three with three RBI today. pic.twitter.com/dCDhJaJrvr

— Todd ?????? (@CubsCentral08) May 22, 2022
Jake Slaughter followed that up with an RBI single, and the Cubs were within 5-4. It was the same story next inning for South Bend, with Yohendrick Pinango picking up his second double of the day to give the Cubs a 6-5 lead.
Now on to pitch the eighth was Brad Deppermann, who worked around a bases-loaded jam to only allow a Wil Clarke sacrifice fly. Unfortunately, that sacrifice fly tied the game, and the teams headed to extras again. In extras, things were short-lived, with a passed ball from Pablo Aliendo being the difference in a 7-6 Rattlers win. While most of the Cubs offense started slow, Cole Roederer, Pinango, and Caissie had multiple hits in the loss.
I am so excited to see Owen Caissie just rip everything. Check out how hard he hits this single to right pic.twitter.com/6Rbi9qYLWm

— Todd ?????? (@CubsCentral08) May 22, 2022
Caissie had a series to remember and would never leave this ballpark if it were up to him.
MYRTLE BEACH PELICANS 4 - COLUMBIA FIREFLIES 3
Make that seven straight wins for the Pelicans as they completed the six-game sweep of Columbia 4-3. However, give the Fireflies a ton of credit, as they gave the Pelicans all they could handle, especially the past three games.
Soon enough, Richard Gallardo will be in South Bend, and you have to wonder if it will come before June. Following 5 2/3 innings of one-run no-hit ball, Gallardo has an ERA of 2.52 and is 4-1 on the season. It does help when the Pelicans offense gives you early support, which they did through four innings.
Jacob Wetzel put them in front for good in the second with an RBI ground out before Pete Crow-Armstrong doubled the lead with a solo shot in the second.
PCA with a 9 iron for #6 pic.twitter.com/jCjs8xpGVC

— Todd ?????? (@CubsCentral08) May 22, 2022
Add a Felix Stevens RBI single in the fourth, and the Pelicans were off and running 3-0.
Gallardo may not have allowed a hit, but his command wasn't as good as it has been, and following an RBI single by Rubendy Jaquez in the sixth, Columbia was on the board. After connecting for an RBI single earlier, Stevens added to that by belting his third homer of the season in the seventh. That homer was crucial as it proved to be the game-winner.
Felix Stevens with a solo shot to lead off the seventh!

Pelicans 4, Fireflies 1 still top seven. pic.twitter.com/S0LeR5JXQy

— Myrtle Beach Pelicans (@Pelicanbaseball) May 22, 2022
With John Oquendo still on the mound in the seventh, the Fireflies continued to battle back, using a Darryl Collins double to make things 4-2 and an Enrique Valdez sacrifice fly to pull them within 4-3. Oquendo got out of that inning without further damage and got through the eighth before Bryan King finished things for his third save of the year. Stevens was the lone player with multiple hits as five other Pelicans had a hit.
Say it with us...

SWEEEEEEEEEEEEEP#MBPelicans pic.twitter.com/n5V75lKxKR

— Myrtle Beach Pelicans (@Pelicanbaseball) May 22, 2022

Tags: Cubs Baseball
,
Alec Mills
,
Robel Garcia
,
Peyton Remy
,
Darius Hill
,
Alexander Canario
,
Levi Jordan
,
Kohl Franklin
,
Cole Roederer
,
Richard Gallardo
,
Bryan King