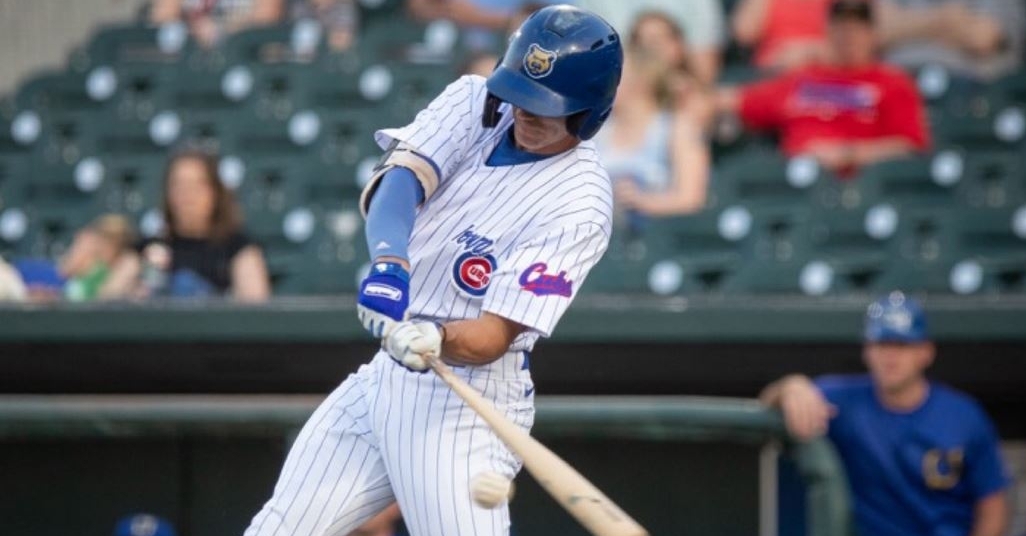 | | |
| --- | --- |
| Cubs Minor League News: Young raking, Crook homers, Alcantara with epic game with 8 RBIs | |
---
Sunday was a much lighter night on the diamond for the Cubs minor league system as only full-season ball was in action. That said, there was still plenty of great action to be had even if the overall record was 1-3 to end the week.
TOLEDO MUD HENS 14 - IOWA CUBS 9
Although the week overall was not very good for Iowa, you have to give them some credit for how they fought on Sunday. In a back and forth game, Robert Gsellmen took the loss despite pitching reasonably well through three innings. That was because Matt Dermody and the rest of the bullpen struggled to get outs which made it tough for the Cubs offense to come back.
From an offensive side, Nelson Maldonado put the Cubs in front 1-0 with an RBI double in the first as that lead held for a few innings. In the third, Toledo managed to take the lead for good, using a Josh Lester homer to go up 2-1 before a sacrifice fly made things 3-1.
Narciso Crook tried to keep things close with a solo shot in the top of the fourth, but a pair of two-run shots from Trayce Thompson and Brady Policelli saw Toledo take a commanding 7-2 lead.
Narciso Crook! Three home runs in as many days for @ThatOutfielder ???? pic.twitter.com/1esy4MdHAT

— Iowa Cubs (@IowaCubs) June 12, 2022
Iowa continued to battle back, using a Maldonado RBI grounder in the fifth and the Trent Giambrone triple in the sixth to remain within striking distance at 7-4.
That would be as close as the Cubs would get as Toledo extended the lead to 10-4 with a seventh-inning homer and then pushed across four more runs in the eighth inning to make things 14-5. Iowa did manage to get things going offensively again in the ninth, with Maldonado picking up an RBI single to go with a Jared Young RBI triple, but the Cubs still fell 14-9. Darius Hill and Levi Jordan led the way with three hits, while Maldonado had three RBIs in the loss.
See you at Principal Park on Tuesday. pic.twitter.com/YtwOqqzCFv

— Iowa Cubs (@IowaCubs) June 12, 2022
BILOXI SHUCKERS 5 - TENNESSEE SMOKIES 4 (10 innings)
The Smokies were locked into a great battle all week long, culminating with an extra-inning loss to Biloxi on Sunday. Chris Clarke gave the Smokies five innings of work, but was charged with four earned runs. A part from that, you had a bullpen that did more than hold their own until the Shuckers walked off the Smokies in the end.
Chase Strumpf couldn't have asked for a better start to the game as he connected for his 12th homer for the quick 1-0 lead in the first. Unfortunately for the Smokies, the Shuckers got back in a big way as all four runs charged to Clarke came in that first inning.
Jackson Reetz picked up the go-ahead RBI double to make things 2-1 before RBI singles by Tristen Lutz and Cam Devanney saw the Shuckers jump in front 4-1. From that moment forward, the Smokies pitching staff took over while the offense did what they needed to do to chip away.
A single by Yonathan Perlaza in the fifth made things 4-2 before a Bryce Ball walk with the bases loaded pulled the Smokies within 4-3. A costly error on that same walk saw another run come home as the Smokies rallied back to tie things up. That 4-4 score would hold until the 10th inning when Lutz came through for Biloxi to walk things off with an RBI single. Matt Mervis saw his average rise to .330 on the season, leading the way with two more hits. Strumpf, Perlaza, Ball, and Jake Slaughter had the other four hits for the Smokies.
Biloxi takes the Sunday showdown. pic.twitter.com/6nlcub2ixc

— Tennessee Smokies (@smokiesbaseball) June 13, 2022
CEDAR RAPIDS KERNELS 9 - SOUTH BEND CUBS 3
Although the Cubs haven't played well the last few weeks, South Bend has had to go through a tough stretch of games. Things should lighten up a little as the Cubs need to get back on track to have a shot at postseason contention.
Kohl Franklin continues to search for his first win of the season as he lasted just three innings and allowed four earned runs. He walked one and struck out three, but his ERA is now above 11.00, which is not good. That was more than enough support for Cade Povich, who did well through six innings allowing just one run and striking out five.
Not only did Seth Gray put the Kernels in front with a two-run shot in the first, but an RBI single from Dylan Neuse and the Alerick Soularie double in the second gave the Kernels a 4-0 lead, which would have been enough to win. It took five innings for South Bend to cash in, with Fabian Pertuz picking up the RBI single to make things 4-1.
With one swing in the seventh, the Kernels took what was a close game and flipped it upside down as Christian Encarnacion-Strand belted a grand slam to make things 8-1. That lead grew to 9-1 in the eighth before an eighth-inning fielding error saw the Cubs score their second run of the game. Jonathan Sierra added a solo shot in the ninth to cap off the scoring, but the Cubs still fell 9-3.
There's #1 of 2022!

Jonathan Sierra drove out a long gone @hoosierlottery home run in the 9th against Cedar Rapids for his first of the season. #ItsDifferentHere pic.twitter.com/W5EbfLx5em

— South Bend Cubs (@SBCubs) June 12, 2022
Caleb Knight led the offense with two hits. Pertuz, Casey Opitz, Scott McKeon, and Sierra rounded out the hit category for South Bend as their rough week ended.
Day off tomorrow, back in action Tuesday in Davenport! pic.twitter.com/DqoXjJh8zQ

— South Bend Cubs (@SBCubs) June 12, 2022
MYRTLE BEACH PELICANS 15 - CAROLINA MUD CATS 6
Sparked by a pair of five-run innings early in the game, the Pelicans offense showed up huge to hand the Pelicans another win. It was a coming-out party for Kevin Alcantara, who set a franchise record with eight RBIs in the win.
Perhaps most importantly, Tyler Schlaffer delivered his second straight great outing, tossing five innings of two-run ball to go with seven punchouts in the win. Alcantara got the offense started immediately in the first inning, using an RBI triple to make things 2-0. A fielding error and wild pitch followed that up before the Ezequiel Pagan single capped off the first inning with Myrtle Beach up 5-0.
Eduardo Garcia tried to keep his team in the game with a solo shot in the bottom of the first, but the Pelicans offense was way too much. Leading 5-2 in the third after Herbert Perez took Schlaffer deep in the second, a third-inning wild pitch pushed another Pelicans run across before another Pagan single made things 7-2. Alcantara would then cap off another five-run frame with a three-run shot as the Pelicans were up huge early, 10-2.
With little to no offense for the next few innings, Alcantara capped off his eight RBI day with another three-run shot in the seventh as the Pelicans opened a 13-2 lead.
Four hits, two homers, eight RBIs and a double shy of the cycle?@Cubs prospect Kevin Alcantara had a heck of a Sunday for @Pelicanbaseball. pic.twitter.com/K5XSA7yAqG

— Minor League Baseball (@MiLB) June 12, 2022
Sacrifice flies from Juan Mora, and Malcolm Quintero in the eighth made things 15-2 before the Mud Cats scored four late runs to fall 15-6.
With four hits, Alcantra led the way as he is now hitting .285 on the season. His two homers give him nine on the season, while the team record eight RBIs has him at 45 RBIs this season. Pagan and Felix Stevens added multi-hit efforts as every starter, but Quintero had a hit in the win.
BONUS CBB - NOTRE DAME FIGHTING IRISH 7 - TENNESSEE VOLUNTEERS 3
With a spot in the NCAA tournament on the line, the Notre Dame Fighting Irish were looking to take down the top-seeded Volunteers. The Irish kept things close through six innings, trailing 3-1. That was until a pair of three-run frames late in the game flipped the script as the Irish pulled off the upset of the year and qualified for their third NCAA tournament in team history.
Liam Simon and Alex Rau gave the Irish just four innings of work, allowing three earned runs in the process. However, the work of freshman Jack Findlay silenced the Volunteers' final five innings while striking out four. That took away from the outing that freshman Chase Burns put together as he allowed four earned runs through 6 2/3 innings, but held Notre Dame to just one run through six.
Luc Lipcius had a monster super regional at the plate and put Tennessee on top 1-0 with a homer in the first. DJ LaManna managed to tie things up with an RBI groundout in the second, but the Seth Stephenson single in the bottom of the second saw Tennessee retake the lead 2-1. Stephenson wasn't quite done as he added an RBI double in the fifth to put Tennessee in front 3-1.
Trailing 3-1 in the seventh, not many people liked Notre Dame's chances to win this game. However, this very experienced Irish team wasn't going to go away quietly. With one swing in the seventh, LaManna managed to tie things up as his homer made things 3-3. Jack Brannigan followed that up with a solo shot to give the Irish a 4-3 lead as Notre Dame went back to back at the perfect time.
Not about to let up in terms of their late game offense, Carter Putz came through with a huge RBI double in the eighth to give the Irish some much-needed insurance 6-3. A Jack Zyska single later that inning extended the lead to 7-3 before Findlay finished the upset by inducing a game-ending double play.

Tags: Cubs Baseball
,
Nelson Maldonado
,
Trent Giambrone
,
Jared Young
,
Darius Hill
,
Levi Jordan
,
Chase Strumpf
,
Yonathan Perlaza
,
Kohl Franklin
,
Jonathan Sierra
,
Caleb Knight