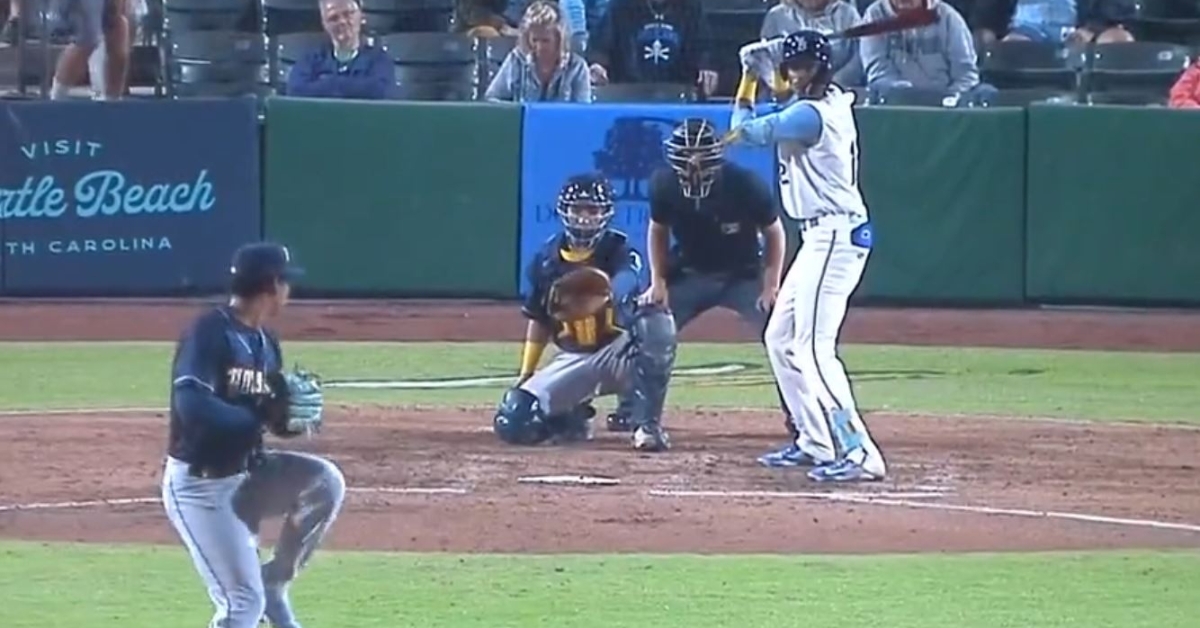 | | |
| --- | --- |
| Cubs Minor League News: Alcantara hits grand slam, Garcia on fire, Ball with six RBIs | |
---
| | | |
| --- | --- | --- |
| Friday, May 13, 2022, 1:04 PM | | |
When you're hot, you're hot, and right now, the Cubs minor league system is hot. Not only were they coming off of back-to-back 3-1 nights, but things were a bit better on Thursday as the organization posted a 4-1 mark.
There is a reason why every team is currently above .500, and things are starting to look bright for the future. While wins and everything are excellent, the development of the players is what is most important, and right now, these players are doing their thing on the diamond.
IOWA CUBS 5 - OMAHA STORM CHASERS 0
What a difference a year makes. After getting owned by Omaha a season ago, Iowa has taken the first three meetings this season, with this one coming as a shutout. Back in the organization for the first time in three years is Luke Farrell, who pitched very well for Iowa.
Farrell got the win as he went five innings allowing just one hit to go with four punchouts. He gave way to Eric Stout and Ben Leeper as they each worked a pair of scoreless frames. Don't look now, but Leeper is starting to get on a roll as his ERA has fallen to 3.38.
The offense was at a premium early as Josh Dye managed to keep the Cubs quite early. That was until an Erick Castillo single in the third provided the Cubs with the winning run and 1-0 lead. The next inning saw Robel Garcia go deep for a third consecutive game as the Cubs doubled their lead 2-0.
Three things are guaranteed in life:
-Death
-Taxes
-Robel Garcia hitting home runs

Ro-Bombs does it again to put us up 2-0 in the fourth. ???? pic.twitter.com/6jD7XCQhyz

— Iowa Cubs (@IowaCubs) May 12, 2022
With both bullpens now fully engaged, Iowa managed to bring home three more runs in their final two at-bats, with Narciso Crook picking up an RBI triple in the seventh and Dixon Machado adding an RBI double in the eighth. Jared Young also drove in an eighth-inning run via a sacrifice fly as the Cubs took care of Omaha 5-0. Crook, Machado, and Castillo each had two hits.
All smiles after the shutout ?? pic.twitter.com/OrbAhU02DK

— Iowa Cubs (@IowaCubs) May 12, 2022
TENNESSEE SMOKIES 4 - MONTGOMERY BISCUITS 3 (game 1)
In an unconventional doubleheader, you had the Smokies remain hot, using a three-run sixth inning to take the win. Javier Assad got the start and, through his 4 2/3 innings of work, got bounced around a bit allowing all three runs. That ended a string of three good starts as his ERA is still just 2.67.
It took four innings for the game's first run to come across, with Andy Weber connecting for an RBI double and a 1-0 lead. That lead was short-lived, with Curtis Mead clearing the bases in the fifth as his double put the Biscuits in front 3-1.
Moving to the sixth, it was the Smokies turn to have the bases loaded as they were looking for a big hit to get even. Leave it to Bryce Windham to come through as his RBI single tied things up 3-3. However, a costly error on the same play allowed all three runs to come home, which was the difference.
Game 1? Another Win.
Game 2? Soon.
??: https://t.co/yjBwBilCqy
??: https://t.co/Vn2hCabN3B pic.twitter.com/Lmgbr2NMXv

— Tennessee Smokies (@smokiesbaseball) May 12, 2022
TENNESSEE SMOKIES 10 - MONTGOMERY BISCUITS 5 (game 2)
In a makeup game from April 17, the Smokies were listed as the visitors despite playing at home. Regardless of how things looked, it didn't matter as the Smokies doubled up the Biscuits 10-5.
After closing out his High-A season with a flurry, Chris Clarke made his AA debut. Although not the greatest of outings, Clarke still did what he needed to do. He got through five innings allowing just three runs to secure his first career AA win.
Weber provided the Smokies with their first run again, using an RBI double in the first inning to make that happen. Like in game one, that lead was short-lived with a Kameron Misner double mixed in with a single to give the Biscuits the 2-1 lead. Knowing that this was Clarke's first go of things in AA, the Smokies offense wanted to make life easier for him, which they did in the third inning.
Sparked by the Alexander Canario single to pick up his first AA RBI, Bryce Ball busted the game wide open as his three-run shot gave the Smokies a 5-2 lead. Add in another run on a wild pitch later, and the Smokies capped off a five-run inning leading 6-2.
Ball wasn't about to cool off either, adding an RBI single in the fifth and then an RBI double in the seventh to finish the game with six RBIs.
Have a Ball, Bryce!

The 23-year-old slugger blasted a homer and logged a career-best six RBIs in Game 2 of a doubleheader for @smokiesbaseball: pic.twitter.com/LtuW003g5L

— Minor League Baseball (@MiLB) May 13, 2022
Yonathan Perlaza also added a seventh-inning RBI as the Smokies withstood some late-game offense to pick up another win. Weber and Ball had three hits, but the six RBIs from Ball made a difference.
The Smokies defeat the Limp Biscuits AGAIN!
Bryce Ball, @bryceball_05, goes 3-4 with 6RBI in the victory. #SmokiesBaseball #Cubs #CubTogether #ItsDifferentHere pic.twitter.com/Qvl7blA2bc

— Tennessee Smokies (@smokiesbaseball) May 13, 2022
FORT WAYNE TIN CAPS 5 - SOUTH BEND CUBS 0
The hottest team in the organization happens to be South Bend, as they entered Thursday riding an eight-game winning streak. Eventually, you know that was going to end, and after mustering just four hits, that streak came to an end Thursday.
Give Noel Vela a ton of credit as he went six shutout innings allowing just four hits and racking up eight strikeouts. This was his first win despite an ERA sitting at 0.34 for the year. Opposing him was Riley Martin, who made his first start of the season.
For the first time all season, Martin struggled with his command walking five and striking out three in four innings. He also surrendered all five runs, with four of them earned. While the stat line doesn't look great, all of the Tin Caps runs came in a span of two innings.
Tonight's @LavenInsurance Defensive Play of the Game featured a remarkable diving play by #SBCubs center fielder @jgnwogu42, robbing a base-knock away from Fort Wayne! pic.twitter.com/140RgsxOxT

— South Bend Cubs (@SBCubs) May 13, 2022
The first three came in the third inning, with Martin uncorking a wild pitch to lead to the first run, which was followed by the Brandon Valenzuela single. There was an RBI grounded mixed into that all as Fort Wayne took the 3-0 lead. The next inning saw the Tin Caps add to their lead as Corey Rosier went deep for the third time this season and extended the Tin Caps lead to 5-0.
That would be all the offense they would need as South Bend couldn't get anything done and saw their winning streak end. Matt Mervis was responsible for two of the team's four hits, with Caleb Knight and Jake Slaughter grabbing the rest. Didier Vargas had a strong showing in relief, as he threw 4 2/3 shutout innings.
8 in a row was a fun stretch!

Fort Wayne shuts us out for our first loss of the homestand. Back to it tomorrow! pic.twitter.com/w5phG4TrZd

— South Bend Cubs (@SBCubs) May 13, 2022
MYRTLE BEACH PELICANS 13 - CHARLESTON RIVERDOGS 4
It took a brief two-game losing streak to wake up the Pelicans bats, and they returned with a vengeance. Anchored by a pair of five-run innings, the Pelicans offense was alive and well as they moved back into first play ahead of Charleston with a 20-10 mark.
Porter Hodge continued to give the Pelicans solid work on the mound and did so once again. Despite allowing three runs in four innings, all three runs came in one inning as his outing was otherwise good. He needed to be good as JJ Goss kept the Pelicans bats in check for three innings before their bullpen imploded.
All the runs Hodge allowed came in the third inning when the Riverdogs broke out for an early lead. Bobby Seymour got the scoring started with an RBI double to make things 2-0 before coming home on the Mason Auer triple. The Pelicans began to battle back with Juan Mora connecting for an RBI double and trotting home on the James Triantos single.
After the Willy Vasquez homer gave the Riverdogs a 4-2 lead, it was all Pelicans after that as they ended the game with 11 unanswered runs. Five of those came in the bottom of the fifth inning as Myrtle Beach took the lead for good. Pete Crow-Armstrong got that inning started with an RBI fielder's choice, but Kevin Alcantara's bat did the most damage.
Despite his power numbers getting off to a slow start, you can see him getting more confident. That is leading to better results, including his game-winning grand slam as the Pelicans led 7-4 following that shot.
KEVIN !!! ??

Alcantara clears the bases!! pic.twitter.com/VXBLOhjbKd

— Myrtle Beach Pelicans (@Pelicanbaseball) May 13, 2022
Myrtle Beach extended that lead with a Mora homer in the seventh, but once again had another big inning in mind.
OPPOSITE DAY!

Juan Mora has his second home run of the season!

Birds extend the lead, 8-4, over the 'Dogs! pic.twitter.com/m1aplba2Ii

— Myrtle Beach Pelicans (@Pelicanbaseball) May 13, 2022
With the help of several costly Charleston miscues, the Pelicans added five eighth-inning runs to bust the game wide open 13-4. The lone official RBI that inning came on the Kevin Made single, but it didn't matter as the Pelicans reclaimed first place over Charleston. Crow-Armstrong has cooled off the last few games, but guys like Mora and Made are picking up the slack as this team is just too good.
a GRAND victory.

20th win of the season for the Birds.#MBPelicans pic.twitter.com/nvzb1aibPA

— Myrtle Beach Pelicans (@Pelicanbaseball) May 13, 2022

Tags: Cubs Baseball
,
Erick Castillo
,
Robel Garcia
,
Dixon Machado
,
Jared Young
,
Javier Assad
,
Andy Weber
,
Alexander Canario
,
Yonathan Perlaza
,
Caleb Knight
,
Didier Vargas