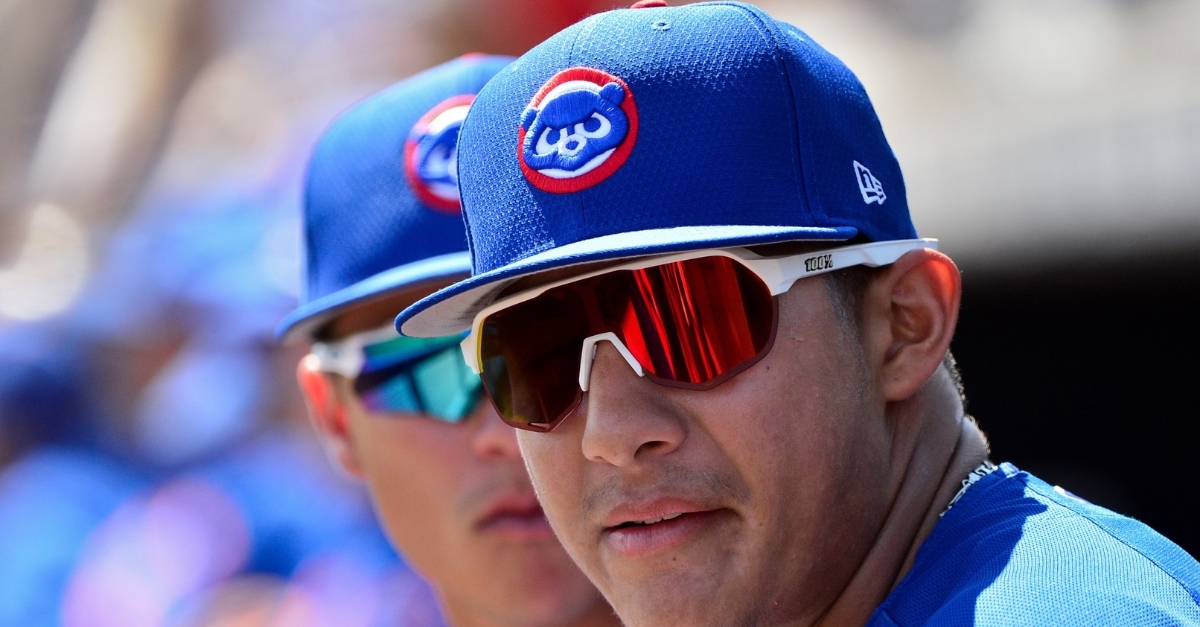 | | |
| --- | --- |
| Cubs Minor League News: Amaya and Roederer homer, Washer impressive, more | |
---
| | | |
| --- | --- | --- |
| Saturday, September 10, 2022, 8:54 AM | | |
Although there were only four teams in action on Friday, it was a busy night on the diamond as six games were played. The end results were not great, with the Cubs posting a 2-4 mark, but most importantly, the Tennessee Smokies became the third and final affiliate to punch a playoff ticket.
JACKSONVILLE JUMBO SHRIMP 16 - IOWA CUBS 0
In the completion of their suspended game, there was not much to cheer about if you are a Cubs fan. Their pitching stunk, although Matt Swarmer was terrible, and their offense struggled to hit as they registered just four hits in an ugly loss. So Ugly that we won't even get into detail on it.
Final from 121 Financial Ballpark. pic.twitter.com/pkkeDUPfTR

— Iowa Cubs (@IowaCubs) September 10, 2022
JACKSONVILLE JUMBO SHRIMP 3 - IOWA CUBS 1
Granted, the Cubs did get swept on Friday night, but game two was much better than game one. Wyatt Short continues to deliver in his new role as he allowed just one run in five brilliant innings.
That run came in the second inning when Santiago Chavez delivered the go-ahead RBI single. Iowa managed to tie things up off an error in the third inning, but the Willians Austudillo home run off of Brenden Little proved to be the difference in the 3-1 loss.
PENSACOLA BLUE WAHOOS 5 - TENNESSEE SMOKIES 4
Despite the Smokies scoring three runs in the fifth, it wasn't enough as Pensacola picked up another win. Jordan Wicks was masterful on the mound in this one, giving the Smokies four innings of one-hit ball to go with four strikeouts.
He gave way to a bullpen that was roughed up, especially in the fifth inning as the Blue Wahoos plated three runs to take a 3-0 lead. Marcus Chiu was the first run to come home with a solo shot before two more scored. Tennessee responded in that fifth inning with a big inning as Jake Washer picked a great time to hit his second homer to bring things back to even 3-3.
JAKE WASHER TIES IT UP WITH A 3-RUN HOMER!!! pic.twitter.com/v16IO0izlQ

— Tennessee Smokies (@smokiesbaseball) September 9, 2022
The Smokies continued their comeback bid in the bottom of the sixth with a Bryce Ball sacrifice fly that gave them the lead, only to see Will Banfield deliver the game-winning homer in the top of seventh that gave the Blue Wahoos a 5-4 win.
Bryce Ball hits a sac fly to score Jake Slaughter! The Smokies take the lead 4-3 in the bottom of the 6th. pic.twitter.com/3KAYy4T9f8

— Tennessee Smokies (@smokiesbaseball) September 9, 2022
PENSACOLA BLUE WAHOOS 12 - TENNESSE SMOKIES 7
Despite getting swept on the evening, all was not lost as the Smokies became the third Cubs affiliation to make the playoffs. With Griffin Conine putting Pensacola up 2-0 with a homer in the first, Tennessee responded in the second and third innings, where a large chunk of their damage came from.
Starting in the second, you had Chase Strumpf put the Smokies on the board with a single, only to have Cole Roederer connect for a two-run shot to give them the lead.
Cole Roederer hits a 2-run shot! It's 3-2 Smokies in the bottom of the 2nd! pic.twitter.com/I4IDyHLCcW

— Tennessee Smokies (@smokiesbaseball) September 10, 2022
Add in an error, and the Miguel Amaya solo shot in the third, and Tennessee was off and running as they built a 5-2 lead.
Not only did Pensacola tie things up in the fourth, but their seven-run sixth inning took what was a 5-5 game and turned it into a 12-5 Blue Wahoos lead.
Playoff worthy?? pic.twitter.com/lrdZibz6x6

— Tennessee Smokies (@smokiesbaseball) September 10, 2022
Roederer crushed his second homer later in the contest, but the Smokies still fell 12-7.
The Smokies fall 12-7 in Game Two. pic.twitter.com/Exz7DpxAm6

— Tennessee Smokies (@smokiesbaseball) September 10, 2022
SOUTH BEND CUBS 4 - CEDAR RAPIDS KERNELS 1
With two games remaining until the playoffs start, South Bend picked up a much-needed win to end a four-game skid. Daniel Palencia was one of three pitchers the Cubs used as the hard-throwing right-hander gave the Cubs four scoreless frames with five strikeouts. He turned things over to Joe Nahas and the pen.
Nahas battled through some command issues and allowed the lone run with Jefferson Morales connecting for the go-ahead RBI double in the fifth. Unlike their previous three games in this series, the Cubs would not let this one get away as their four-run sixth was the difference.
Casy Opitz opened the scoring with an RBIs fielders choice before singles from Kevin Made, and Fabian Pertuz gave the Cubs a 4-1 lead as they would win by that score to get back on track.
2 games left, then the playoffs.
No reason to go home now. pic.twitter.com/iR5Td14Gr6

— South Bend Cubs (@SBCubs) September 10, 2022
MYRTLE BEACH PELICANS 10 - CAROLINA MUdCATS 3
It has been a long time since the Pelicans have looked this good, but they picked a perfect time to get back on track. Nearly all of the Pelicans damage came in the first five innings when nine of their 10 runs came in those innings. That was more than enough support for Didier Vargas, who delivered five scoreless frames with eight strikeouts in the win.
Myrtle Beach gave Vargas plenty of support as they not only scored three times in the first on the Haydn McGeary homer, but added three more runs in the second off the Juan Mora homer to take a 6-0 lead. The Pelicans would add three additional runs over their next three innings to take a 9-0 lead, with Triantos and Josue Huma getting involved with RBI singles.
Robert Moore ended the shutout bid with an RBI single in the sixth, only to have Ezequiel Pagan close out the scoring for the Pelicans with an RBI single in the seventh. Carolina would add another pair of runs later, but that was no match for the Pelicans, who continue to do their thing this week.
We leave you tonight with a moonshot.

Holy cow, @PaganEzequiel. pic.twitter.com/iFy4ne80HV

— Myrtle Beach Pelicans (@Pelicanbaseball) September 10, 2022
Long bombs away.

Pelicans win their fourth straight with three more home runs.#MBPelicans pic.twitter.com/BzCNOHHfU6

— Myrtle Beach Pelicans (@Pelicanbaseball) September 10, 2022

Tags: Cubs Baseball
,
Wyatt Short
,
Jordan Wicks
,
Chase Strumpf
,
Cole Roederer
,
Miguel Amaya
,
Daniel Palencia
,
Kevin Made
,
Fabian Pertuz
,
Didier Vargas
,
Juan Mora
,
Josue Huma
,
Ezequiel Pagan