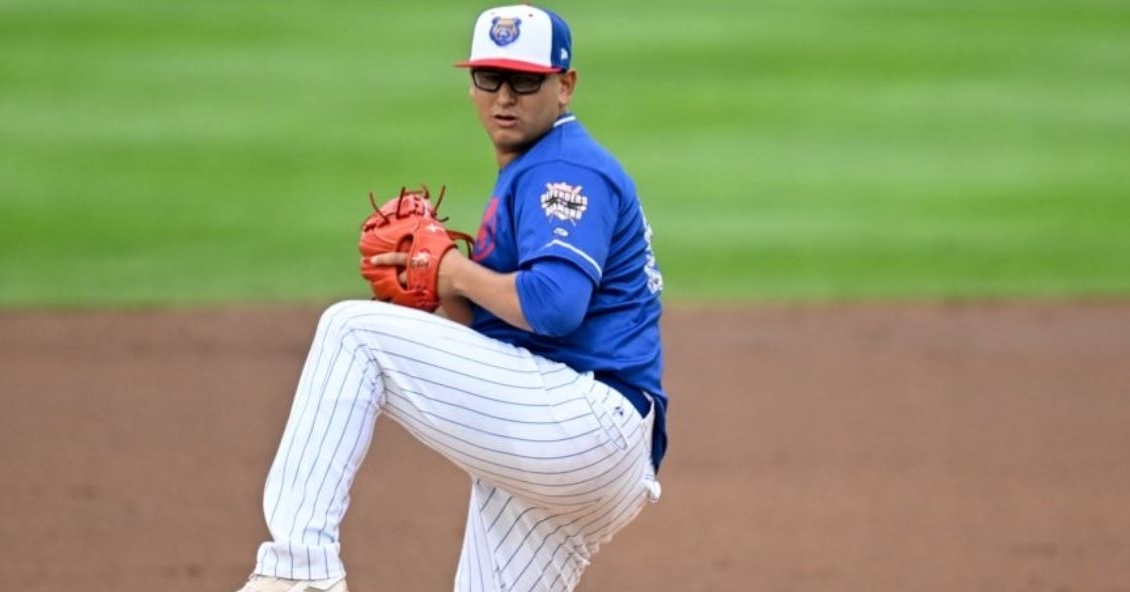 | | |
| --- | --- |
| Cubs Minor League News: Assad impressive, Brown's debut, Stevens homers, Strumpf clutch | |
---
| | | |
| --- | --- | --- |
| Sunday, August 7, 2022, 8:55 AM | | |
Saturday was another rough go for the Cubs minor league system as they managed to come away with just one win. That came from South Bend after they took game one of a doubleheader.
Take that away, and not only were wins hard to come by, but scoring runs were hard to come by as the Cubs posted a dismal 1-4 mark. That is something the fans would like to see change on Sunday and then again next week.
TOLEDO MUD HENS 6 - IOWA CUBS 0
One night after providing fans with a flare for the dramatics, the offense was tough to come by for the Cubs as they were shut out 6-0. Javier Assad was the tough-luck loser in this one, allowing two runs in five innings with eight strikeouts. Newly acquired Raynel Espinal surrendered three runs in 1 2/3 in his first appearance with his new team.
Assad managed to keep the Mud Hens off the board through four innings before Kerry Carpenter delivered the game-winning solo shot in the fifth. Zach Short would follow that up with a solo shot in the sixth as that was the final batter Assad would face. Toledo added three more runs in that inning off a Josh Lester double and Brendon Davis single to take a 5-0 lead. Davis added a second RBI hit later in the game as Toledo shut out the Cubs. Matt Mervis led the way with two hits.
Final from Principal Park. pic.twitter.com/ttAzpUX7Y9

— Iowa Cubs (@IowaCubs) August 7, 2022
TENNESSEE SMOKIES 5 - ROCKET CITY TRASH PANDAS 3
What else would you want from a matchup of the two top teams in the division? After the Smokies jumped out to a 3-1 lead, it was Rocket City responding with two runs in the eighth to tie things up, only to have the Smokies grab two runs in the ninth for the win.
Acquired in the David Robertson trade, Ben Brown made his season debut with Tennessee and was as good as advertised. The right-hander went five innings, allowing one run on four hits while striking out nine.
All 9 of Ben Brown's Ks pic.twitter.com/PfwGdJ0QZ3

— Todd ?????? (@CubsCentral08) August 7, 2022
He gave way to CD Pelham, who tossed a pair of scoreless frames before Ben Hecht struggled in the eighth. Hunter Bigge came on to record his first AA win, with Danis Correa earning the save.
Scoreless entering the third inning, Luis Vasquez put the Smokies on top 1-0 as he connected for his eighth homer.
Luis Vazquez's bat is catching up with his glove the last six weeks pic.twitter.com/EC2YN6IQUa

— Todd ?????? (@CubsCentral08) August 7, 2022
That lead didn't last long, with Rocket City tying things up in the bottom of the third on a wild pitch, but that would be it offensively for them for quite a while.
Still tied in the sixth, Bryce Ball put the Smokies back in front with a two-run single as they were in front 3-1 and put Brown in position to pick up the win.
Bryce Ball comes through with a big hit to give the Smokies a 3-1 lead. Ball was facing hard throwing Ben Joyce out of Tennessee who is making his pro debut. pic.twitter.com/L4HkGo3QV2

— Jordan Miller (@Miller_MiLB) August 7, 2022
It was in the eighth inning when things went south as Rocket City had the bases loaded and one out. Before that, Ryan Aguilar picked up a game-tying RBI double before Bigge came in to strike out both hitters he faced.
Looking to recover after letting the lead get away, Chase Strumpf the game-winning two-run shot in the ninth inning as the Smokies extended their lead in the division with a 5-3 win.
Winner winner chicken dinner by Chase Strumpf pic.twitter.com/PY1Z6Yj5Cg

— Todd ?????? (@CubsCentral08) August 7, 2022
The Smokies had six hits in the game, with Vazquez grabbing two.
Chase Strumpf puts the Smokies on top with a 2-run HR in the top of the 9th! pic.twitter.com/5ToSyytwGS

— Tennessee Smokies (@smokiesbaseball) August 7, 2022
SOUTH BEND CUBS 6 - FORT WAYNE TIN CAPS 3
In game one of a Saturday doubleheader, the Cubs capitalized on a three-run inning to double up Fort Wayne 6-3. Kohl Franklin struggled with his command all day, walking five and allowing three runs in three innings. He gave way to Riley Martin, who tossed three scoreless frames of relief before Eduarniel Nunez secured the save.
The knee Buckler is my favorite curve by Eduarniel Nunez pic.twitter.com/Ea2qTiPrOt

— Todd ?????? (@CubsCentral08) August 6, 2022
Despite his struggles on the mound, Franklin was backed by some early run support, with Luis Verdugo picking up an RBI double in the first before an error made things 2-0. Add in the Pete Crow-Armstrong single in the fourth, and South Bend took a 3-0 lead.
It was in the bottom of the fourth when things began to go south for South Bend as a pair of bases-loaded walks and an RBI groundout tied things up 3-3. Despite letting the lead get away, South Bend responded in the top of the fifth, with Owen Caissie delivering the game-winning RBI double that saw the Cubs take a 4-3 lead.
Owen Caissie Oppo double pic.twitter.com/u2AEpQxoI9

— Todd ?????? (@CubsCentral08) August 6, 2022
Kevin Made and Armstrong added RBI singles later in that inning as the Cubs doubled up the Tin Caps 6-3 in game one. Armstrong led the way for the Cubs offense, securing three hits with two RBIs, while Made added two hits.
CUBS WIN! CUBS WIN!
6-3 the final as Eduarniel Nunez sits down the side in order in the final inning!

Game 2 coming in 10 minutes!

— South Bend Cubs (@SBCubs) August 7, 2022
FORT WAYNE TIN CAPS 1 - SOUTH BEND CUBS 0 (game 2)
Following a win in game one of their doubleheader, it was the Cubs looking to make it 2-2 on the day. Despite a strong pitching performance that saw the Cubs allow one run on just four hits, it was the offense that failed as they tallied just two hits and lost 1-0.
This was one of those games where you have to feel for Richard Gallardo as the right-hander allowed just one run in 5 2/3 and still took the loss. That run came in the third inning when Carlos Luis delivered the game's lone run with an RBI single. Jackson Wolf took care of the rest, giving Fort Wayne six great innings to pick up the win. Both of the South Bend hits came from BJ Murray.
Tomorrow we go for the series win. pic.twitter.com/e56rp1k3YQ

— South Bend Cubs (@SBCubs) August 7, 2022
LYNCHBURG HILLCATS 10 - MYRTLE BEACH PELICANS 3
It would be nice if the Pelicans would find that consistency they had during the first half. A big reason for that has been the constant influx of promotions which is the ultimate goal of the minor leagues.
Despite the scoreline, Lynchburg did most of their damage with an eight-run inning in what was otherwise a very well-played game. Luis Rodriguez got the call on the mound and the right-hander delivered with 5 1/3 innings of two-run ball to lower his ERA to 3.06. He walked one and struck out eight.
Rodriguez was greeted by some early offense, with Felix Stevens picking up an RBI double in the first for an early 1-0 lead.
Birds strike first! Thank you, Felix Stevens.

Birds lead 1-0 headed to the second. pic.twitter.com/cf3ct5SB3O

— Myrtle Beach Pelicans (@Pelicanbaseball) August 6, 2022
After Junior Sanquintin tied things up with an RBI single in the top half of the fourth, Parker Chavers came through with a massive RBI single in the bottom of the fourth to put the Pelicans back in front 2-1.
Back on top!#MBPelicans | #ProChants pic.twitter.com/blfJV4Kpml

— Myrtle Beach Pelicans (@Pelicanbaseball) August 6, 2022
That score would hold until the sixth inning, when the Hillcats offense erupted for eight runs to take a 9-2 lead. The bases-loaded double from Yordys Valdes was the big blow that inning, as was the two-run homer from Dayan Frias. Trailing 10-2 in the eighth, Stevens capped off the scoring with his 10th homer as the Pelicans took a 10-3 loss on the chin.
Not only were Stevens and Chavers responsible for all three RBIs, but they combined for four of the team's seven hits. Juan Mora, Jacob Wetzel, and Ezequiel Pagan added hits in the loss.
Final.#MBPelicans pic.twitter.com/XsZ6q2vOZm

— Myrtle Beach Pelicans (@Pelicanbaseball) August 7, 2022
ACL CUBS 2 - ACL ATHLETICS 1
It was a rare pitcher's duel in the ACL where the Cubs closed out their week with a 2-1 win. Kenyi Valdez only went 2 2/3 innings, but out of a possible eight outs came away with seven strikeouts as he dominated hitters. He set the tone in what was a performance that saw the Cubs allow just three hits in the win.
Miguel Fabrizio backed Valdez with some first-inning run support as his RBI triple gave the Cubs a 1-0 lead. That score held until the fourth when Ronnier Quintero provided the game-winning hit with an RBI single and a 2-0 lead. The Athletics scored their lone run in the seventh inning off an error, but still fell 2-1.
Esteban Quiroz led the way for the Cubs as he was responsible for two of the team's five hits. Quintero, Fabrizio, and Rafael Morel grabbed the remaining hits.
In DSL action, you had the DSL Red squad fall to the Yankees 7-1 while DSL Blue doubled up the Pirates 4-2.

Tags: Cubs Baseball
,
Javier Assad
,
David Robertson
,
Ben Hecht
,
Hunter Bigge
,
Danis Correa
,
Chase Strumpf
,
Kohl Franklin
,
Riley Martin
,
Eduarniel Nunez
,
Luis Verdugo
,
Owen Caissie
,
Kevin Made
,
Richard Gallardo
,
Luis Rodriguez
,
Felix Stevens
,
Parker Chavers
,
Juan Mora
,
Jacob Wetzel
,
Ezequiel Pagan