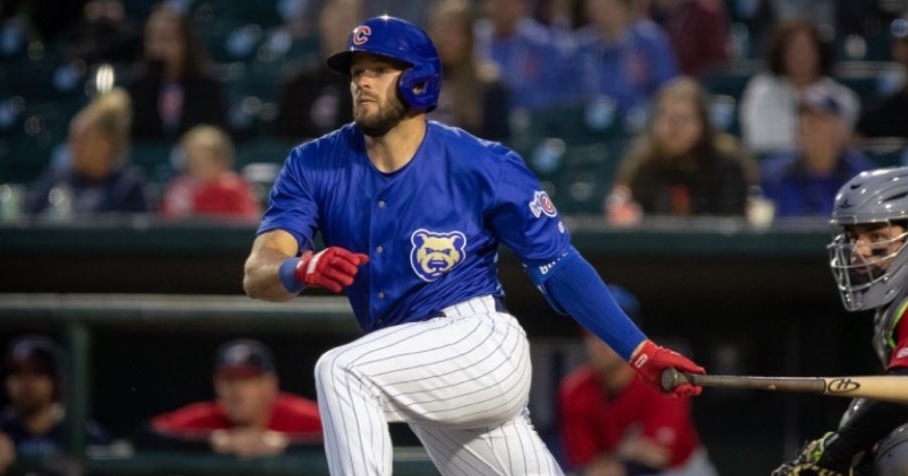 | | |
| --- | --- |
| Cubs Minor League News: Bote returns, Maldonado homers, Wick wins, Pertuz raking, more | |
---
| | | |
| --- | --- | --- |
| Saturday, June 18, 2022, 9:42 AM | | |
Friday saw much better results across the Cubs system as they managed to post a 3-2 mark. Considering you had both DSL teams playing each other, that game counts as a wash, but the rest of the system was in full swing.
While most of the games were pitching heavy yet again, which is a good sign, you did have some offensive fireworks to keep the fans entertained as the first half of the Minor League season will finish next week.
IOWA CUBS 5 - OMAHA STORM CHASERS 3
It seems like Iowa is starting to hit its stride again from a pitching side of things which is good. When your offense spots you with a four-run cushion early on, it makes life much easier.
With Matt Dermody getting the start and giving Iowa four scoreless frames, the Cubs had to piece together the rest of the game as Wyatt Short, Cayne Ueckert, Connor Menez, and Erich Uelmen did what they needed to do. It did help that Iowa spotted their pitchers a four-run lead in the third as costly errors led to three unearned runs off of Carlos Hernandez.
The lone earned run charged to Hernandez came on the Jared Young groundout before that error mad things 2-0. David Bote benefitted from that error as he cracked a two-run double to make things 4-0.
Welcome back, David Bote! pic.twitter.com/bj3whgsXeg

— Iowa Cubs (@IowaCubs) June 18, 2022
Omaha did their best to make a comeback, using a sacrifice fly in the sixth and a bases-loaded walk in the seventh to pull within 4-2. Nelson Maldonado ended those comeback thoughts with a solo shot later in the game to cap off the 5-3 win.
He's heating up! For the second straight game, Nelson Maldonado clubbed a solo shot and he is your @EMCInsurance Player of the Game. pic.twitter.com/fG1jM7D8M6

— Iowa Cubs (@IowaCubs) June 18, 2022
Darius Hill continues to have an amazing run with Iowa as he picked up two more hits and is still hitting .400. Dixon Machado, Bote, and Maldonado had the remaining hits for the Cubs.
Another W for the good guys. pic.twitter.com/bYTjyObHpP

— Iowa Cubs (@IowaCubs) June 18, 2022
PENSACOLA BLUE WAHOOS 3 - TENNESSEE SMOKIES 1
Despite playing great baseball all week, the Smokies can't buy a win right now with Pensacola squeaking out another close one. Javier Assad put together arguably his best start of the season, going six innings and allowing just one run with nine punchouts. Had it not been for Bryan Mitchell matching him pitch by pitch, we may have seen a different outcome.
The lone run-off Assad came in his final inning of work when Bubba Hollins picked up an RBI single to make things 1-0. Tennessee tied things up in the seventh when Alexander Canario unloaded for his eighth homer. With CD Pelham on to pitch the seventh, Griffin Conine made him pay for one mistake as his homer proved to be the difference in the 3-1 win. Jake Slaughter had another great night with three hits, with Canario adding two.
We're still a little rusty against the Blue Wahoos. Time to go fishing tomorrow. pic.twitter.com/6EXo9PlaEn

— Tennessee Smokies (@smokiesbaseball) June 18, 2022
SOUTH BEND CUBS 14 - QUAD CITY RIVER BANDITS 7
Granted, they may not be winning as often, but when they do, it has been the offense leading the way. Sparked by a pair of five-run frames, South Bend not only took the lead early, but managed to stretch things out to double up Quad City.
At long last, Jordan Wicks earned his first win of the season after giving the Cubs five innings of two-run ball. Wicks allowed six hits and struck out six before the bullpen struggled. Even with those struggles, the Cubs had such a big early lead that it didn't seem to matter.
Sparked by a Fabian Pertuz RBI single in the second, South Bend pushed across five runs as a pair of bases-loaded walks, and a sacrifice fly made things 5-0. Quad City pulled within 5-2 on the Juan Carlos Negret homer before three more runs in the third put the Cubs up 8-2.
That score held until the seventh inning when Morgan McCullough homered to make things 8-3 before another five-run frame by the Cubs finished things off. Not only did Pertuz add another RBI hit, but you had a bases-loaded walk mixed in with an error and a double play as the Cubs took care of business 14-7.
Pertuz had a massive game at the plate leading the way with three hits to go with four RBIs. Caleb Knight and Jake Washer added multi-hit efforts, with Jordan Nwogu picking up three RBIs. On a side note, reliever Michael McAvene made his season debut and saw action for the first time since 2019.
First professional victory for Jordan Wicks! pic.twitter.com/YElHavhVzN

— South Bend Cubs (@SBCubs) June 18, 2022
MYRTLE BEACH PELICANS 3 - FREDERICKSBURG NATIONALS 0
You have to hand it to the Pelicans this week. Not only did they bounce back from their 9-1 completed game loss earlier in the day, but they then tossed their third shutout of the series to improve to 43-18. That keeps them two games in front of Charleston as they look to clinch the first-half division title in the coming days.
Luis Devers continues to prove why he won the pitcher of the month award in May as he improved to 8-3 on the season and lowered his ERA to 1.95. Devers went six scoreless frames allowing five hits and striking out nine before giving way to Alfredo Zarraga, who earned his second save.
The Nationals had plenty of great pitching of their own, but the Josue Huma homer in the third would be all the offense the Pelicans would need. Ezequiel Pagan continued his recent hot streak with a clutch RBI single late as the Pelicans rolled to another win. Juan Mora and Felix Stevens joined those two in the hit category as the Pelicans needed just four hits to win.
Silenced.

Pelicans shutout the Nationals for the third time this week.#MBPelicans pic.twitter.com/hyj1ujTNGs

— Myrtle Beach Pelicans (@Pelicanbaseball) June 18, 2022
ACL REDS 5 - ACL CUBS 4
Despite pushing across four runs in the first inning, the Cubs could not hold on and fell to the Reds 5-4. Marino Santy got the start and immediately allowed a pair of first-inning runs off the Sebastian Almonte single.
Down by two in the bottom half of the first, the Cubs offense exploded with Ismael Mena tying the game up with an RBI double before the Cristian More single put the Cubs in front 3-2. Add in the Christian Olivo steal of home, and the Cubs were up 4-2.
Unfortunately for them, that would be all the offense they would get as the Reds ended the game with three unanswered runs, including the game-winning run coming home in the seventh. Read Garcia led the offense with two hits, while Rafael Mora, Mena, More, and Pedro Ramirez all had hits.
DSL BLUE 3 - DSL RED 0
The best part of having two DSL teams is that eventually, they play each other. When that happens, it doesn't matter who wins or loses, as the Cubs get to see all their DSL pieces on display.
Led by a trio of arms, DSL Blue held DSL Red to just six hits, with Cristian Hernandez's younger brother Alexis coming away with two hits. DSL Blue also benefitted from a multi-hit game from Geuri Lubo, who picked up the game-winning RBI in the first and added a second RBI later in the game.
NOTRE DAME FIGHTING IRISH 7 - TEXAS LONGHORNS 3
Making their first appearance to Omaha in 20 years, the Notre Dame Fighting Irish took their first steps toward a national title. Expected to be a great game, the Irish continue to grind out at-bats and manufacture runs as they put on another baseball clinic.
With John Michael Bertrand on the mound, the lefty ace for the Irish got through 5 1/3 innings of work as he allowed three runs on six hits. Considering how right-handed heavy Texas is, that has to be considered a win as Alex Rao and Jack Findlay closed the door in relief.
Texas countered with their ace Pete Hanson who was roughed up in four-plus innings, allowing six earned runs before Tristan Stevens managed to keep things close the rest of the way. Picking things up in the top of the first, you had Jared Miller put the Irish on top for good, using a homer to give them a 1-0 lead.
That lead doubled in the third off the Carter Putz RBI Fielder's choice before Eric Kennedy made things 2-1 with a fielder's choice of his own. The Irish continued to keep the pressure on in the third with a Spencer Myers fielder's choice before their offense started to take off.
Leading 3-1 in the fifth, Zach Prajzner started what was a three-run inning with an RBI single to make things 4-1. After a balk made things 5-1, Myers came through with an RBI single extending the lead to 6-1. One thing about this Texas team is they know how to battle back in games. After a Douglas Hodo single in the fifth and a wild pitch in the sixth, the Longhorns were back within 6-3. That would be as close as they would get as Putz capped off the scoring with a solo shot to hand the Irish a 7-3 win. Notre Dame will now face Oklahoma on Sunday as they look to avoid an elimination game.

Tags: Cubs Baseball
,
Wyatt Short
,
Erich Uelmen
,
Jared Young
,
David Bote
,
Nelson Maldonado
,
Darius Hill
,
Dixon Machado
,
Javier Assad
,
Alexander Canario
,
Caleb Knight
,
Michael McAvene
,
Josue Huma