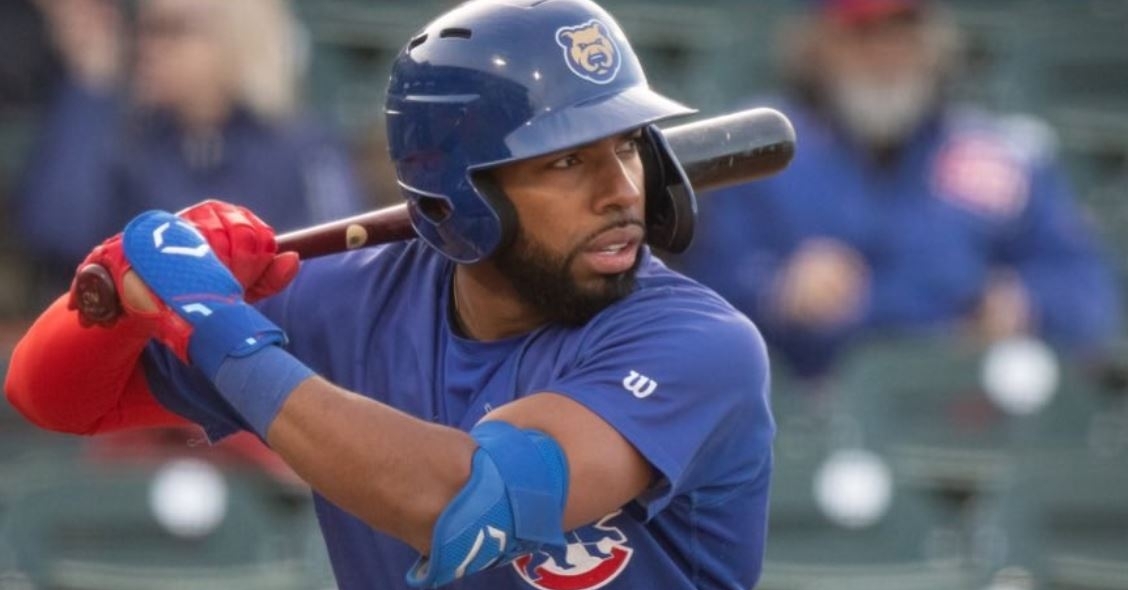 | | |
| --- | --- |
| Cubs Minor League News: Crook smacks 17th homer, Slaughter and Beesley homer, more | |
---
| | | |
| --- | --- | --- |
| Monday, August 1, 2022, 12:08 PM | | |
It was Sunday Funday inside the Cubs organization as there was plenty of fun baseball to be had. This weekend has been a primary cause of how baseball goes, with the Cubs posting a perfect record on Friday and then turning around and going winless on Saturday.
Sunday saw not only two walk-off games, but saw the Cubs organization put together another strong outing as they went 3-1 on the afternoon. That is a big reason three teams have a legitimate shot at making the postseason, and should that happen, and Cubs fans have something to cheer about late in the season.
SAINT PAUL SAINTS 8 - IOWA CUBS 4 (F/10)
One of the two extra-inning games came in AAA, which also resulted in the lone loss on Sunday. That was because Blake Whitney served up a walk-off Grand Slam to Jermaine Palacios, who again put the team on his back in the late innings.
Javier Assad was on the bump for Iowa and, for the most part, was very good. He not only had a season long five innings since going to Iowa, but allowed three runs to go with six strikeouts. He handed things off to Cam Sanders, Bryan Hudson, and Whitney as this was a rough ending to a great game.
All three runs Assad allowed came in one inning, with Spencer Steer putting Saint Paul in front 1-0 with an RBI single in the third. Jake Cave added a two-run shot later in that inning, which was the final run-off Assad. Iowa not only got a run back on an RBI single by guess who, Matt Mervis, but then put together a big sixth inning to take the lead.
Nick Madrigal started that massive sixth inning with an RBI single to make things 3-2, but a Narcisco Crook two-run shot gave Iowa the 4-3 lead. Crook has been on a massive tear as he leads Iowa with 17 homers. At this point, Palacios took over by tying things up with a double in the eighth and then walking things off with a Grand Slam in the 10th.
Mervis led the way with two hits and an RBI, but it was Crook coming away with two RBIs. Zach Davis and Adrelton Simmons picking up hits.
Final from CHS Field. pic.twitter.com/QAvLyMhRrG

— Iowa Cubs (@IowaCubs) July 31, 2022
TENNESSEE SMOKIES 8 - BIRMINGHAM BARONS 5
When you have a battle of first place teams, these are the types of games you would expect. Tennessee built a massive lead, only to see Birmingham come back. Regardless, the Smokies came away with a win as they moved back into first place.
At long last, Ryan Jensen came away with his first win of the season as the right-hander gave Tennessee five innings of two-run ball with five strikeouts. Jensen may have allowed a Jose Rodriguez homer in the first, but he was backed by a Tennessee offense that gave him plenty of support early.
Jake Slaughter delivered the first big blow with a three-run shot in the first to put the Smokies on top 3-1. Tennessee would add four more runs in the third, with Bryce Ball picking up a two-run single, followed by the Bradlee Beesley homer to make things 7-2.
With Jensen out of the game, it was up to the Tennessee pen to hold things with Bailey Horn entering in the sixth. For the most part, Horn has been outstanding this season, but after allowing three runs that were capped off by a Craig Dedelow homer brought things within 7-5.
Fortunately, the Smokies wouldn't allow another run the rest of the way, with Andy Weber picking up an RBI single in the sixth before CD Pelham and Danis Correa finished things off from there. Weber and Slaughter had two hits with a combined four RBIs, with Delvin Zinn adding two hits from the nine spot.
A beautiful day for baseball ends with a win for the good guys. pic.twitter.com/wmHRp9PZUE

— Tennessee Smokies (@smokiesbaseball) July 31, 2022
SOUTH BEND CUBS 9 - LAKE COUNTY CAPTAINS 8
The second of the walk-off games on Sunday came in South Bend, where the Cubs had a great battle with Lake County. After taking the Captains best shots all week long, South Bend blew an 8-6 lead in the ninth before returning to walk things off in the bottom of the ninth.
Richard Gallardo made his season debut for the Cubs and showed moments of promise, but also moments of struggles. He lasted just 4 2/3 innings and allowed five runs. Gallardo struck out three as he will look to build off of that.
Gallardo had a rough go of things early, with Lake County building a 3-0 lead through two innings. Joe Naranjo opened the scoring with an RBI double in the first before Petey Halpin picked up a single to double the lead. Add in a Connor Kokx single in the second, and the Cubs found themselves down 3-0 early.
It was only a matter of time until the South Bend offense got rolling, and that came with one swing from BJ Murray Jr as his three-run shot tied things up in the fourth. Moving to the fifth, you had a pair of homers with Johnathan Rodriguez going deep to make things 5-3 in the top of the with and having Jordan Nwogu answer in the bottom of the fifth to bring things back to even.
BJ Murray and Jordan Nwogu each crushed @hoosierlottery home runs to help lead us to a Sunday afternoon victory over Lake County!@MaxThoma ?????? pic.twitter.com/4d66IaQt1Y

— South Bend Cubs (@SBCubs) August 1, 2022
Lake County continued to keep the pressure on in the seventh with a bases-loaded walk to take the lead, but the Cubs patience paid off in the eighth. On the strength of an error and two walks, South Bend had the bases loaded with two outs in the eighth. Murray Jr then took the Cubs third walk to tie things up with Pablo Aliendo driving in the go-ahead runs with an RBI single and giving the Cubs an 8-6 lead.
Down to their final three outs, Michael McAvene entered the game as he looked to continue his impressive run. McAvene got off to a rough start before Hunter Bigge had to enter a challenging situation. With the bases loaded and one down, Milan Tolentino grounded out to Bigge to make things 8-7 before a miscue at first allowed Kokx to pick up an infield single resulting in an 8-8 game.
Bigge took care of things from there, with the Cubs coming to bat in the ninth. With one-down, Nwogu picked up what looked to be a cheap single to right, but his hustle on the play allowed him to reach second. The next pitch saw 19-year-old Kevin Made come through with his moment as a long double to left saw the Cubs walk off the Captains 9-8.
Need to relive yesterday's @WatchMarquee walk-off?

Here you go! Courtesy of Kevin Made ??@BKingSports ?? pic.twitter.com/UxLRYwMver

— South Bend Cubs (@SBCubs) August 1, 2022
The Cubs had just six hits in the game, with Nwogu grabbing two. Murray Jr paced the offense with four RBIs in the win.
8th walk-off win at Four Winds Field this year!

FLY THE W! ?? pic.twitter.com/GweAkLnfFw

— South Bend Cubs (@SBCubs) July 31, 2022
MYRTLE BEACH PELICANS 11 - AUGUSTA GREENJACKETS 6
This is the Myrtle Beach offense fans have been waiting to see in the second half as they erupted for nine runs in the first three innings to cruise to another win. Luis Rodriguez was strong on the mound, giving the Pelicans five shutout innings with seven strikeouts to improve to 6-1 on the season. His ERA now sits at 3.02.
The Pelicans immediately had things going in the right direction as they loaded the bases in the first inning with no outs. That resulted in a Felix Stevens fielder's choice, and a Matt Warkentin sacrifice fly to put the Pelicans in front 2-0. One inning later, same story with Jacob Wetzel and Warkentin picking up RBI singles while Stevens picked up an RBI double to make things 6-0.
Myrtle Beach continued to make Augusta pay in the third, with Wetzel picking up another RBI hit to extend the lead to 7-0 ahead of the Kevin Alcantara single that made things 9-0. Leading 10-0 in the sixth after Warkentin picked up another RBI, Augusta began their comeback attempt, which started with a three-run inside-the-park homer by Brian Klein.
A wild pitch and RBI single later from Kadon Morton, and the Greenjackets pulled within 10-6 using a six-run inning to do that. Ethan Hearn capped off the scoring with his RBI triple in the eighth as the Pelicans keep pace with division-leading Kannapolis 11-6.
Wetzel had a day to remember as he led the way with four hits and two RBIs. Alcantara added three hits, with Stevens and Warkentin leading the way with three RBIs.
Series. Won.

Pelicans take the finale against the GreenJackets.

Back in Myrtle starting on Tuesday.#MBPelicans pic.twitter.com/xDDXEdLUiW

— Myrtle Beach Pelicans (@Pelicanbaseball) August 1, 2022

Tags: Cubs Baseball
,
Javier Assad
,
Cam Sanders
,
Bryan Hudson
,
Nick Madrigal
,
Zach Davis
,
Ryan Jensen
,
Bradlee Beesley
,
Bailey Horn
,
Andy Weber
,
Danis Correa
,
Delvin Zinn
,
Richard Gallardo
,
Jordan Nwogu
,
Pablo Aliendo
,
Michael McAvene
,
Hunter Bigge
,
Kevin Made
,
Luis Rodriguez
,
Felix Stevens
,
Jacob Wetzel
,
Kevin Alcantara
,
Ethan Hearn