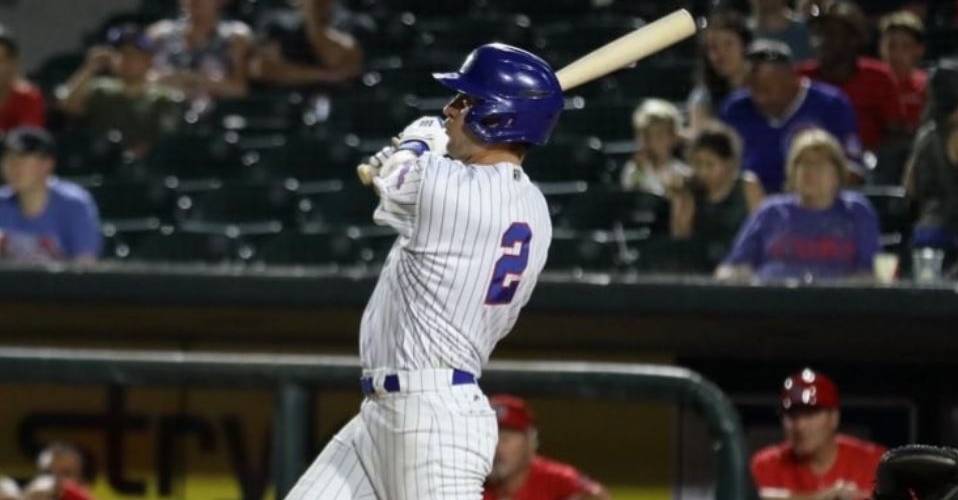 | | |
| --- | --- |
| Cubs Minor League News: Hill homers, Schwindel raking, Canario with grand slam, more | |
---
| | | |
| --- | --- | --- |
| Saturday, August 13, 2022, 9:18 AM | | |
Things were a little bit better on Friday night as the Cubs managed to put together a 3-3 showing. Had it not been for a catastrophic meltdown by Tennessee, they would've posted a winning record, but settling for .500 is not all that bad.
IOWA CUBS 9 - LOUISVILLE BATS 5
This was your classic Jekyll and Hyde game where the Cubs were fortunate to win. Iowa got off to a hot start, leading 5-1 at one point before the bullpen let that lead get away. Unlike in their previous meltdown, the offense responded with four runs in the bottom of the eighth to take the win.
Javier Assad continues to put together quality starts every time, and this one was no exception. Across his six innings, Assad allowed one run before he handed it off to a struggling bullpen. Assad was given plenty of early run support, with the Cubs scoring three times in the first. A Narcisco Crook double opened the scoring for the 2-0 lead before the John Hicks double made things 3-0.
The lone run off of Assad came in the third inning when Christian Santana picked up an RBI single. Following a Hicks sacrifice fly in the third and the Frank Schwindel double in the seventh, Iowa opened a 5-1 lead with Cayne Ueckert on to pitch the eighth. That inning proved to be the ultimate struggle, with Santana driving his second run home while the three-run Colin Moran homer tied things up 5-5.
Not about to let this one get away, Darius Hill played hero in the bottom of the eighth as his three-run shot gave the Cubs the lead for good, 8-5, before an error added another run in the 9-5 win.
DARIUS HILL! pic.twitter.com/k8Nqs98Hte

— Iowa Cubs (@IowaCubs) August 13, 2022
Hill was one of five players to record multiple hits joining David Bote, Hicks, and Crook. However, it was Schwindel who led them all as he returned to AAA with a three-hit game.
Comeback kids ?? pic.twitter.com/1JI1FHz1Fa

— Iowa Cubs (@IowaCubs) August 13, 2022
MISSISSIPPI BRAVES 16 - TENNESSEE SMOKIES 14
Jekyll and Hyde games were the themes for full-season ball with the Smokies on the wrong end of the stick. After racing out to a massive 11-3 lead, the Braves battled back to outscore them 13-3 the rest of the way and held on 16-14. Ben Brown's second start was not nearly as good as his first, as command issues aided in him allowing six runs in three innings.
Even at that, the Smokies offense gave him plenty of support which started with a Jake Slaughter homer in the first. Trailing 3-1 in the second, the Smokies offense erupted for their biggest inning of the season as 10 runs came across to score.
Yonathan Perlaza with an RBI and the Smokies take the lead! 4-3 in the bottom of the second. pic.twitter.com/H3WYlYXyGT

— Tennessee Smokies (@smokiesbaseball) August 13, 2022
A pair of fielder's choice plays and a walk led to three of those runs, while the Slaughter single made things 5-3.
Jake Slaughter with his second RBI of the night! 5-3 in the bottom of the second! pic.twitter.com/WgJIFIumzP

— Tennessee Smokies (@smokiesbaseball) August 13, 2022
Before the inning was over, it was Alexander Canario leaving the building in grand fashion as his grand slam made things 9-3.
A GRAND SLAM FROM ALEXANDER CANARIO!!! 9-3 SMOKIES. pic.twitter.com/uPJyQfEU6M

— Tennessee Smokies (@smokiesbaseball) August 13, 2022
Tennessee picked up two more runs later in that inning and led 11-3.
IT'S A TEN RUN INNING!!! A sac fly from Miguel Amaya makes it 11-3 Smokies. #SmokiesBaseball #Cubs #FlyTheW pic.twitter.com/RFd3SC2gBV

— Tennessee Smokies (@smokiesbaseball) August 13, 2022
With Slaughter adding an RBI double in the third to make things 12-3, the Braves offense started getting hot and erased the deficit in just two innings. Led by a pair of homers by Landon Stephens and Drew Lugbauer, the Braves scored seven times in the fourth inning to pull within 12-10. One inning later saw Cade Bunnell pick up a bases-loaded walk before the Javier Valdes double gave Mississippi the lead again, 13-12.
Wholly stunned at what just happened, the Smokies turned to Slaughter again as his second homer was not only his fourth hit in five innings, but made things 13-13. That was the last time the Smokies were able to be that close, with Mississippi adding three runs late in the game to take a 16-13. Looking for some late-game offense, Yonathan Perlaza added an RBI double in the ninth, but that was it as the Smokies wasted a massive opportunity and fell 16-14. Slaughter had an enormous day, collecting four hits, four RBIs, and 11 total bases.
I guess 14 runs wasn't enough tonight. pic.twitter.com/MIYLiu6g4P

— Tennessee Smokies (@smokiesbaseball) August 13, 2022
SOUTH BEND CUBS 9 - WISCONSIN TIMBER RATTLERS 6
Anchored by a pair of four-run innings, the Cubs did what they had to do and got back on the winning track. Kohl Franklin took the ball, and despite lasting just 3 2/3, it was not terrible. The right-hander struck out four and was charged with two earned runs before the bullpen took over.
For the Cubs, it was a familiar face as former South Bend starter Zach Mort was on the hill for Wisconsin. The Cubs wasted no time touching him up with Luis Verdugo going deep in the first inning to make things 2-0 ahead of the BJ Murray RBI double and Kevin Made RBI single to take a 4-0 lead in the first.
The Cubs continued to pour it on in the fourth inning, with Verdugo starting things off with an RBI double. Add in the Pablo Aliendo RBi double and a bases-loaded walk from Made, and four more runs came in to score with South Bend leading 8-0. With plenty of time left to mount a comeback, it was Ben Metzinger starting that comeback as his three-run shot brought the rattlers within 8-3.
A Zavier Warren single in the fifth made things 8-4 before Verdugo added a sacrifice fly to make things 9-4. Despite being down by so much, the Rattlers would not go away as Darrien Miller picked up a seventh-inning homer to pull within 9-6 before Wisconsin fell by that score. Murray Jr may have led the way with four hits, but it was Verdugo coming away with five RBIs. He added three hits with that and joined Aliendo.
CUBS WIN!
Luis Verdugo picks up a season-high 5 RBI's, BJ Murray reaches 6 times, and Zac Leigh shuts it down in the 9th!#ItsDifferentHere pic.twitter.com/roTVQQSiq9

— South Bend Cubs (@SBCubs) August 13, 2022
COLUMBIA FIREFLIES 6 - MYRTLE BEACH PELICANS 5
Not only did the Pelicans have to contend with the Fireflies, but mother nature was not too kind early as rain forced a delay in start time. Once the game resumed, Columbia grabbed the lead early before holding off Myrtle Beach late.
Across his 3 2/3 innings, Luis Rodriguez had mixed reviews as his command issues held to aid the Columbia offense for three runs. Only two of those runs were earned as his ERA sits at 3.18. He gave way to a bullpen that did the team no favors as they fell behind and couldn't come back.
It was all Myrtle Beach in the early going, with Ezequiel Pagan putting them in front 1-0 in the first. Following a Scott McKeon single in the second to make things 3-0, Columbia got on the board in the third, with Cayden Wallace picking up a pair of RBIs with his single. Later in the third inning, it was Pagan cashing in again as single made things 4-2.
Unfortunately for the Pelicans, that would be the last of their offense for a while, proving costly in the end. Not only did Javier Vaz pull the Fireflies to within 4-3 in the fourth, but Wallace came through in the fifth with an RBI double to put Columbia in front 5-4. Add in a wild pitch in the seventh, and the Pelicans were facing a two-run deficit with just three outs to go.
With two down in the ninth inning, McKeon kept the team's hopes alive as he picked up an RBI triple and then would score on a wild pitch. However, the comeback train ended there with Parker Chavers grounding out to end the game as the Pelicans fell 6-5. McKeon, Chavers, and James Triantos led the way with two hits as McKeon and Pagan had two RBIs.
ACL CUBS vs. ACL BREWERS (PPD)
DSL YANKEES 9 - DSL CUBS BLUE 4
It was more of the same for the DSL Blue Squad as they were trounced by the Yankees 9-4. Trailing 1-0 in the second, most of the Yankees damage came in that inning as they used four runs to take a 5-0 lead. Ramiro Altagracia had the big hit as his bases-loaded double made things 5-0. Moises Febrillet got the Cubs on the board with an RBI groundout in the second before two more runs in the third made things 5-3.
That would be as close as things would get with Altagracia and Abrahan Ramirez picking up a pair of hits later in the game that led to three RBIs. The Cubs final run came in the sixth inning off the Dilver Gomez triple, but they still fell 9-4.
DSL CUBS RED 1 - DSL METS 0
After the Mets posted a 3-0 record against the Cubs on Thursday, it was DSL Red getting back at them. Behind a strong pitching performance, the Cubs needed just one run and made that run hold up in the 1-0 win.
Juan Bello was part of that tremendous pitching performance, giving the Cubs four scoreless frames with four strikeouts. He gave way to Scarlyn Lebron and Yohan Crispin as the duo tossed three scoreless frames to close out the game. Crispin earned his fourth save.
The only run the Cubs would need came in the second inning when Erbin Jaque picked up an RBI single to put the Cubs in front 1-0, which ended up being the final score.

Tags: Cubs Baseball
,
Javier Assad
,
John Hicks
,
Frank Schwindel
,
Cayne Ueckert
,
Darius Hill
,
David Bote
,
Alexander Canario
,
Yonathan Perlaza
,
Kohl Franklin
,
Luis Verdugo
,
Kevin Made
,
Pablo Aliendo
,
Luis Rodriguez
,
Ezequiel Pagan
,
Scott McKeon
,
Parker Chavers
,
James Triantos