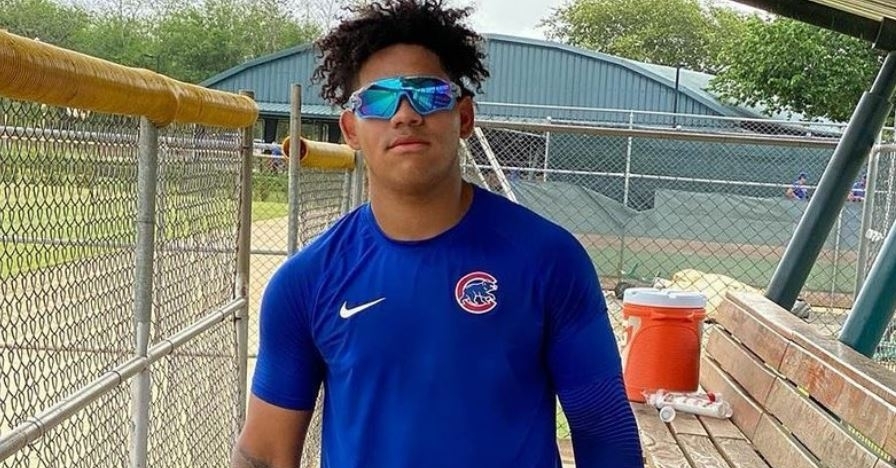 | | |
| --- | --- |
| Cubs Minor League News: I-Cubs game postponed, Smokies blank Braves, Pinago with three hit | |
---
| | | |
| --- | --- | --- |
| Wednesday, June 23, 2021, 1:00 PM | | |
It was an overall great night down on the farm as the Cubs posted a winning record going 2-1 on the evening. The organization had a chance to go a perfect 3-0, but a late-game meltdown by South Bend took any chances the Cubs had of that and threw it out the window.
While most of the night was dominated by offense, one team focused on pitching to get the job done. Pitching is certainly something the Cubs organization needs in the future, so seeing any form of strong pitching is a positive sign for this organization's long-term future.
IOWA CUBS vs. OMAHA STORM CHASERS (Postponed Wet Grounds)
Due to inclement weather, tonight's Iowa Cubs game has been postponed. Rescheduling information will be announced at a later date.

Tickets for tonight's game can be redeemed for any regular season game, except July 6, subject to availability. pic.twitter.com/tVctCMwpuh

— Iowa Cubs (@IowaCubs) June 22, 2021
TENNESSEE SMOKIES 2 – MISSISSIPPI BRAVES 0
It hasn't been too often where you could say Tennessee pitching set the tone, but that was the case Tuesday. Lefty Luis Lugo took the ball and, at long last, earned his first victory of the season. Lugo lasted five innings, allowing just two hits to go with three walks and two strikeouts. All that matters is he didn't allow a run churning in his best outing of the season.
The only support Lugo would need, came in the first inning when Braves starter A.J. Puckett uncorked a wild pitch allowing Christopher Morel to score. No one expected one run to be enough at that time, but given the way Lugo and company pitched, it was plenty. Tennessee was able to add a huge insurance run in the top of the fourth when Nelson Maldonado connected for his ninth double of the season to push the lead to 2-0.
With Lugo out of the game, the Braves were hoping they could get to the Tennessee pen, which has struggled most of the season. Thankfully, that wasn't the case tonight as the combination of Juan Gamez, Dakota Chalmers, Wyatt Short, and Manuel Rodriguez surrendered just two hits in four innings of relief to go with eight strikeouts as they preserved the shutout 2-0.
Maldonado certainly had the hot hand on Tuesday, collecting two of the team's six hits to go with the lone RBI. Morel, Darius Hill, Brennen Davis, and Grayson Byrd had one hit in the game while Chase Strumpf was held hitless.
On the road they go! #SmokiesBaseball #GoSmokies pic.twitter.com/JeL9pvvF4K

— Tennessee Smokies (@smokiesbaseball) June 20, 2021
FORT WAYNE TIN CAPS 7 – SOUTH BEND CUBS 6:
What started as a promising game with the Cubs leading 6-0 after three went south as the Tin Caps rallied for five runs in the fifth before taking the lead and winning late. Matteo Bocchi got the start and allowed just one hit in four innings to go with eight strikeouts. He did his part to give South Bend a solid outing while the offense sent a message early.
After a scoreless first two innings, South Bend came to play in the third as all six of their runs came in that inning. Oddly, none of those runs came off homers as South Bend continues to rank dead last in the league in homers. For the Cubs to win games, they have to manufacture runs in different ways. That is precisely what they did as Jake Slaughter (2), Jake Washer (1), Edmond Americaan (2), and Bradlee Beesley (1) connected for RBI singles to give the Cubs a 6-0 lead.
Given the start Bocchi was on through four innings, fans thought a six-run lead would be more than enough, but Tyler Suellentrop had a rough outing as Fort Wayne pushed across five runs in the fifth to climb right back in. Two of those came on bases-loaded walks to Reinaldo Ilarraza and Tirso Ornelas to bring the Tin Caps within 6-2. Add in singles by Kelvin Melean and Justin Lopez, and suddenly it was a 6-5 game.
From that point on, it was all about Jonny Homza as he tied the game in the sixth before giving Fort Wayne a 7-6 lead with an RBI single in the eighth. The Cubs could not get anything done the rest of the way as they went six up and six down the final two innings before falling 7-6.
The top of the Cubs order did a great job getting on base, with Delvin Zinn and Beesley recording four hits from the top two spots. Slaughter, Washer, Americaan, and Josue Huma recorded the other four hits for South Bend. Nelson Velazquez has been struggling of late, going hitless yet again last night.
MYRTLE BEACH PELICANS 7 – COLUMBIA FIREFLIES 6
While South Bend found a way to blow a six-run lead, the Pelicans used a three-run sixth inning to take the lead on Columbia before holding off the Fireflies 7-6 for the win. Adam Laskey was on the bump for Myrtle Beach as they battled through a rocky four innings before handing things over to the pen.
The game's early stages saw a back-and-forth affair with the Pelicans jumping on top 2-0 in the second courtesy of a wild Pitch and an Ethan Hearn sacrifice fly. Columbia answered in the bottom of the second with an Omar Hernandez homer, and just like that, things were tied 2-2. Speaking of the long ball, Yohendrick Pinango got in on the fun as his solo shot in the third gave Myrtle Beach a 3-2 lead, only to see Juan Carlos Negret tie things up in the bottom of the inning with a solo shot of his own.
Now down 5-3 after Columbia scratched across a pair of runs off some sloppy Myrtle Beach play, the Pelicans were not going away quietly tying the game up 5-5 in the sixth off a Matt Mervis RBI double and Jacob Wetzel groundout. The Pelicans eventually took the lead later in that inning as a wild pitch had them in front 6-5.
Looking to add some late-game insurance, Ryan Reynolds showed off his wheels as his fourth triple of the season pushed home the eventual winning run, with Myrtle Beach holding a 7-5 lead. Negret was able to pull Columbia within 7-6 off a sacrifice fly in the seventh, but Carlos Ocampo made sure they wouldn't get any closer, striking out all four hitters he faced to secure the save.
At just 19 years old, Pinango is already showing why he is a top 15 prospect in the Cubs system, collecting three more hits to bring his average to .275 on the season. Both Mervis and Wetzel got in on the multi-hit fun with two hits each, while Jonathan Sierra and Reynolds added the remaining two hits in the win. Jordan Nwogu and Hearn were held hitless, but Hearn did pick up an RBI as he is starting to produce more frequently. Yeison Santana also returned to the lineup last night after his IL stay, going 0-4 with three Ks.
Gritty not pretty.

Pelicans win series opener in Columbia. Game two tomorrow night. #MBPelicans pic.twitter.com/XqtO8SlFKG

— Myrtle Beach Pelicans (@Pelicanbaseball) June 23, 2021

Tags: Cubs Baseball
,
Luis Lugo
,
Christopher Morel
,
Nelson Maldonado
,
Juan Gamez
,
Wyatt Short
,
Manuel Rodriguez
,
Darius Hill
,
Brennen Davis
,
Grayson Byrd
,
Chase Strumpf
,
Matteo Bocchi
,
Edmond Americaan
,
Delvin Zinn
,
Josue Huma
,
Nelson Velazquez
,
Ryan Reynolds
,
Jonathan Sierra