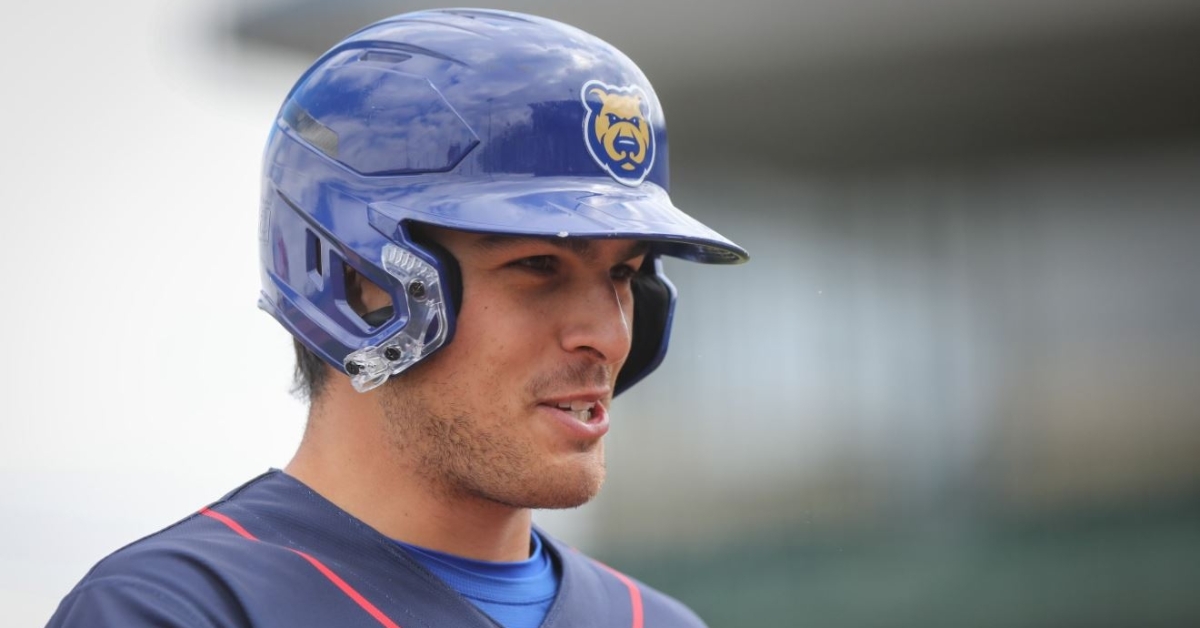 | | |
| --- | --- |
| Cubs Minor League News: Mervis still raking, Assad impressive, Gallardo dazzles, more | |
---
Another week of Minor League action has come and gone, and another week of successful games has come to a close for the Cubs and their organization. With every team playing at least 20 games at this point in the season, all four of them are currently sporting winning records which is all you can ask for heading into May.
Some are doing better than others, but this is to be expected when you look at the overall talent on some teams and compare it to others. Either way, this organization posted an impressive 3-1 showing on Sunday, and they had a chance to go 4-0.
IOWA CUBS 13 - LOUISVILLE BATS 0
Despite their offense going through a two or three-day slump, they have responded in a big way and closed out the week with three straight double-digit outputs. That is what this lineup can do, and it is no secret why they lead AAA in most offensive categories.
Javier Assad continued to build up his arm strength and set the tone in this one with 4 2/3 shutout innings. He allowed three hits and struck out six, as this was the best he has looked all season. Apart from him, you had Tyler Duffey, Anthony Kay, Nick Burdi, and Manny Rodriguez, who tossed four-plus hitless inning with eight punchouts.
With the pitching setting the tone, it made things easier for the offense to settle in, and they did that in a hurry. They were gifted a run in the first on a passed ball, while Jake Slaughter put them in front 2-0 with a sacrifice fly. Once the third inning started, the offense erupted and pushed 11 runs across those three frames.
Four came in the third, with Matt Mervis and Don Nunez picking up RBI doubles while Slaughter added an RBI single. You also had Sergio Alcantara pick up a sacrifice fly in that inning as Iowa was in front 6-0. Mervis continued his great game in the fourth with a second RBI double in as many at-bats, with Mike Tauchman delivering a sacrifice fly to push the lead to 8-0.
🔥114.5 mph🔥

Matt Mervis smokes one harder than any @IowaCubs -- or @Cubs -- player has this year. pic.twitter.com/R5RkG3HRKz

— MLB Pipeline (@MLBPipeline) April 30, 2023
Brennen Davis also stayed hot in that inning, using another RBI double to build the lead to 9-0.
Iowa closed out the scoring with a massive fifth inning, with Mervis starting things off with an RBI single. Yonathan Perlaza capped off the offensive explosion with his second homer of the weekend, using a three-run shot to give Iowa the 13-0 win.
The Perlaza bomb: pic.twitter.com/SGQAJpkvno

— Brad (@ballskwok) April 30, 2023
Los Demonios De Des Moines lead 13-0 through 7!

Mervis: 3-4, 2 2B, 3 RBI
Perlaza: 2-4, HR, 3 RBI#GoCubsGo 🐻⚾️ pic.twitter.com/OPBCUZcb8G

— Iowa Cubs (@IowaCubs) April 30, 2023
Mervis paced the offense with three hits and three RBIs, as he now has 27 RBIs this season. Perlaza added two hits and three RBIs as the Cubs pounded out 10 hits in the win.
¡Los Demonios ganan! pic.twitter.com/cHPoad0Sc3

— Iowa Cubs (@IowaCubs) April 30, 2023
BIRMINGHAM BARONS 3 - TENNESSEE SMOKIES 2
The lone team that lost on Sunday was the Smokies, as they had an up-and-down series this week. Daniel Palencia was the one that was hurt the most as he delivered a strong start only to come up on the losing end. Palencia got through four innings and allowed two runs on two hits. He walked one and struck out five as he continued to improve.
The problem with that is that the Smokies got to Matthew Thompson before the fifth inning, but for whatever reason, they couldn't solve the bullpen, as they were held scoreless in the final four frames. Bradlee Beesley opened the scoring on Sunday using a first-inning homer for the quick 1-0 lead. The Smokies would hold that lead until the third, when Alexander Womack picked up his first homer of the season to put the Barons in front 2-1.
Tennessee continued to battle back and used a fifth-inning sacrifice fly from Luis Vazquez to pull even again, as this was now a game of the bullpens. With that score still tied 2-2 in the ninth and Riley Martin on the mound, Birmingham got the last laugh as Ben Norman delivered the walk-off single to lift the Barons to a 3-2 win. Tennessee had seven hits in the game, with Nelson Maldonado leading the way with three. Owen Caissie added two hits, with Beesley and Luis Verdugo picking up one.
Nice catch here by Owen Caissie. pic.twitter.com/JomrSSId60

— Todd ⚾️🐻🦌 (@CubsCentral08) April 30, 2023
The Smokies mount a comeback but ultimately fall 3-2. pic.twitter.com/U82wYnsVBZ

— Tennessee Smokies (@smokiesbaseball) April 30, 2023
SOUTH BEND CUBS 7 - PEORIA CHIEFS 4
It took a little bit for the Cubs to get rolling this season, but they are starting to look like the defending Midwest League Champions again. Richard Gallardo has suddenly rediscovered his 2021 form, which is enormous for this South Bend club. The Cubs right-hander delivered six impressive innings and scattered four hits while striking out five. Most importantly, he didn't allow a run while the offense backed him up.
Gallardo was gifted by three early runs, including a pair of RBI triples from Scott McKeon in the first and third innings for the early 2-0 lead. Kevin Alcantara extended the lead to 3-0 with a sacrifice fly later in the third, while the Casey Opitz single in the sixth made things 4-0.
Once Gallardo was removed from the game, the Chiefs began to make their comeback bid, and that started with an RBI double from Thomas Francisco in the seventh ahead of the Osvaldo Tovalin single to make things 4-2. Fortunately, the Cubs would not let them get any closer as they used a three-run bottom of the seventh to stretch things back out.
McKeon came through again with an RBI double to put the Cubs in front 6-2. He would then come home on a Christian Franklin single as the Cubs were up 7-2. Peoria did manage to score two more runs late in the game off a pair of sacrifice flies, but that wasn't enough to take down the Cubs 7-4.
@SBCubs finish up Peoria 7-4 today, highlighted by Gallardo, Mc Keon with a splash of Alcantara. @mj_ernst @CubsCentral08 @CubsZone @MWLtraveler pic.twitter.com/QuG2Rod103

— rikk carlson (@rikkcarl10) April 30, 2023
McKeon and Opitz were on fire as they had three hits and four RBIs combined. McKeon led the way with three RBIs as he set the tone from the start.
That's a series winner!!#FlyTheW pic.twitter.com/xbZzEaKmhA

— South Bend Cubs (@SBCubs) April 30, 2023
MYRTLE BEACH PELICANS 8 - CHARLESTON RIVERDOGS 3
It may have taken a few years, but if this week was any indication, perhaps the Pelicans have finally figured out the Riverdogs. Led by another strong Brody McCullough start and some late-game offense, the Pelicans flexed their muscles and powered their way to a big win.
McCullough has been a lovely surprise in the early season and is starting to gain some South Bend consideration. He gave Myrtle Beach five innings of one-run four-strikeout ball and has lowered his ERA to 1.65. When he left, he was on the losing end of his decision, as Trevor Martin had the Pelicans handcuffed through four innings.
The lone run off of McCullough came in the first when Xavier Isaac delivered an early sacrifice fly for the 1-0 lead. With Martin dealing through four innings, that score remained intact until the Riverdogs bullpen took over in the fifth. In that fifth inning, the Pelicans offense started to come to life as Andy Garriola put them in front for good with one swing using a three-run shot to give Myrtle Beach a 3-1 lead.
ANDY GARRIOLA PUTS US ON TOP.

A three-run blast to left field gives the Birds a 3-1 lead in the top of the fifth.#MBPelicans | #NextStartsHere pic.twitter.com/BovG84aevG

— Myrtle Beach Pelicans (@Pelicanbaseball) April 30, 2023
They continued to build on that lead in the sixth, with Miguel Pabon providing the game-winning solo shot to extend the lead to 4-1. Charleston did their best to keep things close, with Cooper Kinney going deep in the bottom of the sixth to pull the Riverdogs within 4-2. However, the four-run seventh finished things off, as the Pelican's offense was on fire late.
Solo home run for Miguel Pabon and the bullpen is HYPE.

Pelicans on top 4-1 in the top of the sixth. pic.twitter.com/J63ikI5V3F

— Myrtle Beach Pelicans (@Pelicanbaseball) April 30, 2023
RBI singles from Felix Stevens and Jefferson Encarnacion provided two of the runs that inning, with the Pabon double adding the other two. Charleston added an eighth-inning run to cap off the scoring, but the Pelicans still took care of business 8-3.
Pabon and Gariolla provided most of the offense, each with three RBIs in the win. Moises Ballesteros continued his recent hot stretch and led the offense with three hits in the win.
Nothing better than leaving Charleston with another W.

Birds take five of seven from the RiverDogs.

On to Columbia.#MBPelicans | #NextStartsHere pic.twitter.com/o9vX10aNjC

— Myrtle Beach Pelicans (@Pelicanbaseball) April 30, 2023

Upgrade Your Account
Unlock premium boards and exclusive features (e.g. ad-free) by upgrading your account today.
Upgrade Now

Tags: Cubs Baseball
,
Javier Assad
,
Brennen Davis
,
Yonathan Perlaza
,
Daniel Palencia
,
Bradlee Beesley
,
Luis Vazquez
,
Riley Martin
,
Nelson Maldonado
,
Owen Caissie
,
Luis Verdugo
,
Richard Gallardo
,
Scott McKeon
,
Kevin Alcantara
,
Casey Opitz
,
Christian Franklin
,
Felix Stevens