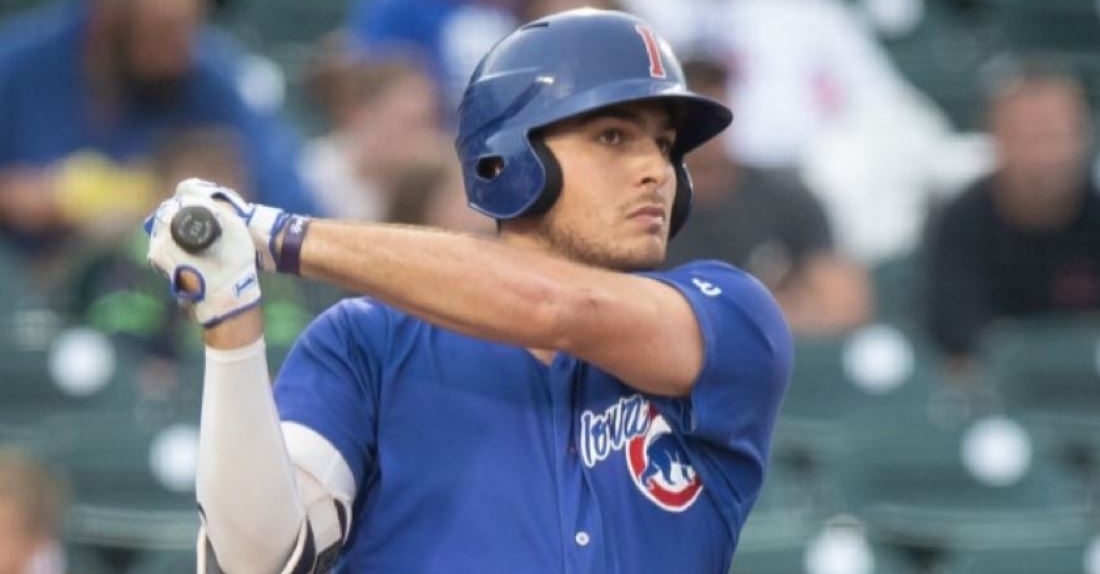 | | |
| --- | --- |
| Cubs Minor League News: Mervis, Strumpf and Amaya homer, Hearn blasts two dingers, more | |
---
| | | |
| --- | --- | --- |
| Sunday, September 11, 2022, 9:58 AM | | |
The Cubs saw some pretty competitive baseball on Saturday, but the results were not that promising record-wise. Despite going 1-2 with one game being canceled, Tennessee managed to pick up a much-needed win as they became the third team in the Cubs system to reach the postseason this week.
JACKSONVILLE JUMBO SHRIMP 3 - IOWA CUBS 2
Despite opening this series with a win, the Cubs have gone south in a hurry as they dropped another game. Unfortunately, the Cubs wasted an outstanding pitching performance as the offense couldn't get it done on the field.
Caleb Kilian had another subpar outing, and you have to wonder if those rough starts in the majors messed him up mechanics-wise. The right-hander labored through 2 2/3, allowing three runs, but he walked five and struck out three. Take that away, and Kervin Castro, Cam Sanders, Danis Correa, and Bryan Hudson held the Jumbo Shrimp scoreless for the final five-plus innings.
Matt Mervis kicked off the scoring in the first inning as he clubbed his 10th homer with Iowa and 31st on the season. Besides, Josh Rodgers was tough to hit as he got through six innings allowing just two runs. It took two innings for Jacksonville to grab the lead for good, with Luis Aviles Jr taking Kilian deep for the 2-1 lead. They added a sacrifice fly in the third for the game-winning run to lead 3-1.
Iowa managed to pick up another run in the sixth inning on a Jackson Frazier steal of third resulted in an error that allowed him to score, but that was the game's final run. Mervis led the way with two hits, while Darius Hill and Levi Jordan had the remaining two.
Two runs weren't enough tonight against Jacksonville. pic.twitter.com/LJYhkBNrmw

— Iowa Cubs (@IowaCubs) September 11, 2022
TENNESSEE SMOKIES 6 - PENSACOLA BLUE WAHOOS 4
Although things haven't been easy this week, the Smokies did make it three playoff teams for the Cubs system, and they can focus on that part of their season. Ben Brown is one of those guys the Smokies will lean heavily on as he has emerged as the ace of this staff.
Brown continues to give the Smokies five innings of work, allowing two runs on three hits. He struck out seven and walked one as he has been brilliant. Leading 1-0 in the first off the Bryce Ball double, Will Banfield took Brown deep in the second to tie things up as the Blue Wahoos are also a playoff-bound squad.
A single from Zach Davis and a double from Bryce Ball lead to a Smokies run! It's 1-0 Smokies in the bottom of the 1st. pic.twitter.com/OVU2ImuLTc

— Tennessee Smokies (@smokiesbaseball) September 10, 2022
The Smokies looked to put the game away in the third inning when Chase Strumpf connected for his 21st season, while the Andy Weber single made things 4-1.
CHASE STRUMPF HOMERS FOR THE LEAD!! pic.twitter.com/5gYPnLMrc5

— Tennessee Smokies (@smokiesbaseball) September 11, 2022
Andy Weber with an RBI single! The Smokies extend their lead 4-1 in the bottom of the 3rd. pic.twitter.com/lnjXlyTsDL

— Tennessee Smokies (@smokiesbaseball) September 11, 2022
The Blue Wahoos kept things close with a sacrifice fly in the fifth, only to see Miguel Amaya pick up another homer to push the lead to 5-2.
A NO-DOUBTER FROM MIGUEL AMAYA! pic.twitter.com/jRe5kPAeHg

— Tennessee Smokies (@smokiesbaseball) September 11, 2022
With one swing, Griffin Conine pulled the Blue Wahoos within 5-4 as his two-run shot in the sixth made things interesting. Fortunately, that was as close as they would get as Cole Roederer added a sacrifice RBI later in the game to cap off the win. The middle of the order did the most damage, with Weber, Ball, and Amaya grabbing two hits. Jake Washer was the lone player not to record a hit.
Holy Guacamole Batman! pic.twitter.com/5Eqxn4fTIW

— Tennessee Smokies (@smokiesbaseball) September 11, 2022
SOUTH BEND CUBS vs. CEDAR RAPIDS KERNELS (Cancelled)
With this game being next week's playoff matchup, there was nothing to play for as mother nature forced another washout in the Cubs system.
Tonight's game against Cedar Rapids had been cancelled. Tomorrow we will play one game, the final game of the regular season, at 3 pm ET.

Then it's time for the PLAYOFFS back in South Bend on Tuesday!

— South Bend Cubs (@SBCubs) September 10, 2022
CAROLINA MUDCATS 7 - MYRTLE BEACH PELICANS 3
The Pelicans have been on a great run this week, but they did drop their first game of the week on Saturday. Nick Hull got the start and wasn't terrible early, but he only got through 3 2/3 innings, allowing four runs.
The suddenly hot Haydn McGeary has been on fire lately and put the Pelicans in front again with a first-inning RBI single. That lead would hold until the third inning, but all four runs Hull allowed came in one inning, which happened to be the third. Robert Moore tied things up with an RBI double, while Jace Avina connected for the go-ahead RBI double that put Carolina in front for good. The Luis Castillo single was the winning hit as Carolina was up 4-1.
Myrtle Beach did their best to battle back in the fourth, with Ethan Hearn connecting for another homer to make things 4-2.
Ethan Hearn's second HR of the series! pic.twitter.com/KFw4BrGMGu

— Myrtle Beach Pelicans (@Pelicanbaseball) September 10, 2022
That score held until the seventh inning, when the Mudcats put the game away with a two-run frame, with Avina adding a two-run single ahead of a bases-loaded walk.
Hearn capped off the Pelicans scoring with his second homer of the game, but it wasn't enough as Myrtle Beach fell to Carolina 7-3.
*Ethan Hearn's second HR of the game! https://t.co/PLUAIx7AyU pic.twitter.com/JqocUgGhI9

— Myrtle Beach Pelicans (@Pelicanbaseball) September 11, 2022
Hearn led the way with three hits and two RBIs, joining Pedro Ramirez, who also added three hits.
Finishing up the regular season tomorrow. #MBPelicans pic.twitter.com/xVHLgPxJ1D

— Myrtle Beach Pelicans (@Pelicanbaseball) September 11, 2022

Tags: Cubs Baseball
,
Caleb Kilian
,
Cam Sanders
,
Danis Correa
,
Bryan Hudson
,
Darius Hill
,
Levi Jordan
,
Chase Strumpf
,
Andy Weber
,
Miguel Amaya
,
Cole Roederer
,
Ethan Hearn