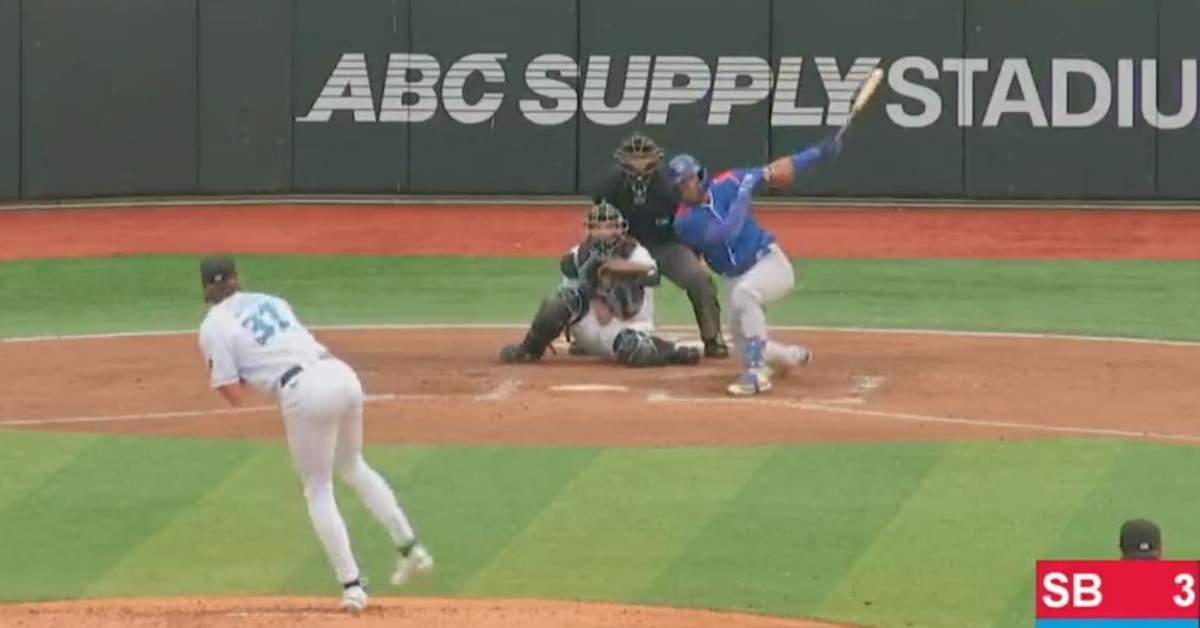 | | |
| --- | --- |
| Cubs Minor League News: Pertuz raking, Heuer rehab, Vazquez and Aliendo homer, more | |
---
Tuesday was an overall rough night for the entire Cubs organization, as wins were tough to come by. Not only did Justin Steele get knocked around for his first loss of the season, but the Cubs Minor League system limped to a 1-3 record, with South Bend recording the lone win.
That happens when your offense goes quiet and the pitching struggles, as the Cubs didn't play well on Tuesday. Wednesday is a new day, and hopefully, most of these teams will respond in a big way.
INDIANAPOLIS INDIANS 9 - IOWA CUBS 1
Although the scoreline is surprising, what is even more surprising is who the Indians knocked around with Ben Brown getting the ball. After dominating in AA and then making things look easy during his first two AAA starts, Brown struggled from the start in this one and had a clunker of a game.
Brown gave the Cubs four innings but was charged with seven earned runs as the ERA ballooned to 4.91. This kind of outing was bound to happen, so better to happen now than later. Take Brown out of the mix, and the Cubs bullpen was pretty good, with Vinny Nittoli and Codi Heuer putting up scoreless outings; Nittoli struck out three in his two innings and has been on a nice roll.
Brown and the Cubs were playing behind early, as the long ball bit him in this one. Brown allowed three homers in the first three innings, with Endy Rodriguez going deep in the first and Nick Gonzalez and Canaan Smith-Njigba adding on in the third.
Fortunately, those homers were all solo shots as Brown managed to limit the damage.
Runners beware when Miguel Amaya is behind the plate! Our catcher isn't afraid to show off his arm 🙅‍♂️ pic.twitter.com/PS7UvFnC7U

— Iowa Cubs (@IowaCubs) May 16, 2023
It was in the fourth when the Indians began to put things away as Brown didn't have it. Vinny Capra added on a sacrifice fly, with Gonzalez piling on with an RBI double to make things 6-0. Smith-Njigba capped off the four-run inning with an RBI single to put the Indians in front 7-0 through four.
Iowa was held in check through six innings as Quinn Priester was on top of his game. The right-hander gave the Indians seven innings of nine strikeout balls, allowing one run on five hits. The lone run he gave up came in the seventh when Yonathan Perlaza grounded into a double play. Capra tacked on a pair of RBIs later in an easy 9-1 win.
The top of the Cubs order did the most damage, with Darius Hill and Jake Slaughter picking up a pair of hits.
Tonight's final. Back again tomorrow with first pitch scheduled for 12:35 p.m. CT pic.twitter.com/usHnuHn5BM

— Iowa Cubs (@IowaCubs) May 17, 2023
PENSACOLA BLUE WAHOOS 9 - TENNESSEE SMOKIES 3
The Smokies returned to the diamond on Tuesday to take on the team that eliminated them in last summer's championship series. Unfortunately, the results remained the same as Pensacola took care of business. Despite Porter Hodge putting together a solid four-inning start, Ryan Jensen and the Smokies pen let things get away.
Facing off against Hodge was MD Johnson, who got off to a slow start but finished strong. Johnson allowed three runs, all coming in the first two innings while striking out nine. All three of the Smokies runs came via the long ball, with Luis Vazquez putting the Smokies in front 1-0 in the first and Pablo Aliendo adding on to make things 3-1 in the second.
Pablo Aliendo deposits one over the OF wall. pic.twitter.com/dg1yJQbwRK

— Itsacon (@thats_so_cub) May 17, 2023
That was it for the offense, as Pensacola would end the game with eight unanswered runs.
An RBI double from Dane Myers in the third pulled the Blue Wahoos within one, while Will Banfield tied things up in the sixth with a solo shot. The seventh inning is when things took a turn for the worst as Pensacola teed off on Jensen. Victor Mesa Jr delivered the big blow that inning as his three-run shot put the Blue Wahoos on top for good, 6-3.
Bennett Hostetler added an RBI single to make things 7-3, with Banfield bringing home a pair off of Ben Hecht in the eighth to cap off the scoring.
Vazquez and BJ Murray Jr led the way for the Smokies with a pair of hits on what was otherwise a quiet day.
BJ Murray Jr doubles in his first AB and now has a 24 game on-base streak. pic.twitter.com/lVEXV6VPq1

— Itsacon (@thats_so_cub) May 17, 2023
Haydn McGeary added a hit, while Pete Crow-Armstrong went hitless with a pair of punchouts.
Luis Vazquez and Pablo Aliendo both homer but the Smokies fall 9-3. pic.twitter.com/V78sHAOBOO

— Tennessee Smokies (@smokiesbaseball) May 17, 2023
SOUTH BEND CUBS 9 - BELOIT SKY CARP 4
The lone team to come away with a win was South Bend, which was a massive win for them. Connor Noland got the start and allowed one run in four innings of work. He walked zero and struck out five, as his ERA is 2.96 on the season. That makes three straight starts without a walk for the right-hander as things are starting to click.
Starting fast is crucial to the Cub's success, as eight of the team's nine runs came in the first three innings.
Three came in the second, with Kevin Alcantara picking up a two-run single while Ezequiel Pagan added an RBI single of his own to make things 3-0.
Your daily dose of Kevin Alcántara. pic.twitter.com/pTvm2IGxkC

— Itsacon (@thats_so_cub) May 16, 2023
Ezequiel Pagán with a nice piece of hitting, driving in an RBI in the process. pic.twitter.com/JYSt62pwSK

— Itsacon (@thats_so_cub) May 16, 2023
BJ Murray Jr. palate cleanser. pic.twitter.com/vUVvlVGURt

— Brad (@ballskwok) May 17, 2023
Brady Allen pulled the Sky Carp within 3-1 with an RBI double in the bottom half of the second, but it was in the third when the Cubs put the game away.
Fabian Pertuz delivered the biggest blow that inning, using a three-run shot to push the lead to 6-1.
. @FPertuz_8 set the tone in this game with this 3-run @hoosierlottery home run in the 3rd inning.#SBCubs lead 8-2 after six innings in Beloit. pic.twitter.com/nczNUAmyRt

— South Bend Cubs (@SBCubs) May 17, 2023
An Ethan Hearn single and Scott McKeon double followed that as the Cubs were off and running 8-1.
That score would hold until the bottom of the sixth when Dalvy Rosario picked up one of his two RBI singles to make things 8-2. Alcantara added an RBI single in the eighth to close out the scoring for the Cubs as they took care of business 9-4.
Alcantara paced the offense with two hits and three RBIs from the leadoff spot, with Pertuz picking up three RBIs. Hearn added two hits as the Cubs pounded out nine hits in the win.
That's a BIG W‼️ pic.twitter.com/fTbiSRqXao

— South Bend Cubs (@SBCubs) May 17, 2023
AUGUSTA GREENJACKETS 9 - MYRTLE BEACH PELICANS 4
Just when you thought things were trending in the right direction following a strong weekend, the Pelicans bullpen laid an egg as they gave up nine runs in the final three frames. That took away a strong effort from Grant Kipp, who gave the Pelicans five shutout innings.
Kipp wasn't given much support, with Jefferson Encarnacion driving in a second-inning run with a groundout, but that was all the offense they would need early on. Once the bullpen took over in the seventh, things went south quickly as the Greenjacket's offense came out swinging.
A Nick Clarno single tied things up 1-1, while the Tyler Collins double gave Augusta a 2-1 lead. Add a sacrifice fly and a David McCabe single, and the Pelicans were suddenly trailing 4-1. That lead Augusta worked so hard to build didn't last long, as the Pelicans got to the Greenjacket's pen in the bottom of the seventh.
Moises Ballesteros started things off with an RBI single, with Andy Garriola adding a double to make things 4-3.
Moises Ballesteros palate cleanser. pic.twitter.com/RGb66OFEqX

— Brad (@ballskwok) May 17, 2023
Cristian Hernandez capped off the three-run inning with an RBI single as the Pelicans stormed back to tie things up 4-4.
Still tied and heading to the ninth, Johzan Oquendo was tasked with sending the game into extras.
Instead, he walked the first four hitters in the inning, including Jeremy Celedonio, who brought in the winning run. Oquendo was lifted for Angel Hernandez, who promptly allowed an RBI single to Justin Janas and a double to Clarno.
Throw in a wild pitch, and Augusta pushed across five ninth-inning runs to seal the deal 9-4.
Gariola had a great day at the plate with three hits and an RBI. Juan Mora and Cristian Hernandez added a pair of hits, with an RBI coming from Hernandez.
A good night for Grant Kipp.

Onward.#MBPelicans | #NextStartsHere pic.twitter.com/gb1EZVoziT

— Myrtle Beach Pelicans (@Pelicanbaseball) May 17, 2023
Is there anything better than Bat Dogs and #BaseballSkies ?!? #MBPelicans @Pelicanbaseball @BaseballBucket pic.twitter.com/qguajONPE5

— Donnie Wise (@wisedrjr) May 17, 2023

Upgrade Your Account
Unlock premium boards and exclusive features (e.g. ad-free) by upgrading your account today.
Upgrade Now

Tags: Cubs Baseball
,
Justin Steele
,
Codi Heuer
,
Yonathan Perlaza
,
Darius Hill
,
Porter Hodge
,
Ryan Jensen
,
Luis Vazquez
,
Pablo Aliendo
,
Ben Hecht
,
Kevin Alcantara
,
Ezequiel Pagan
,
Fabian Pertuz
,
Ethan Hearn
,
Scott McKeon
,
Johzan Oquendo
,
Angel Hernandez
,
Juan Mora