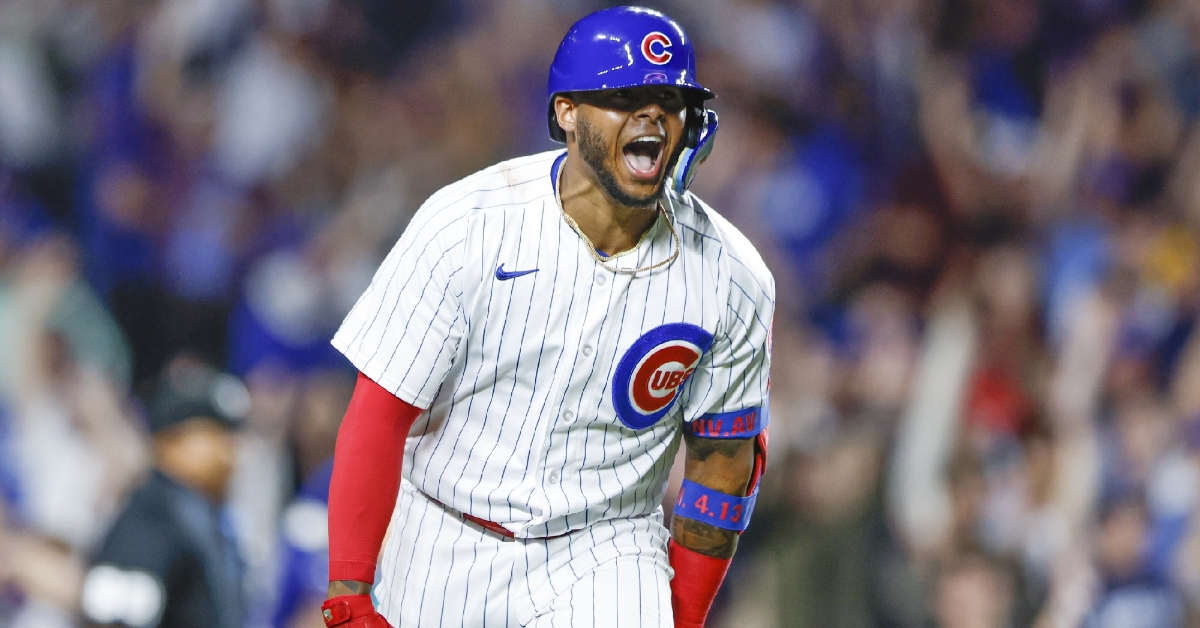 | | |
| --- | --- |
| Cubs Minor League News: Velazquez homers, Murray Jr. raking, Triantos with four hits, more | |
---
Wednesday was a bit of a Jekyll and Hyde kind of day which can account for the 2-2 record. During the day, you had the Jeckyl performances, where Iowa and South Bend took care of business. The night portion of the schedule was a different story as both Myrtle Beach and Tennessee struggled to score runs leading to two losses.
IOWA CUBS 5 - INDIANAPOLIS INDIANS 4
Looking to erase a forgettable night on Tuesday, the Cubs were back on the diamond Wednesday for some Day baseball. Taking the ball for Iowa was right-hander Caleb Kilian, who is hoping to get into a groove.
The once-top pitching prospect in the Cubs system has had a rough go of it for the better part of a year and is hoping to turn it around. Four innings of two-run ball may not seem significant, but it is a step in the right direction for a guy desperately needing some luck. He was the first of six pitchers on the afternoon as the Cubs held off the Indians 5-4.
Facing off with Osvaldo Bido, the Cubs knew they would have their hands full as the right-hander got through six innings. He was only charged with one earned run despite allowing three runs while striking out six. Two runs came in the first inning as the Cubs offense came out fast. Not only did the Cubs use some hits to put runners on base, but patience was also key, with Edwin Rios working a bases-loaded walk to plate the first run. There was also a throwing error on that play which allowed a second run to score and gave the Cubs a 2-0 lead.
That score held until the third, when the Indians began making better contact off Kilian. First, it was the Aaron Shackelford homer that cut the deficit in half, while a Chavez Young sacrifice fly brought things back to even in the fourth. With Bido still on the mound, Nelson Velzaquez got into one in the sixth and watched it soar over the left field wall to put Iowa back in front for good 3-2.
He brought the boom stick to Indy! Nelson Velázquez is today's @therookiedsmia Player of the Game 💥💪 pic.twitter.com/RKOUza2714

— Iowa Cubs (@IowaCubs) May 17, 2023
The Cubs would then add to their lead in the seventh as Darius Hill delivered an RBI single, and Velazquez came through with a game-winning sacrifice fly to make things 5-2. Young made a great play on that sacrifice fly as the ball nearly soared over his head.
Following a scoreless sixth inning from Brenden Little and Riley Thompson, it was Thompson back on the mound for the seventh, and he ran into trouble. Not only did he allow a Cal Mitchell RBI double, but he put Cam Sanders in a difficult spot when he left the game. Sanders had some command issues early, walking two of the first three hitters he faced, including Shackleford, with the bases loaded to pull the Indians within 5-4.
Anthony Kay and Manny Rodriguez took care of the rest as the Cubs held off the Indians 5-4. For Velazquez, he was stuck in a terrible funk since being sent back down and responded with a two-hit, two-rbi day. Both led the team, as the Cubs had six hits in the win.
Day game dub pic.twitter.com/LvhJD0HqMs

— Iowa Cubs (@IowaCubs) May 17, 2023
PENSACOLA BLUE WAHOOS 7 - TENNESSEE SMOKIES 4
While there was some good on Wednesday, there was also some bad, and this was one of the bad ones. Despite a close score, this game was not as close as the final line indicates, as the Smokies added three runs in the ninth to make things tighter.
Walker Powell got the start and gave the Smokies three innings of three-run ball, although two runs were earned. He gave way to Hunter Bigge and Samuel Reyes, who didn't pitch well, while Luke Little gave the Smokies a pair of scoreless frames late.
Opposing Powell was one of the best in AA as Patrick Monteverde took the mound. Across five innings, Monteverde allowed one run with eight strikeouts as his ERA sits at 1.29. He is also 5-0 on the season, as runs are tough to come by against him. Even with Monteverde dominating the way he was, Haydn McGeary gave the Smokies a brief 1-0 lead, but things evaporated quickly.
Tied 1-1 in the third, Pensacola took the lead for good on the Nasim Nunez single before they started to pull away in the fourth. Will Banfield picked up an RBI single in the fourth, but the two-run shot from Cody Morissette busted the game open with the Smokies down 5-1. The Blue Wahoos would add two more runs in the sixth off the Griffin Conine sac-fly and a Troy Johnston single as they held a 7-1 lead late.
Still holding that lead in the ninth, the Smokies did their best to make a game of things as BJ Murray Jr tripled home a pair to make things 7-3.
BJ Murray Jr has now reached base safely in 25 consecutive games. pic.twitter.com/wIAqP1siJl

— Itsacon (@thats_so_cub) May 18, 2023
Pablo Aliendo with a nice oppo double. pic.twitter.com/rsElKrvnTT

— Itsacon (@thats_so_cub) May 18, 2023
He would then come home to score on the McGeary single, but that was it, as the Smokies fell 7-4. Murray Jr and McGeary accounted for all four RBIs in the loss.
Tomorrow is a new day. pic.twitter.com/hlLHx2STuM

— Tennessee Smokies (@smokiesbaseball) May 18, 2023
SOUTH BEND CUBS 10 - BELOIT SKY CARP 2
Despite their struggles against the Sky Carp in their previous series, the Cubs have gotten off to a great start this week by taking the first two. It was all about the big inning today as a pair of five-run frames paved the way for a blowout win. With Cade Horton making his second High-A start, getting a bunch of runs is always a good thing.
Horton is still trying to figure things out in High-A but was much better in his second start. The hard-throwing right-hander struck out three in his three innings while allowing two runs. From there, it was a trio of relievers as Didier Vargas, Frank Scalzo Jr, and Chase Watkins gave the Cubs six shutout innings with six punchouts.
Both of the runs Horton allowed came in the first inning, as he took a little while to settle in. After allowing a leadoff single and a stolen base, Horton allowed RBI singles to Khalil Watson and Brady Allen as the Sky Carp raced out to the 2-0 lead. That would be all they would get off of Horton and all they would get the rest of the way as the Cubs offense took care of the rest with 10 unanswered runs.
Ignore Reginald Preciado's numbers for now. When balls start finding the gaps, the hits will come in bunches. pic.twitter.com/SURPJub00R

— Itsacon (@thats_so_cub) May 17, 2023
Five runs came in the fourth inning as the Iowa Cubs stormed back to take the lead. James Triantos got the party started with an RBI single before scoring on a wild pitch later to tie things up. That set the stage for Casey Optiz, who connected for the game-winning hit as his three-run shot put the Cubs in front for good, 5-2.
OH MY OPITZ!@CaseyOpitz with a 3-run @hoosierlottery home run and the #SBCubs take the lead over @beloitskycarp 5-2 going to the bottom of the 3rd. pic.twitter.com/P3rxSzdwdP

— South Bend Cubs (@SBCubs) May 17, 2023
Two innings later, it was more of the same for the South Bend offense, as their offense was relentless in this one. Liam Spence opened the scoring in that frame with an RBI, as did Kevin Alcantara, to push the lead to 8-2.
Kevin Alcántara with 5 RBIs in this series already!#SBCubs lead 8-2 in the Top of the 6th.

Hi Kevin. pic.twitter.com/MFWOfWU97V

— South Bend Cubs (@SBCubs) May 17, 2023
Iowa continued to add to their lead, with Triantos picking up an RBI groundout and the Cubs cashing in on a wild pitch to close out the scoring in a 10-2 rout.
Since returning from the IL, Triantos has looked great at the plate, continuing with his four-hit, two-RBI day. He was responsible for nearly half of the hits as Alcantara and Opitz combined for five additional RBIs.
Back to back W's, fly it.
Cubs beat Sky Carp: 10-2
1/2 game out of 1st place in Midwest League Western Division#FlyTheW #CubsWin #NextStartsHere pic.twitter.com/JjZU934tGm

— South Bend Cubs (@SBCubs) May 17, 2023
19 runs through 2 games in the series, 3 wins in a row, 4-hit day from James Triantos...

WE LIKE THAT! pic.twitter.com/aV5OHSs0Ba

— South Bend Cubs (@SBCubs) May 17, 2023
AUGUSTA GREENJACKETS 5 - MYRTLE BEACH PELICANS 0
You have to feel for the Pelicans right now, as their offense is nowhere to be found. That is tough to swallow when you get an outing like the one Michael Arias gave you as he dominated the Greenjackets. Across four innings, Arias struck out eight and allowed just one run.
He deserved better than the end result, but it doesn't matter how good you pitch when Spencer Schwallenbach gives you five scoreless innings to start, followed by four more from Jorge Bautista. With the game tied 0-0 in the fourth, Augusta pushed across the only run they would need as Jair Casanova picked up an RBI fielder's choice. Arias was finished after that inning before handing things off to Koen Moreno.
At first, Moreno was outstanding as he went on to strike out four in four innings. He allowed a Bryson Worrell RBI triple in the sixth to make things 2-0, with Dawson Dimon picking up a sacrifice fly in the eighth to push the lead to 3-0. Augusta would add two more in the ninth, courtesy of the Jeremy Caledonia homer in a 5-0 win.
The Pelicans were held to four hits in the loss, with Andy Garriola leading the way with two. Reggie Preciado and Reivaj Garcia added the rest.
The dogs have been secured.@Pelicanbaseball pic.twitter.com/vMR0Tne2AM

— Sam Weiderhaft (@sam_weiderhaft) May 17, 2023
A lot of hot dogs were enjoyed tonight.#MBPelicans | #NextStartsHere pic.twitter.com/aZQdFWtD9y

— Myrtle Beach Pelicans (@Pelicanbaseball) May 18, 2023

Upgrade Your Account
Unlock premium boards and exclusive features (e.g. ad-free) by upgrading your account today.
Upgrade Now

Tags: Cubs Baseball
,
Caleb Kilian
,
Darius Hill
,
Cam Sanders
,
Walker Powell
,
Hunter Bigge
,
Samuel Reyes
,
Luke Little
,
Didier Vargas
,
Frank Scalzo
,
James Triantos
,
Kevin Alcantara
,
Koen Moreno